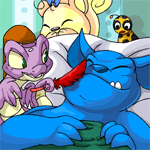 The Month Of Sleeping: Customization

by aleu1986

--------



It`s the first month of the year, The Month Of Sleeping. Time to clear your Neohome of holiday items, and perhaps go into hibernation? Whether you prefer to sleep in every morning, or take a nap in front of a roaring fire, there are different ways of customizing your pet in a theme of sleep and nighttime. Let`s take a look at a few different examples.

Sleeping Like A Baby
Purple Cybunny Pajamas
MME21-S3b: Aqua Crystal Room
Sweet Dreams Crib
Glowing Ona Handheld Plushie
Luckily, the Sweet Dreams Crib is not restricted to Baby Neopets only, so any of your pets may enjoy a nap in this soft, cute crib. Except the Meepit above their head might give them nightmares – whose bright idea was it to put that on a mobile?
There are several fun and childish-looking pajamas available, but I chose this one due to the colours matching the crib. The Cybunny ears and slippers are just too cute to resist.
For the background, I obviously wanted an indoors one, but not one that looked too crowded, due to the busy pattern on the Sweet Dreams Crib. I settled on the Aqua Crystal Room due to the cool, blue tones having a calming effect, and the large window adds to the light atmosphere.
There are lots of adorable plushies to choose from, so your Neopet may sleep with a different stuffed pal every night of the week. For this customization example, I added the Glowing Ona Handheld Plushie, as the childish nature of this look meant it made sense to add a night-light.
Change it up!
Background: For these alternatives, I chose simple Neopoint backgrounds that when paired with the Sweet Dreams Crib, can appear to look like wallpaper.
Cloudy Sky Background. Bright blue sky, and fluffy white clouds. Perfect for pleasant dreams.
Raining Doughnuts Background. The stuff the dreams of Skeiths are made of.
Polka Dotted Pink Background. A bold, and a bit strange mix of colours and patterns, but it sort of works. Give it a try for yourself.
Plushie: Yarn Noil Handheld Plushie. A homemade petpet plush that will keep your Neopet safe all night.
Flower Mazzew Handheld Plushie. Happy and spring-themed to give your Neopet dreams of warmer seasons.
PJs: Negg Footie Pajamas. Its soft colours and fun Negg pattern makes sure your Neopet doesn`t object to change into their night clothes at bedtime.
Flower Footie Pajamas. Another colour-matching alternative to the Cybunny pajamas.
Dreaming Of Sugar Plums
Happy Holidays Sleeping Cap
Sugar Plum Thought Bubble
Christmas Eve Tent Background
Cheery Snowflake Mittens
Christmas Ona Handheld Plushie
Holiday Tights and Boots
Festive Special Pjs
Candy Cane Pattern Thermal
So the holidays are over, but that doesn`t mean the Christmas fun and joy has got to end. If your Neopet is not ready to let go of the festive season, let them spend a few nights in the cozy Christmas Eve Tent. They`ll be dreaming of sugar plums all through the night as the snow falls down quietly.
The Happy Holidays Sleeping Cap is a cute wearable that is equally suitable for male and female Neopets, in my opinion. (Who says boys can`t have long locks, right?) I added the thermal candy cane sweater to keep the Neopet nice and warm, but you can leave it out to show off more of the adorable new Festive Special Pjs, fresh from this years Advent Calendar. I also gave the Kougra mittens and boots to make sure they would stay warm and toasty through the cold winter night.
I hardly ever use thought bubbles in my customizations, but for this one, it felt fitting.
Change it up!
Plushie: Jinjah Handheld Plushie. A super soft plushie that smells faintly of gingerbread.
Raindorf Handheld Plushie. Hopefully the little bell its wearing won`t stir your Neopet in its sleep.
Sleepy Neopet Blanket
This cute item is a thick, striped blanket that covers your Neopet and keeps them warm and snug. Wrap this aorund them and they can sit and quietly observe the falling snow from inside the tent.
This goes and in hand with a hot drink, so why not add Festive Holiday Mug or Apple Cider Mug?
Candy Cane Pyjama Trousers.
If you want to complete the candy cane set, or if you`re not a fan of the new, festive pyjamas.
Sleeping In Style
Luxe Bedroom
Blue Cirrus Handheld Plushie
Dark Nova Handheld Plushie
Twinkling Nova Dress
Starry Wreath Wig
Starry Bedroom Canopy
Although there are many pajamas available, I could find no nightgowns, at least none that were wearable by all species. While browsing the section for gowns and dresses, I came across this gorgeous piece, and decided to go for it. I considered adding some string lights, but chose instead to add this gown together with the Starry Wreath Wig to give the look elegance and style. The stars are already present on the canopy itself, so the rest of the look references that.
The black nova plushie blends in nicely, and I also added the little cirrus plushie as I thought this customization could really use a splash of colour.
Your Neopet may not sleep very comfortably dressed like this, but at least she`ll look amazing!
The Sandman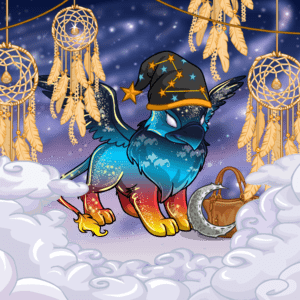 Celestial Sleeping Cap [does not show up in the DTI preview]
Moon Handheld Plushie
Sky Full of Stars [a bit glitched in the DTI preview]
Dyeworks Orange: Dream Catcher Garland
Feet in the Clouds Foreground
Solid White Contacts
Brown Bag
The Sandman is coming to sprinkle his magical sand and make you fall asleep and have pleasant dreams.
I wasn`t sure which night-themed background to choose, so I ended up using the Sky Full Of Stars as I feel that with the addition of the clouds in the foreground, a background isn`t strictly needed. There are other Dyeworks versions in black and green available for the Dream Catcher Garland. The original item is white.
The brown bag and the moon plushie reference the Sandmans bag of magical sand/dust, and the moon plushie is a hint to nighttime.
The contacts are of course optional, I added them to make the Neopet look more supernatural or magical.
Game On, Boys!
Slumber Celebration Background
Purple Stripe Night Shirt
Battlefield Legends The Board Game
Daily Dare NC Challenge Gamers Garland
Not Enough Sleep Wig
Tired Eyes
Plate of Cookies
MME23-S5b: Nourishment Station
Galaxy Socks
Remote Control Gloves
Although it is the Month of Sleeping, a customization suited to the theme can also be about the lack of sleep – as is the case in this slumber party scene. The boys will be gaming into the wee hours of the morning, their energy fueled by cookies, neocola and hopefully some fruit and water from the nourishment station.
Girls Just Wanna Have Fun
Slumber Celebration Background
Dazzling Rainbow Tent
Abigails Custom Drawn Dreamy Hanso Diary
Golden Key Necklace
Abominable Snowball Winter Sleeper
Lemonade Stand Table
Wispy Blonde Ponytail Wig
Armin Collectors Contacts
The girls will enjoy spending the night drinking lemonade, eating cookies and scribbling dreamy notes about Hanso in their diaries!
I enjoyed creating the slumber party customization, so I wanted to do a female version as well. Because there are a lot of colours and patterns in the background, I wanted the Neopet herself to be slightly more muted, so I selected a simple wig and a blue pair of pyjamas to match the carpet and walls, plus the clouds pick up the details of the rainbow tent.
The golden key necklace and contacts aren`t really needed, I just included them here to restrict the Usuls ruff, and to give her a darker shade of blue eyes.
Change it up!
Pyjamas: Flower Footie Pyjamas. Purple, flowery and super cute.
Cupcake Pyjamas.
The pattern is a bit busy, but it picks up the colourful theme of the tent and table. I do like the more subtle cream base colour.
Slumber Celebration Pyjama Top (and Bottoms).
If you hate to break up a set, go with this matching pyjamas that were released to go with the background.
Kacheek Pyjama Doll.
Let your girl Neopet cuddle up with this doll when it`s finally time to turn in for the night.
Pretty Sleep Mask.
I haven`t been able to find a satisfying match to this item, but perhaps you can?
Other suggestions
Add streamers and/or balloons to really make it look like a party!
This concludes my list of customization for the Month of Sleeping. I hope you enjoyed it, and thanks for reading. Feel free to Neomail me with any comments or suggestions!