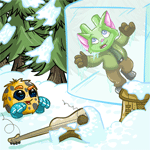 List of Activities to do during the Wintertime!

by k3l26

--------



Now that everyone's favorite Neo-winter activity is over (you guessed it, that would be Advent Calendar, with all the free items, Neopoints, and fun daily animations), there are still a ton of things you can do with your Neopets during the coldest season of the year. So, brew up a nice Caramel Hot Chocolate (marshmallows optional but recommended!) and hopefully this list will inspire you and your Neopets to be active during the season most people just want to hibernate through.

1. Cold Weather Activities: sometimes, you might want to embrace the cold weather

- Ice Cream Cart: Ice cream is delicious even when it's cold! Some might even say it is more delicious in the cold, since it is less likely to melt. Mr. Chipper, the first Lutari of Neopia, runs the Ice Cream Cart in Happy Valley. To redeem a dairy dessert, you must have a blue, green, or pink colored ice cream machine coupon, and Mr. Chipper will choose an ice cream for you randomly.

- The Neggery: Deep in the Ice Caves, the Negg Faerie Kari runs a Negg exchange store! Although she is most known for heading the Festival of Neggs once a year, the Neggery is open year-round. You can trade in food Neggs for her specialty ones. Some highlights include: Happy Negg (increases your Neopet's happiness), Pumpkin Negg (magically affects your pet's weight and height!), Kaleideonegg (which can change your Neopet's colour to a basic one), and many Neggs that prove useful in the Battledome.

- Shop of Mystery: Feeling lucky? At the top of Terror Mountain is Tarla's signature store. All of her products are sold in a blue bag with a large yellow "?" on them. Prizes range from Packets of Gravel, petpets, a paint brush, and there are even store-exclusive items.

2. Sightseeing: for those who would rather escape to warmth

- Tiki Tours: For just 25 Neopoints (discounted from the original 50 NPs), you can take one Neopet on a Tiki Tour of Mystery Island! Tourism is a big part of Mystery Island's income, and the tours they offer are the easiest way to get an overall idea of everything they offer, including beaches, dancing, and Techo Mountain. At the end of the tour, there are lots of free gifts you can take with you.

- Tyrammet Village: A little hidden village rests in the middle of Tyrannia. It is a little prehistoric gem with grass and straw huts and meals over an open fire.

- Merry Go Round: If your Neopet doesn't have motion sickness, consider visiting the carousel in the center of Roo Island! It is open all day long, so for 50 Neopoints, you can afford to send all your pets on this circular ride for a low price!

- Glass Bottom Boat Tours: As the name may suggest, your Neopets can view the depths of Kiko Lake from a – yep, you guessed it, a glass bottom boat! Many tours are offered hourly during the day but they stop after the sun sets. From the comfort and dryness of the boat, you can view the coral reefs, seaweed gardens, and neat houses of the lake.

3. Food: this is a great time to explore Neopian delicacies

- Kelp: One of the most renowned restaurants in Neopia can be found underwater in the land of Maraqua. The well-known Maraquan Uni waitress takes orders up to one item from every menu. A suggested full pairing would be: Kelp Gazpacho appetizer, Whole Roast Pheasant entrée, Triple Chocolate Shell dessert, and Blue and Orange Rambus Blend drink.

- The Golden Dubloon: Like Kelp, the Golden Dubloon is a sit-down restaurant where you can order one item of every category. Unlike Kelp, the Golden Dubloon only accepts Dubloons as payment! An example of a full order would look like: Shiver Me Shrimp starter course, Cap'n Threelegs Cutlass Crusade main dish, Krakuberry Cove for dessert, and a Raspberry Pop drink.

4. Home: there are lots of things you can do from the comfort of your NeoHome

- Safety Deposit Box: With the new year, maybe it's time to clear out old inventory. Does your safety deposit box look like it belongs to a hoarder? Take a look through your items and see what you need, what you don't, and what items you didn't even know you had! You can sell, donate, or simply leave your items alone, but it is always good fun to see all the things you amassed over the year.

- NeoHome: If you're planning on staying home during the cold weather, why not consider refreshing your home décor? You can start by adding a fireplace to your home in the spirit of the season (Red Brick Fireplace and Warm and Cosy Fireplace are both good options!). If you're running out of places to put your things, consider adding a bookcase (like the Antique Glass Bookcase or Elegant Wooden Bookcase) to maximum your space! If your home is looking a little dreary, try adding a pop of color to liven things up! A Nova Lamp or a Rainbow Arm Chair can add interest to an otherwise dull room.

5. Relaxing Activities: it's always good to take time off too

- Coloring pages: Neopian coloring pages are available in many locations. There are a multitude of themed options in Haunted Woods, Lost Desert, Terror Mountain, Tyrannia (under Cave Paintings), Brightvale, Darigan Citadel, Maraqua, Moltara, Kiko Lake, and Kreludor. You can relax while coloring Neopets and scenic backgrounds and also have a beautiful piece of artwork when you're done!

- NeoLodge: Give yourself and your Neopets a break by checking them into the NeoLodge in Neopia Central. Prices and quality of the hotels range from Cockroach Towers at 5 NP a night to AstroVilla at 500 NP a night, for up to 28 nights. Extras like having access to the fitness center, grooming, and maid service will cost you 5 NP each per night. While checked into the hotel, your Neopets will be fully fed but can still join you for activities at any time!

I hope you enjoyed reading this list! Whether you choose to stay at home or venture out, there are many things to do in Neopia. What are your favorite wintertime activities?