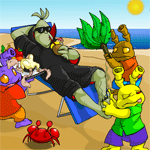 How To Give Your Neopet a Great Vacation!

by tessahcamille

--------

Summer is winding down, and many of us have taken nice vacations while our pets waited patiently for us to return. If you're looking to treat your neopet to a nice vacation experience, here are some fun ideas you can try!

1. Pampering and Grooming

Adventurous vacations are fun, but every once in a while, we all need some pampering and relaxation. A great way to help your neopet relax is by grooming them with something nice! Light an Aromatic Candle, use some Coconut Soap, then move on to Herbal Shampoo. Don't forget Hoof Polish (if applicable) and Lavender-Scented Lotion is a great way to finish! It's always good to remember to pack some After Sun Aloe Gel too, just in case of sunburn.

2. Pack Smartly

When you're about to go on vacation, the last thing you want to worry about is the added stress of forgetting something important! Make sure to include essentials and things your neopet will need in order to have fun. Sun Block Lotion is a must to prevent any sunburn! You also don't want to forget extra socks or lip balm. Snacks are also beneficial in case your neopet gets hungry during a day of exploring. And an important item to remember is a camera! You'll want pictures to remember all the fun you've had.

3. Enjoy the Journey

Let's face it - travelling long distances can be really boring and frustrating. It can seem to put a damper on all of the fun. In order to avoid souring the excitement, try reading some books to your pet or bringing some CDs to listen to in order to keep them entertained before you reach your destination! Some appropriate books include: A Very Tiki Holiday, Backpacking Across Neopia, and Beach Vacations. Depending on your method of transportation you may even be able to bring some games to play, too! Poogle Racing Game, Pocket Faerie Pinball Game and Ocean Crossing Flotsam Board Game are a few ideas to consider. If all else fails, TNT Staff Smasher Board Game is sure to be a hit with even the pickiest of neopets!

4. Dress for Success

If you're going on a vacation, you'll need to dress the part! Comfortable, casual clothes are usually best for sightseeing - but make sure to pack dress clothes if you're going to a fancy venue. Some fun options include Colorful Beach Shirt, Fruit Cocktail Glasses, Summer Fun Water Bottle and Tropical Island Paradise Background! These are items any neopet can wear, but depending on your pet's species you can really get creative. For example, if you've got a Kacheek, try the Kacheek Tourist Set! For a Usul, the Usul Beach Set looks tropical and relaxed. And for a Bruce, the Safari Bruce Set looks perfect for a jungle tour!

5. The Neolodge

Many of us have our pets checked into the Neolodge most of the time, but have you ever given your neopets the full luxury experience? Try checking your pet into the AstroVilla hotel. Make sure to include the fancy amenities such as Jacuzzi, Sauna, Grooming and more! One night with all amenities included is 560 neopoints - but it's well worth it for your pets to experience all this 5 star deluxe hotel has to offer.

6. Tiki Tours

On Mystery Island you can take your pet on a Tiki Tour! Not only will this improve your pet's mood - it's also a great tourist destination, too. On a Tiki Tour you'll see the natives, Techo Mountain, and beautiful beaches! There are even freebies when you're done, and if it's your first Tiki Tour, you'll be awarded the 'A Day at the Beach' avatar!

7. Kelp Restaurant

This exquisite restaurant is a great spot to get a delicious, gourmet meal! After being greeted by a waiter, you'll be seated and have your choice of food from the menu. Some of the delicious options include Fresh Oysters and Succulent Cheese Dip for an appetizer. The main course offers Luxurious Vegatarian Star Pie or Braised Turkey Cutlet, if you're so inclined. For dessert I recommend the Peachpa and Stramberry Shell or Kelps Signature Ice Cream! And a couple of great cocktails include Cornupepper Lemonade and Funnydew Melon Delight. If you're lucky you may even be offered leftovers which grants you an avatar! I should warn you though, the price tag can get very expensive, so go prepared to spend a lot of neopoints!

8. Tyrannian Concert Hall

Is your pet musically inclined? In that case, you might enjoy taking your pet to a concert at the Tyrannian Concert Hall! Tickets are just 1250 neopoints and after the concert you even get a free souvenir! There are different groups that play at different times in the week, too, so it's worth considering going back to see a different performance! And if you see a select few groups, you may even be awarded an avatar.

9. Glass Bottom Boat Tours

Ah, a relaxing afternoon. This option is especially great for pets who have an aversion to getting their fur wet! Enjoy a calm boat ride over Kiko Lake, seeing gardens of seaweed and coral. You will also be able to see some of the oldest buildings in Kiko Lake as well as its most popular gift shops! Did you know that you can even bring a camera on this tour? Make sure to pack one with you so that your neopet can take memorable pictures!

10. A Day on Roo Island

Roo Island has so much fun to choose from that it's worth spending an entire day here! Dice-A-Roo is a great game to play to unwind, and if you're lucky you could win the jackpot! Winning the jackpot grants you an avatar and if you win big enough, you could even get a trophy. Afterwards make sure to ride the Roo Island Merry Go Round which can increase your pet's happiness. And it's no wonder - who doesn't enjoy a turn on a merry go round? Finally, don't forget to stop at the Souvenirs Shop and pick up a nifty trinket to take home with you!

So there you have it! 10 great ways to let your neopet have a fun vacation experience. After all, we owe it to our pets to give them some stress relief... since they help us relieve so much of ours!