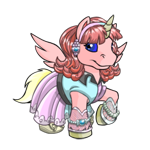 Springtime Customization Options

by aphrasia

--------

As the weather switches back and forth between the end of winter and the beginning of spring, many Neopians are busy trying to update their Neopets' old winter, Easter, and even Valentine's Day customizations. Below, I will list a few of the most stunning (and of course my favorite) spring-themed backgrounds, clothing, and other essential accessories!

Backgrounds:

Tunnel of Trees Background (Neocash) is a delightful choice that settles your Neopet at the front entrance of an enchanting pathway of trees with pastel pink flowers. This background is simplistic yet pretty, leaving plenty of room for add-ons such as foregrounds, trinkets, or showers.

Double Rainbow Background (Neopoint) is an affordable—around 200,000 NP—choice that places your Neopet a few rolling, green hills ahead of a huge double rainbow. With the colorful rainbow filling the sky, this background is easy to find matching add-ons for. If you are looking for a cheerful, vibrant theme to get your Neopet ready for spring, this background is the way to go!

Dresses:

Butterfly Dress (Neocash) is a popular choice year-round and is especially fitting for the coming spring season. This gorgeous, deep purple dress with black, butterfly-like markings and wing-like shape is perfect for this time of year. What more could your Neopet want than to be as beautiful as a butterfly?

Pretty Spring Uni Dress (Neopoint) may be a species-specific choice, but is a perfect option for the season. With its incredible pastel tones, this dress just screams spring! There are many species-specific dresses that are perfect for this theme, just to name a few: Shining Korbat Dress, Elegant Draik Dress, Spring Time Female Krawk Dress, Springtime Scorchio Dress, and Lovely Wocky Dress.

Shirts:

Basic White Shirt (Neopoint) is just a plain, white t-shirt. Every Neopet needs a plain white tee! Throwing together a bright pair of shorts, or even a skirt, with this white shirt is always a good choice for spring. Best of all, this shirt can be worn by a variety of species.

Ombre Button-Up Shirt (Neocash) is a dashing choice of warm weather wear. With lovely maroon, pink, and white hues, this shirt is fitting for both male and female Neopets. A sure fire way to get into the fashion loop this spring!

Pants:

Pant Devil Pants (Neopoint) make an awesome pair of swimming trunks! These pants are short enough to pass for shorts, which are lovely for the increasing temperatures around Neopia. These pants can be worn by various species of Neopets, as well!

Basic Grey Pants (Neocash) go well with any choice of upper body wear, allowing for a splash a color in your customization! Everyone needs a basic pair of pants to wear during the spring, right?

Foregrounds:

Flower Petal Foreground (Neopoint) is an obvious choice for any spring-themed customization. This foreground consists of pastel pink, purple, and blue flowers that epitomize spring. There are also green leaves in between, giving it even more of a springtime feel.

Pretty Spring Flower Foreground (Neocash) is a fabulous array of colorful, blooming flowers that rest comfortably at your Neopet's feet! With colors of red, pink, yellow, green, and white, this foreground makes color matching a cinch.

Garlands:

Colourful Spring Petpet Garland (Neopoint) is another pretty pastel option! This garland has everything you need for spring: flowers, leaves, and bright colors. What more could you ask for?

Beekadoodle Flower Garland (Neocash) is one of my top five favorite garlands and happens to be a spectacular choice for a spring theme. This gorgeous garland is elegant in appearance, has lovely light color tones, and a graceful movement. Hang this garland over your Neopet and they will feel nothing short of pure delight.

Handhelds:

Carved Walking Stick (Neopoint) is one of the best Neopoint handhelds items available, in my opinion. This handheld is a beautifully carved walking stick that will fit right in to many varieties of outdoor customizations.

Bouquet of Flowers Parasol (Neocash) is a cute handheld option that goes right along with the color scheme of many of the wearables listed above. Pinks, purples, greens, and pastels would all match accordingly with this dashing little parasol!

Wigs:

Flowery Multicolour Spring Wig (Neopoint) is a crazy, cotton candy colored choice for your Neopet to wear this spring. Bright, eye-popping colors and a blown-in-the-wind look make this wig a unique option for any daring Neopet.

Braided Flower Wig (Neocash) is a sultry, platinum blonde wig decorated with a supreme choice of small, delicate flowers. This wig will leave your Neopet's friends green with envy!

Facial Accessories:

Jungle Foilage Face Paint (Neopoint) makes for the best Neopoint facial decoration for this time of the year. Giving your Neopet's cheeks and the bridge of their nose a splash of light green, this face paint will add an awesome detail to your customization!

Robertas Collectors Contacts (Neocash) will make you want to gaze into your Neopet's eyes for hours. These contacts will give your Neopet the most alluring eyes in all of Neopia. With a light, almost transparent purple color, Robertas Collectors Contacts are your best bet for spring.

Wings:

Magical Spring Vine Wings (Neopoint) are a jaw-dropping, remarkable pair of translucent green wings that will help any Neopet take flight with style. The color tone of the wings will match with many other of the spring-themed options I have listed, making it a quaint addition to your customization.

Floral Pattern Faerie Wings (Neocash) are a precious, pink and purple option for your spring-themed customization. These wings will fit right in to many different kinds of themes, from outdoor to indoor, various color schemes, etc.

Baby Wearables:

Baby Lady Blurg Umbrella (Neocash) is an adorable, itty bitty umbrella designed with the same pattern as a Lady Blurg! Your Baby Neopet will just plain cute with this charming handheld item.

Baby Pigtail Wig (Neocash) is a wonderful blonde wig put up into tiny pigtails for the sole purpose of making your Baby Neopet even cuter. The adorableness meter is really filling up with this one!

Baby Pull Along Train (Neocash) is an indoor/outdoor handheld that also serves to fill up some floor space of your Baby Neopet's customization. Perfect for an indoor spring theme, this toy will be a fantastic choice for your Neopet.