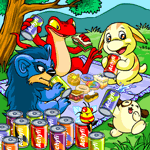 Aspargus and Honey: Neopian Recipes for Springtime

by shortcrust

--------

When the frost melts, springabees buzz, and fields are green and full of fluffy cloud gnorbus, it can only mean one thing; springtime!

As the weather begins to warm you might be ready to step away from slow cooked, hearty stews. You might fancy a picnic in the crisp, clear sunshine with some seasonal fruit and veg. Or, when those little April showers soon hit, you might still want something a little warming to keep you toasty!

Here, I have devised some recipes, based on some of my favourite Neopian springtime suitable foods and tested them in my own kitchen. Get cooking!

Hang on, before we begin; this is important! If you're not old enough to be using knives, the oven or the hob on your own, ask a parent or guardian to help you. Then, when the cooking is done, you can enough your spoils together out in the sunshine. What fun!

Spring Cakes With Thermos

A jam roll might look like a tricky cake to master; but it is actually really easy, and great fun, too! For a fresh and bright taste to suit the season, instead of a normal strawberry or raspberry jelly use a lemon curd base for the fruity middle of your roll. To properly match that pretty icon, why not drop in little green food colouring, too?

Ingredients:

For the roll:
3 large eggs
75 g/3 oz caster sugar
75 g/ 3 oz self raising flour (or, plain flour with 1 teaspoon baking powder)
Pinch of salt
For the filling:
Lemon curd

Powdered/icing sugar, for rolling
Steps:
Heat an oven to 400° F/200° C. Line a shallow pan with foil or baking parchment, and grease generously with butter.
Whisk the eggs, sugar and salt together in a bowl until pale coloured and fluffy. Fold in the flour, mix until smooth, and then spoon the mixture into the baking pan.
Bake for only 10-12 minutes until light and 'springy' when touched.
Quickly turn the cake out of the pan onto another piece of baking paper, dusted with powdered sugar and preferably laid on top of a towel. Cut the crusty ends off the long sides for a 'clean' look.
Spread lemon curd generously on the exposed side of the cake. Leave a small margin around the edges, as when you roll the curd will try to migrate out to the ends.
While still warm, begin to the roll the cake from its short side, keeping the sugared paper inside to stop it sticking to itself. Make sure the first fold is tight to give the roll a good, round shape. Set aside to cool, but keep it wrapped in the parchment to help it keep shape.
While waiting, make up a cup of your favourite hot beverage.
When the cake is cool, gently remove the baking paper and cut slices of the roll. Serve with cream, sugar and a warm drink in the sunshine.
Buzz Sandwich With Honey
Honey should always be associated with springabees buzzing in the air. But it also is often used to glaze cooked meats, or as a sandwich filler. Why not both! By cooking your sandwich in a pan, or in a grilling machine, the honey will warm and melt, gooey, into the crispy greasy bread. Mmmmm!
Ingredients:
Steps:
Butter one side of each piece of bread. On the non-buttered sides, assemble your sandwich ingredients on one side of the bread, and apply honey liberally to the other. You can add other sauces if you fancy; BBQ and honey is a classic combination.
Fold together.
Heat a frying pan, or grilling machine, in medium heat and grill each side for a few minutes until the bread is golden brown and the honey is oozing and holding everything together.
Meaty Asparagus Dish
This seasonal vegetable is, of course, every Neopian's favourite. For a light and healthy dinner, try pairing it with your favourite protein for a quick and fresh tasting fry up.
Ingredients:
Steps:
In a frying pan over medium heat, fry the garlic for 1 minute or so before adding the asparagus and most of the broth. Cook until the vegetables are very nearly tender, taking 3-5 minutes.
Take out the vegetables as set them aside.
Add chicken and onions to the pan, and stir fry them until cooked through, taking 5-10 minutes. Return the vegetables with the pan in addition to the sauces and sesame oil.
Toss together until evenly coated and heated through.
Serve and eat with chopsticks!
Fried Eggs and Scallion Tortillas
This time of year, everything is about eggs. And neggs, of course. All year round, however, they both make the perfect breakfast foods. Combining them with spring onions and other vegetables makes this a fresh, but fried, breakfast wrap!
Ingredients:
2 large eggs

4 scallions/spring onions, chopped
1 small tomato, chopped
1 avocado, peeled and chopped
1 lime, juice
2 large flour tortillas
Fresh coriander, grated cheese and hot sauce, optional
Steps:
Over medium heat, fry the onions in a large frying pan until soft. Move them to one side of the pan, then scramble the eggs in the free half. While still loose enough to turn, mix the onions in with the egg and let them finish cooking together.
Tip the eggs and onions out and set aside. Wipe around the pan with tissue then return to the heat.
Place your tortillas into the pan, fill with the toppings you have prepared and drizzle with line juice and any optional extras. It may be easier, when it comes to flip and remove your tortillas, to cook them like two folded 'books' instead of two layers sitting on top of one another.
Keep peeking underneath your tortillas. When browned, flip and toast the other side.
Serve sliced, with hot sauce to dip!
Baked Apple Jacket Potato
I know what you might be thinking; what a gross combination! But there are so many great, famous sweet and savoury combinations. And apples go wonderfully in so much cooking. Try chopping some into your next stir fry!
Right now, in most of the world, apples are just coming out of their harvest season as potatoes are going in. This makes spring the perfect time to enjoy the two together! I'm suggesting a fried hash of apples and onions that you can add on top of your jacket potato. Alternatively, you could cook the potatoes cubed in the hash as well so that they all melt together, crispy and soft all at once.
Ingredients:
1 large baking potato

2 small apples, chopped
1 small onion, chopped
2 tablespoons butter
Salt and pepper, to taste
Steps:
Bake your potato until it is 10 minutes from finished. You may wish to do this for 45-60 minutes at 400° F/200° C in a traditional oven, or for a full 10-12 minutes in a microwave. Either way, make sure you prick them with a fork so they don't explode!
In a frying pan over medium heat, melt the butter. Then, add the apples and onions. Fry for 5 minutes until no longer hard, then turn down the heat and fry for a further 5 minutes until squishy and soft.
Leave for longer to crisp and brown if desired, or cut open your potato, layer on top and serve with another pat of butter and salt and pepper.
Search the Neopian Times


---
Great stories!
---------
---------
---------
---------
---