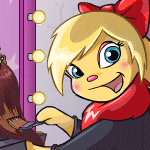 Top 10 Grooming Parlour Products

by princess__neo277

--------

The Grooming Parlour, located in the Neopian Bazaar is home to the best beauty products in Neopia. Run by a rather glamorous Usul, who doesn't want to head on down to the Grooming Parlour for all of their grooming needs?

But how do you know you're buying the best there is on offer? Need a replenishing face mask but which one is the best? Smelly breath and in need of the strongest mouth wash there is, which one do you pick? If you've been asking yourself these questions, then look no further as we have compiled the top 10 Grooming Parlour Products so keep on reading!

#10. Buzz Honey Lip Balm

Grooming Parlour Price: 517 NPS

Do you and your Neopets live in Terror Mountain and are constantly plagued by dry lips? Or perhaps you just like to ensure that your lips stay silky smooth? Then you should buy Buzz Honey Lip Balm. This lavishing lip balm has a delightful honey-like taste to it, and comes in a unique buzz design tube. This balm actually contains Buzzer Honey and not Buzz Honey despite the name of this boasting balm. Just apply daily or when required for softer lips.

Our rating: 7.5/10

#9. Faerie Ixi Hair Spray

Grooming Parlour Price: 5,462 NPS

What a pretty can of Hair Spray! Just hold at arm's length and spray where required. This Hair Spray is very glossy, great for everyday use and also contains a small amount of purple glitter. If you like having beautiful hair, but dread going to lands with rain and humidity, then this is the perfect hair spray for you. No more avoided trips to Shenkuu or Lutari Island!

Our rating: 7.5/10

#8. Tooth Faerie Mouth Wash

Grooming Parlour Price:

This mighty mouth wash works on even the smelliest of breaths and defends against cavities! This is a perfect mouth wash for those who don't like the taste of mint as this has a rather pleasant taste of Faerie Dust. A swig of Tooth Faerie Mouth Wash a day keeps the dentist away.

Our rating: 8/10

#7. Superstar Shampoo

Grooming Parlour Price: 1,172 NPS

A splendid shampoo that abolishes and prevents knots and tangles. This shampoo is part of the one and only Superstar range, known for their cheap but choice quality products. The instructions on the back read "Lather, rinse and repeat for gorgeous fur. Use daily for even softer locks". Every Neopet deserves to smell like a superstar. Whilst this shampoo is aimed at Neopets with longer fur we found that it still works wonders on those without … but then again, what use would a Grarrl have for shampoo?

Our rating: 8/10

#6. Seabreeze Lotion

Grooming Parlour Price: 199 NPS

This light lotion is made in Maraqua with natural sea salts and fresh Maraquan water, which makes a very affective moisturiser. Use sparingly even on the driest of skin or scales for softer, smoother skin! This lotion comes with pump which releases just the right amount – how handy! It's also rumoured that this lotion is one of Isca's favourites too!

Our rating: 8/10

#5. Herb Infused Soap

Grooming Parlour Price: 895 NPS

There's nothing like relaxing in your Cloud Bath Tub with a bar of Herb Infused Soap to hand. Do you long for a soap that's made from all natural Neopian ingredients? Then this is the soap for you! This organic bar contains herbs collected from Meri Acres Farm in Brightvale and the more exotic herbs harvested from Shenkuu. This bar of herby goodness is great for one's complexion and skin and is great for exfoliating. You could probably chance eating it too… but we'll leave that for those who are willing to taste test it.

Our rating: 8.5/10

#4. Cucumber Mask Cream

Grooming Parlour Price: 676 NPS

Apply all over or just where you need it – this mask is suitable for all Neopets and skin types. This cushiony cream is made from cucumbers which are most likely harvested from somewhere in Brightvale. We suggest buying some nose plugs however if you're sensitive to the smell of cucumber and perfume and this can be very pungent. Though beauty does come at a price…

Our rating: 8.5/10

#3. Dung Derived Eye Shadow

Grooming Parlour Price: 8,499 NPS

We know what you're thinking but this organic eye shadow looks classy and elegant once applied… that's if you can stomach the strong smell that comes with it. This eccentric eye shadow is made from 100% organic dung and is manufactured in Tyrannia before being scrutinized to ensure the best possible quality. It even comes with an applicator to ensure perfect application but because there's no way to seal the eye shadow inside the container we recommend keeping this in your Neohome and not in your make up bag whilst you're exploring Neopia as it may leak onto your other belongings – it stains.

Our rating: 9/10

#2. SPF 50000

Grooming Parlour Price: 852 NPS

Fear the depths of Moltara no more! This robust sun lotion is just the thing to protect against either extreme heat or extreme sun exposure… or both! Count Von Roo support this product 100% - he's even on the bottle. If it protects a vampire, it'll protect you and your Neopets. Make sure to reapply every half hour. This solution is non greasy and can be applied on skin, scales and even fur.

Our rating: 9.5/10

#1. Breeze

Grooming Parlour Price: 650 NPS

A nourishing and conditioning hair treatment made with negg oil, Tchea extracts and stored in a trendy, compact container. Apply a small blob on dry hair, comb through with your Snazzy Moon Comb (or any comb), style and go! Or if you want deep conditioning apply a large amount on wet hair, leave for 30 minutes and wash out thought we only recommend this if your hair or fur has been damaged from repeated trips to Moltara or Mystery Island. This treatment treats even the most burnt and damage of fur with one treatment and leaves your hair smelling of Tchea Fruit and Pink neggs!

Our rating: 10/10

Honourable mentions

Ruki Mascara

Grooming Parlour Price: 5,822 NPS

Long lashes with one stroke with this marvellous mascara. This mascara smells like soap, but looks wonderful and the bottle is charming!

Sparkling Usuki Lipstick

Grooming Parlour Price: 850 NPS

This lipstick looks more like an Usuki accessory than a lipstick with its plentiful sparkles and small size but looks ravishing when applied. Though we do recommend if you suffer from skin irritation not to use this as it does contain a lot of glitter and sparkles. Why not pair this lipstick up with some Sparkling Usuki Eye Shadow to complete the look?

Kohl

Grooming Parlour Price: 1,900 NPS

Do you long for the Lost Desert Look but unfortunately aren't painted Lost Desert? Never fear, because with this strong, pigmented eye liner you can have the best eye makeup in Neopia! Apply slowly, as this is hard to remove and requires a lot of scrubbing to get off – but beauty is pain. If you're going for Lost Desert royalty look then apply some Gold Eye Shadow too and maybe some gold lipstick, but don't go too over board.