NeoCash Outfits for the Spooky Halloween Season

by gattacaa

--------

Halloween is one of the most fun and exciting times to customize your pets! Wonderful colours, sweet candy and frightening monsters are set to feature in customizations this year. Below are some fun outfits to put together using Halloween themed items, so why not have a try? These outfits are made almost entirely from NeoCash items, and you can certainly see how spooky they are. Do you love trick-or-treating? Vampires? Potions and Witches? If so, then this is certainly the article for you.

Vampire

Watch out Count Von Roo! This vampire has been spotted roaming around Neopia. Let us hope it is only for the month of October. Dark shadows are looming behind his huge scary mansion, and there is a certain gleam in his eyes. Oh no! Try not to venture out during the night this month, as this spooky creature may be waiting to pounce.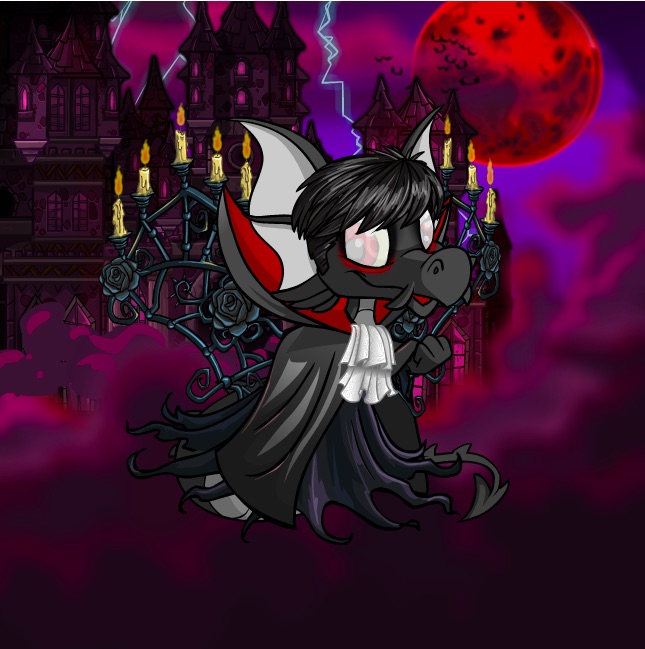 This outfit is made from the following items:
Nightmare Cloud Castle Background, Vampire Counts Cape, Deadly Beauty Dress, Basic Short Raven Wig, Undead Contacts and Face Paint and Candelabra Wings.






The most important item in this outfit is certainly the Vampire Counts Cape. Not only does it immediately draw the eye and identify the featured monster, but it adds an air of style while maintaining the overall aesthetic of the outfit. It blends very well with the red of the moon in the background and the black & red of the Undead Contacts & Face paint.
Trick or Treat
You definitely can do no wrong with this outfit! How cute! Using a base pet colour of Island, this little kacheek loves to dress up in his Noil Costume! As you can see he has a trick-or-treat bag filled to the brim with candy, but he isn't ready to stop just yet. Maybe he isn't full? Candy is definitely a key element of this outfit, with 4 out of 10 items used featuring candy. Yum.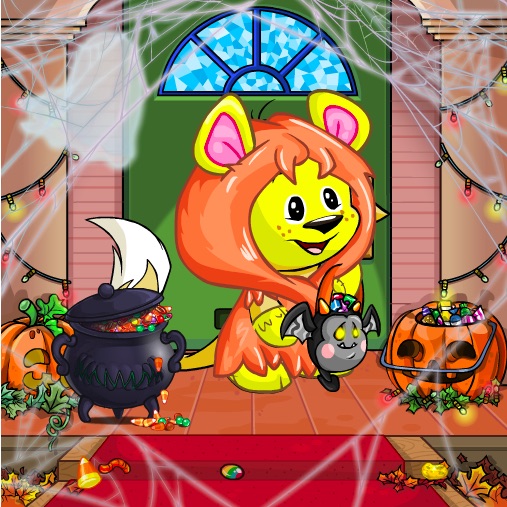 This outfit is made from the following items:
Noil Costume, Noil Costume Hat, Noil Costume Slippers, Noil Face Paint, Noil Mittens, Cauldron of Candy, Halloween Candy Shower, Trick-or-Treat Doorstep Background, Designer Trick-or-Treat Bag and Ghostly Web Garland.










This particular outfit was so much fun to put together that I am not sure I can pick the most important item used. If I had to though, it would be the Trick-or-Treat Doorstep Background. It provides just the right amount of the official Halloween colours of green and orange, in addition to making the theme of the overall outfit all the more perfect. The cauldron spilling out the candy also has glowing teeth! Pretty spooky indeed. The Trick-or-Treat Designer Bag is very cute, featuring the adorable Black Barbat petpet, who has squishy, rosy cheeks. Amazing. This outfit is best viewed in moving form, that is, not a still image. This is due to the light features, falling candy from the Halloween Shower and the moving ghost from the garland. I really like the way the Ghostly Web Garland brings a framing element to this outfit, appearing both high and low, yet is not a direct square shape.
Witch
A ha ha ha! Watch out for this witch! She looks like she is brewing lots of potions in this spooky dungeon themed outfit. Glass potion bottles a highly featured here, and there are even… brains! Gasp! Better steer clear of any dark looking dungeons this Halloween.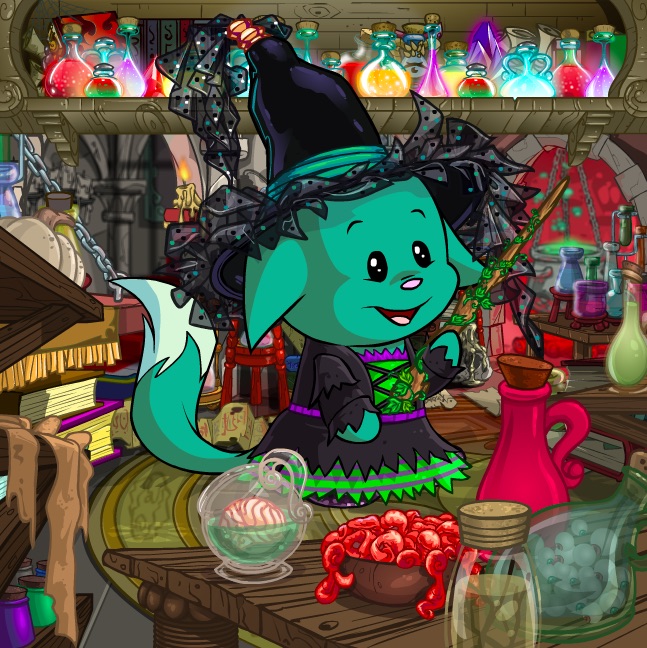 This outfit is made from the following items:
Charming Witch Dress, Witchy Spyder Web Shoes, Fancy Witch Hat, Potions and Spells Room Background, Assorted Potion Shelf, Potionery Table Foreground and Yew Wand. (Note: Yew Wand is a Neopoint clothing item, not NeoCash)






The most important item in this outfit is the Charming Witch Dress. It adds the witches theme colours of black, purple and green while drawing the eye into the centre of the customization. It also has lovely fringed edges that give it that little bit extra spark. Again, this outfit is best viewed not in still form, as it has a few moving elements.
Frankenstein
Grrr! This sewn together monster is hiding out in a cemetery, how unsettling! You better watch where you step, he looks like he could growl at any moment. This outfit was fun to make with so many green items. You could also substitute the background to Angry Mob Background, which is very character appropriate (pitchforks and torches included).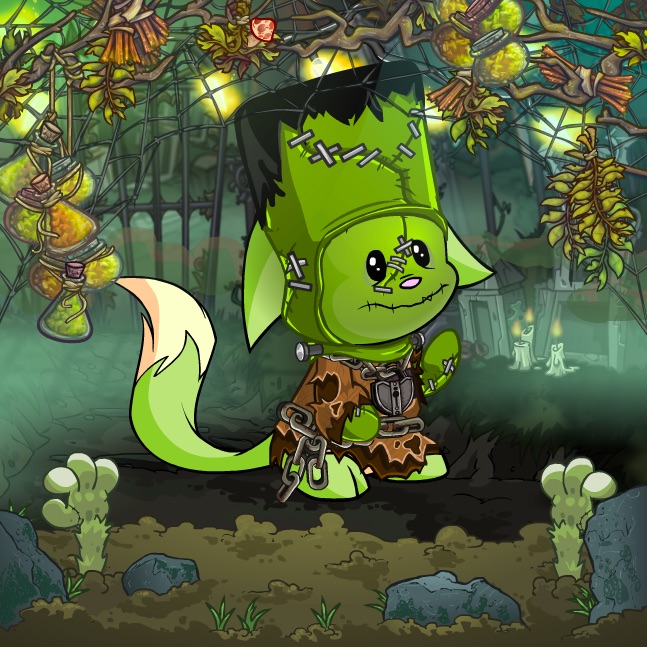 This outfit is made from the following items:
Experimental Monster: Make Up, Outfit, Gloves, Chain Necklace and Headpiece, Cemetery at Night Background, Dirt Patch of the Undead, Flickering Flame String Lights and Haunted Spices Garland.








The most important items in this outfit are from the Experimental Monster costume pack collection. It came as a superpack in the NC Mall during Halloween 2010. It provides the perfect frightening face paint to headpiece ratio. The Flickering Flame String Lights give an authentic quality to the character in the outfit, as they simulate torches.
*drumroll*
Last… but certainly not least!
Ghost
Boo! The ghost is a classic Halloween monster. Ghosts are particularly scary, as they know to scare you at the worst possible times! The base colour of this kacheek adds well to the theme and colouring of the outfit.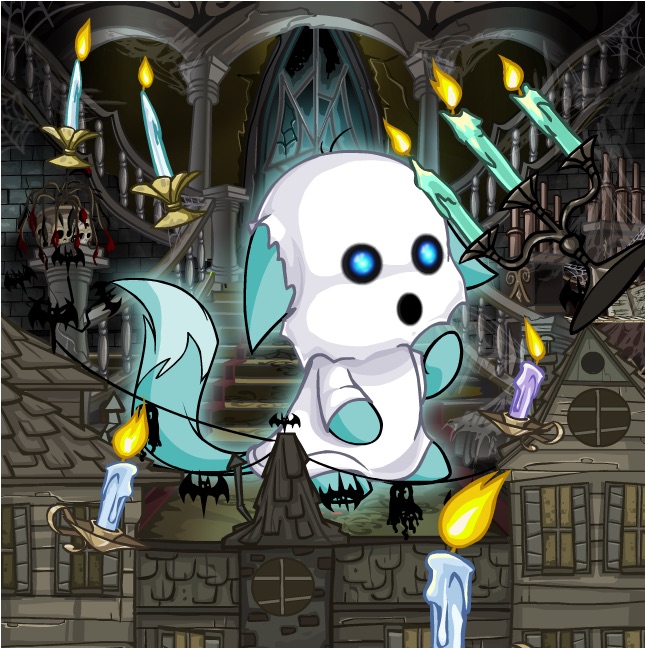 This outfit is made from the 4 following items:
Ghostly Sheet Costume, Step into the Haunted House Background, Spectral Candles Shower and Spooky Haunted House Foreground.




The most important item in this outfit is definitely the Ghostly Sheet Costume. You can't have a ghost without a sheet! Right? This outfit is nice and simple, very quick to make and always fun to look at. The glowing eyes are a little… creepy, but who cares! Its awesome.
Well, it certainly has been a fun journey putting these outfits together, and if you get a chance to try and recreate them you will not be disappointed. Prepare your pet for the spookiest Halloween yet!
Some last minute tips for a fantastic spooky holiday season include:
-Don't underestimate the power of candy
-If you see a dark haired stranger with big spooky mansion and an amazingly suave cape, RUN!
-Walking through a cemetery during the month of October is not advisable!
-Blend Halloween colours, and create lots of different combinations
-Always be careful of things that go bump in the night
I hope you enjoyed reading this article as much as I enjoyed making it! Farewell!