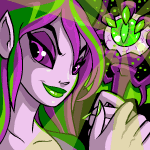 Celebrate in Style - Jhudora Day

by mreilynne

--------

Neopians everywhere know that Jhudora Day is fast approaching, and this evil faerie expects nothing less than a superior celebration. Is there any better way to celebrate than by dressing your pet up like Jhudora herself? I don't think so! Since imitation is the highest form of flattery, I've come up with a list of both Neopoint and Neocash wearables your pet can wear in her honor.

If you're newer to Neocash trading, here is a little tip to clarify some statements toward the end of this article: 1 cap is the equivalent of 200 NC or 1 Gift Box Mystery Capsule (GBC). So, if I say that an item is worth 3 caps, it is generally worth 600 NC or three of these GBCs, but may vary depending on the trader. If you ever need any help, the nice people on the Neocash Chat Board will happily refer you to some excellent value and trading guides.

Now, let's get on to the fun stuff: the Neopoint and Neocash wearables your pet can sport to celebrate this fabulous day!

Neopoint Wearables

Jhudora Wig – This amazing wig mimics Jhudora's luscious green and purple locks. It's so sleek and shiny, a perfect addition to your pet's outfit for the day. In fact, it's so great, that your pet may end up wanting to wear this wig every day. The famous Dark faerie would be proud, if she could actually express any positive emotion! You can find these tremendous tresses in user shops for around 13,000 neopoints. What a find!

Jhudoras Bluff Background – Any Neopian who is a true fan of Jhudora has visited her Bluff to lend her a helping hand, and this background depicting it is perfect to wear on her special day. It has more subtle hints of purple and green, in case your pet doesn't want to go all out (though they REALLY should...) You'd be surprised, but this gorgeous background can be purchased from user shops for around 10,000 neopoints.

Jhudoras Fingernails – No, these are not her ACTUAL fingernails, but they look so incredibly similar! They're a brilliant, glowing green in color - a must have for any Jhudora look-alike outfit. They even come in a pretty purple box! These nails can be purchased via the Shop Wizard for a mere 900 neopoints. Lucky you!

Jhudoras Spell – This is one of my favorite Jhudora wearables, just because it looks so cool! A swirling green glow wraps around your pet's hands, giving off hints of a very sinister spell being cast. I would personally pair this with the aforementioned fingernails, because the two look spectacular together. You can snag your own for around 5,000 neopoints after a quick Ship Wizard search!

Jhudora Balloon – Every celebration needs a balloon of some sort, and Jhudora Day is certainly no exception! This awesome balloon oh so perfectly depicts the admired Dark faerie's stunningly grouchy face. What Neopian wouldn't want to carry this around all day? Perhaps Illusen, but I think Jhudora would tell her to deal with it. These balloon are going to be a huge trend for the festivities, and I can guarantee they will flood the skies of Neopia by the thousands. Don't miss out! Pick up one of your own from user shops for about 200 neopoints.
That wraps up the list of Neopoint items that are specifically Jhudora-themed. However, I've found a couple of other Neopoint items that would go nicely with your Jhudora customisations, including the Cover of Darkness Foreground, Cloud of Dark Magic Foreground, Dark Translucent Wings, and Deluxe Dark Faerie Wings.
Now, onto the Neocash items. I'll give you fair warning: there are very few Jhudora-related items available from the NC Mall, but I have a feeling that there will be some more released soon... OR ELSE.
Neocash Wearables

Disembodied Cackling Jhudora – This creepy cackling sound effect will complement any Jhudora Day outfit. It can be purchased from the NC Mall for 150 neocash, but only if you have access to a special shop called the Elite Boutique, which is available to a small group of Neopians who have been around for a while. There's a very good reason for this: only the best of the best actually get to hear Jhudora's not-so-soothing sounds.

Floating Jhudora Faerie Doll – This is my favorite Jhudora Neocash item, just because it's so evilly adorable! Surrounded by a dark purple aura, this little doll will accompany your pet to all Jhudora Day festivities to make sure they are all up to par with Jhudora's very high expectations. Exercise extreme caution around this doll and only say nice things about Jhudora – there are rumors that every doll actually reports back to the famous faerie. Yikes! If you dare, you can obtain one of your own from the NC mall for 150 neocash, or trade for one at around a 1 cap value.

Jhudora's Bodyguards Collectors Bonus – Unfortunately, these little fellas are very rare in the NC world, as they were the bonus wearable awarded to a special few who purchased all five items in the Questing Faeries Finest Collection of NC Collectibles. However, these growling guys will protect you from a certain not-to-be-named faerie who lives in Meridell and isn't nearly as awesome as Jhudora. If you are lucky enough to find a trader willing to give their set of bodyguards up, it will most likely be for around a 30 to 35 cap value. Good luck in your search if you decide to find your own!
Like I said, there aren't nearly enough Jhudora-themed items floating around the NC Mall, but I'm sure TNT can be threatened... I mean... persuaded to whip up a few more in honor of Jhudora Day. To hold you over a bit, here are some other Neocash items I found that may work well with your celebratory customisations: Enchanted Dark Cape, Dark Faerie Magic Effect, Dark Faerie Shadow, Dark Faerie Magic Orbs, Dark Faerie Smoke Dress, and Dark Magic Dress.
I hope this article helped spark your imagination to create some great Jhudora Day customizations your pet can celebrate in style with! Good luck pleasing the most celebrated Dark faerie of all on her very special day. You'll need it.