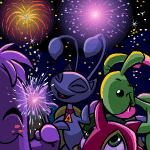 New Years Across Neopia

by baby_angel1123

--------

Happy New Years, fellow Neopians! How did you ring in Year 17? Did you brave the chilly temperatures and celebrate with fireworks? Did you get together with family and friends and spend the evening reminiscing about the past year? Or perhaps you feel celebrating the passage of time is silly and went to bed early. However you spent the night, I hope you had a great time. If you did not, we have some suggestions as to how to have a better time next time around!

From Altador all the way up to the Virtupets Space Station, there are many different ways to end the year in style across Neopia. No matter what your preference in regards to festivities, temperature, and food, there is something for everyone. Here are the Top 5 ways to celebrate New Years in Neopia:

5. Neopia Central

Neopia Central? More like Party Central!

If you want to ring in the New Year in style, this is the place to be. Everyone who attends dresses up, so be sure to pick out a fancy outfit beforehand! Although all the shops are closed, this hub is still bustling and as busy as ever. Neopians and Neopets from all corners of Neopia gather here and celebrate with music, dancing, and fireworks. A free music festival takes place in the center circle by the Money Tree. This gets started at around 9pm and four bands play an hour long set each, featuring their greatest hits, for attendees. This year, party goers got to dance to the tunes of Twisted Roses, Jazzmosis, Hikalakas, and Chomby and the Fungus Ball. Also, if you ever wanted a chance to chat up certain shopkeepers or rub elbows with Neopia's most famous, now is your chance to do so as everybody who is anybody is out mingling amongst the crowd. The party continues well past midnight and when the clock hits 12am, confetti rains down as Neopians continue to party the night away.

4. Terror Mountain

Did you have a bad year? If you did, there is nothing more cathartic than literally tearing down the past.

As everyone knows, the Winter Starlight Celebration takes hold of Terror Mountain and spans the entire Month of Giving. Come December 31st though, with the Month of Sleeping on the horizon residents must be quick to get everything back to normal. Join in on the fun, grab as many boxes as you can, and tear down that garland! Down come those stockings too! Roll up your sleeves and help residents move the Winter Games back to the Games Room. If you are feeling both brave and want a bit of a workout, you can also assist with moving the sleeping Snowager back to his proper home in the Ice Caves. (Don't worry; he won't wake up just yet!) Only a few items remain in the place where the once massive stockpile of Advent Calendar gifts once stood. As midnight approaches, grab a cup of hot chocolate and watch as the final gifts are given out, the lights are turned off in the building, and the carolers give their last performance of the year. What do they sing? Auld Lang Syne, of course!

3. Roo Island

The annual festivities on this small island often gets ignored due to its proximity to Neopia Central and its more famous celebration, but it is a shame because Blumaroos sure know how to have a good time.

New Years Eve is essentially a friendly, but still fairly serious showdown. The competition? Games, naturally! Friends, neighbors, and tourists pair off into groups of five. Fuelled by an endless supply of caffeine given out for free by the Coffee Shop, these groups of Neopians and Neopets then battle it out in the Games Room, trying to earn as many points as possible. At midnight, a special ceremony happens where the three teams with the highest amount of collective points are awarded a trophy from King Roo himself. The top gamer gets to spend January 1st as Roo Island's honorary "King of the Day." Best of all, everyone who participates gets a prize! So if you love playing games or are looking to do something unique, check out this underrated New Years Eve event. You will be away from the crazy crowds and the weather is pretty nice too!

2. Brightvale and Meridell

Given that they are only fifty miles apart, these two kingdoms always come together to celebrate.

Depending on the year, a masquerade ball is held one of the castles and everyone across the two lands attends. This year it was in Brightvale and King Hagan transformed his quiet abode to a place of extravagance and excitement. Given that this is one of the premier events of the year, some residents of Brightvale and Meridell spend months creating their masks and costumes for the ball. Don't worry if you are not that creative though, the only thing that is really necessary to attend the ball is a mask. Any ordinary mask will do, just make sure you pack one if you choose to attend! Despite the many outrageous costumes you will see, this is still a formal ball, so brush up on your knowledge of medieval etiquette and ballroom dancing skills. Also, if you have a sharp eye, you might just spot some famous Darigan residents in attendance. They will never admit it, of course, but they too are pulled in by the elegance and romance of the occasion. Everyone continues to dance long after the large clock in the main hall rings out twelve chimes. If you feel like taking a step back in time and spending the night dancing with that special someone, you should definitely check out either Brightvale and Meridell for your New Years celebration.

1. Mystery Island

Hate the cold? You and me both! Why not skip out on it altogether and ring in the New Year with the natives on this lovely tropical island?

Locals celebrate by gathering together to have a big feast at the base of Techno Mountain. Despite constantly having to serve Mumbo Pango food, the Underwater Chef still finds time to prepare a variety of hor d'oeuvres and mini desserts for guests. So between that and Mystery Island's bizarre fruits, delicious seafood, Jhuidah's crazy concoctions from the Cooking Pot, there are many island delicacies to choose from. Essentially, it is a big potluck, so be sure to bring a dish of your own, lest you want to offend the natives! The feast ends just before midnight. This gives everyone just enough time to make it down to the beach for the ceremonial bonfire dancing. Everyone is allowed to participate and you are encouraged to join in on the fun, no matter how bad your dancing is! With the excellent food, great weather, fantastic performances, and memorable activities, Mystery Island is easily the top destination for celebrating New Years in Neopia.

Bonus: Are you sad that you missed out on the festivities above? Not to worry! Shenkuu has their annual Lunar Festival coming up later on this month. Enjoy delicious Moon Cakes while watching the most spectacular firework show in all of Neopia. Make haste with your plans though, this is the most popular time of the year to travel to Shenkuu and rooms are filling up fast!

No matter how you choose to welcome the beginning of another year, make sure to be safe and have a great time. Here's to a wonderful Year 17, Neopia!