The Jolliest Christmas Pets

by aleu1986

--------

Happy Month Of Celebrating!

In this article I'll be showing my personal favourite Christmas pets, the ones I consider to be the cheeriest, cutest and cuddliest of all! In addition, I've listed suggestions for petpets to each of the presented species, so if you're really into colour coordinating, and want to give your Christmas Neopet a petpet to match them, please read on!
Christmas Bori
The Bori is native to Terror Mountain. This Christmas Bori probably always wins when he plays hide-and-seek in the snow! He has a thick, shaggy white coat, and his shell and powerful claws have become a light grey thanks to the Christmas Paint Brush. This Bori has a light mint green belly whereas the tips on his ears and his tail tuft are a dark green, note the little twig of holly on his tail. The wool scarf around his neck (with the Christmas signature colours) is sure to keep him warm.
Petpet suggestions:

Native to the Haunted Woods, the Tyrowbee are known for always being terrified. Perhaps moving to Terror Mountain isn't the best idea? In any case, this petpet has a scarf similarly to the Bori, and his green stripes pick up the green of the Boris belly, tail and ears.

Give your Bori his very own flurry!
Christmas Chomby
The gentle giant from Tyrannia is feeling the Christmas cheer! He's got a lovely creamy white hide with delicate holly decorations in place of his usual spots. His back plates have a fun candy cane pattern and around his neck hangs a large wreath with blinking lights. The Christmas Chomby is a Neopet to take notice of!
Petpet suggestions:

The Feloreena have tiny wings, and can only fly short distances before getting tired. Your Chomby is sure to offer her a ride on his back, though! The Christmas Feloreena has a similar colour to the Chomby, she's got two sprigs of holly on her head and is holding a little bell. So cute!

The Christmas Orbulon has a cute little hat, a white base colour and a wreath to match the one of the Christmas Chomby.
Christmas Kau
No one can deny the cuteness of the Kau, and the Christmas Kau is cuteness off the charts! He's got a light milk chocolate colour complete with pale spots on his back and head. His hooves and tail are a reddish brown and he's even got two pairs of horns! His own Kau horns and a pair of antlers that look like he borrowed them from an overgrown Raindorf. The most striking feature of the Christmas Kau, however, is his big red nose.
Petpet suggestions:

and

With their dark brown colours, the little antlers and glowing red noses, both the Christmas Puppyblew and Christmas Snorkle are perfect companions for your Christmas Kau!
Christmas JubJub
Possibly the cutest Christmas Neopet of all, the Christmas JubJub looks like he decided to decorate himself rather than the christmas tree! He's got a brilliant green fur and around himself he's wrapped a garland in the complementary colour red. On the sides of his head/body he's got two royal blue ornaments, and his feet are an earthy brown shade. On his head he's got a shiny star, completing the christmas tree look!
Petpet suggestions:

The Christmas Kookith may look like a present, but it is in fact a petpet! The green colour and bright red ribbon match the Christmas JubJub perfectly.

The Christmas Khonsu looks like a little ornament and picks up the red from the garland belt and yellow from the JubJub's star decoration.

With an appearence quite like a Christmas tree, the friendly Christmas Meowclops may be an obvious choice for your Christmas JubJub.
Christmas Krawk
This jolly Krawk has quite the unique base colour, a nice mix of light green and white. He's got dark green spikes and spots on this legs, his piercing red eyes match the colours of his clothes. His outfit consists of hat, jacket and shoes, all in a matching, yummy looking candy cane pattern, perfect for the Christmas season!
Petpet suggestions:

The Christmas Gruslen's fur colour matches the Christmas Krawk's light shades, plus he's got a candy cane pattern on his tusks, picking up the pattern from the Krawk's clothing.

Peos can be quite demanding and throw temper tantrums if they don't get what they want, which may spell bad news for your Krawk's bank account in the Month of Celebrating! Their nature aside, a Christmas Peo has a sweet peppermint pattern complete with a stylish green bow.

And speaking of bank accounts... The Christmas Snowickle is also a good choice for the Neopian with more NP to burn.
Christmas Peophin
The beautiful Christmas Peophin has a gorgeous deep green colour and a luxurious white mane that looks oh so soft and fluffy! She also has a sprig of holly behind her ear and a huge red bow completes her cheery Christmas look. Note also the clever details of the cute white markings around her eyes and how the usually round gem on the headdress is a star! The Christmas Paint Brush will make a star out of your Peophin too!
Petpet suggestions:

The Christmas Gallion has a rich red colour with light blue accents on his tail, chest and head tuft. His horns match the colour of the star he proudly displays on his forehead and he even has a big green bow to complement the one your Christmas Peophin is wearing! Gallions are quite energetic and love to be the centre of attention, so make sure your Peophin has enough time to spend with her new petpet.

The Christmas Eizzil is a fluffy little fellow, who can resist those big blue eyes? And not to mention the adorable accsessories, from the cute hat to the tiny mittens. This Eizzil also has a pretty purple bow! These petpets are jolly all year round, and they have quite the sweet tooth, so don't forget to stock up on muffins!
Christmas Ixi
If you hear the merry jingling of bells during the merry month of Celebrating, it's probably a Christmas Ixi skipping about! The noisy bells are no friend to the Ixi that loves to sneak up on his friends, but they do make a fantastic accsessory for the holidays! The Christmas Ixi is the only member of the Ixi herd that has antlers rather than the simple horns; plus, he is sporting quite the handsome brown coat and a charming pair of mossy green eyes. There is also holly sprigs aplenty around his antlers and tail. Finally, let's not forget the shiny red nose!
Petpet suggestion:

Well, who didn't see this coming a mile away?
Christmas Poogle
Poogles are, just like Boris, native to Terror Mountain. The Christmas Poogle has a quite unique shade of green with red stripes barely visisble from underneath his hat. Note the cute detail of the pine cone at the end of his hat, how perfectly fitting for the winter/holiday season! He also has a smart jacket which in colour and style is in perfect synch with his headwear. The black belt completes the outfit.
Petpet suggestions:

The Ukali is a petpet that always appears mournful, but that doesn't mean they don't feel the warmth and joy of the Month of Celebrating! The Christmas Ukali has a rich green colour to match your Poogle and he's even got a cute little hat!

Who doesn't love Noils? They're so cute and fluffy! Your Poogle will love this bouncy little companion!
Christmas Xweetok
There are many lovely Christmas Neopets, but my top favourite is the Xweetok. He shares the milky white base colour with several others, but I just love how beautifully the green and red colours are mixed together in his fur, without adding any new patterns or spots. The only exeption is the adorable detail of his ears – they've been given a candy cane look! This Xweetok has a pair of warm, red mittens to protect his paws from the cold plus a super cute hat with a little bell that jingles merrily as the Xweetok runs and jumps from here to there.
Petpet suggestions:

These little critters are quite adorable, and no Xweetok (or owner of one) could resist a red one all dressed up in green overalls and white shirt. The little hat just underlines the cuteness of this petpet and his outfit. He'll be a busy little helper for your Xweetok during the Month of Celebrating.

Crystacats can be quite demanding, and like most petpets, they require lots of care and attention. The Christmas Crystacat doesn't have an adorable outfit like the Mazzew, she does have a little sprig of holly on her forehead, though, and her colours match the Christmas Xweetoks perfectly. Won't they make a pretty pair for your holiday photos?
That concludes my list. I hope it brought you some Christmas cheer. Please NeoMail me with any comments or questions you may have.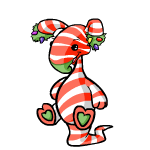 Happy holidays!