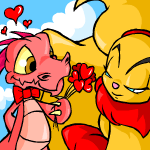 Valentine's Shopping Guide

by xxserenityx

--------

It's that wonderful time of year again! With February here, we all know that Valentine's day is soon approaching. The town of Neopia will soon be filled with shoppers looking to find that perfect gift for their loved ones. Despite that winter is still here, we all will be wrapping up in our warmest clothes and heading out to look through the frosted windows that have been filled with stunning gifts. The jewelry shops have their magnificent diamond rings, necklaces, and earrings sparkling so bright you can see them from across the street! Local chocolate shops are busy at work creating delicious treats for that special day, with sweet mouth watering smells drifting through the town that tempt you inside to try a sample or two. The flower shops incredible breathtaking arrangements are on display in their windows for you to enjoy choosing from. All through Neopia lamp poles have been wrapped with shimmery rose colored ribbons, and lovely Valentine drawings have been painted on all the glass windows of every shop.

It's the one day of the year set aside for us to show our loved one and dear friends how much we care and appreciate them. Finding them a perfect gift can be hard, so here I have created a list of great gift ideas that are sure to please!

Blue Valentine Grooming Set
We all know how many hours are spent on Valentines Day in the mirror trying to look our best for that special day. Whether we are planning a night out with a loved one, or a fabulous gathering with friends, we all want to look great. So that is why this grooming set makes a perfect gift for that special girl in your life. Included in this beautiful striped blue bag with sparkly pink hearts sewn onto it is a charming soft bristle heart shaped brush, and a shimmery blue comb! All the essentials to look your best.

Fyora Valentine Scissors
For those looking for a special gift for that creative friend in their life, these Fyora themed valentines scissors are sure to please! Many hours were spent with Fyora designing this special scissors. A carefully crafted Fyora's head and delicate wings were created to make these scissors a work of art! These charming scissors were also decorated with pink diamond hearts, and a carefully chosen purple material for the handles are sure to give you great grip. These scissors are also great to make all your Valentine's day cards!

Gold Valentines Ring
Who doesn't enjoy giving or receiving a beautiful ring on Valentines Day? Whether you are you are looking for that special someone, or a dear friend, you cannot go wrong with this incredible ring! This gold valentines ring has been carefully created from two sparkling gold bands with a diamond encrusted jewel on top. If gold isn't quite right, you can't go wrong with the traditional Valentines Day ring that is made from a simple diamond heart and a thin gold band, or the stunning silver valentines ring that has a pale pink shimmery diamond heart with a thick silver band.

Valentines Heart Shaped Chocolate Box
Just looking at these chocolates will make your mouth water with delight! This lovely heart shaped box of chocolates has been filled to the top with a scrumptious assortment of milk and dark chocolate covered sweet sticky caramels! This chocolate box also makes for a great gift has it was covered with a rose colored red velvet material and two stunning roses sewn on. So not only can that special someone enjoy a delightful box of chocolates, they also have a keepsake box for the future.

Valentines Bruce Plushie
Well, this plushie just makes you smile doesn't it? Soft, squishy, cheerful, and adorable! Plushies make a great gift to give to all of your friends on this special day. Because really, who doesn't love plushies? Whoever receives this darling plushie will truly know you care. You can also get similar valentine plushies all created from shades of cotton candy pink to deep rose with loving hearts sewn on. Including Grarrl, Nimmo, Wocky, Yurble, Chia, Cybunny, Grundo, Hasee, Kacheek, Kiko, Kadoatie, and Quiggle!

Valentine Piano
Planning a get together on Valentines? Well, then you need music of course. So why not go out to town and pick up this fabulous valentines piano? This magenta colored piano has lovely hearts carved into it which makes it stunning. You and your loved ones will playing tunes late into the night with this wonderful piano. Looking for some other musical instruments? If so, you can't go wrong with the valentines guitar, harp, or even kazoo! All these are also a great gift idea for someone with musical talent.

Valentines Day Basket of Hearts
Wow! Just look at this basket of hearts! This plain basket has been transformed into a dazzling work out of art! A heart patterned felt has been wrapped around the base of the basket, with a soft rose colored ribbon wrapped around the handle with a beautiful stunning bow on top! You can skip through Neopia on Valentines Day and throw these beautiful pink and rose colored hearts out and spread love and joy to everyone you see!

Valentine Rose Bouquet
Stuck on what to give that loved one or special friend? Then you can't go wrong with flowers! And this Valentine's rose bouquet is incredibly beautiful! A dark rose colored vase has been filled with roses of every cheerful shade of pink and red, deep green leaves, and a charming white and red dotted balloon. This delightful arrangement will look great sitting upon your fireplace, or on your kitchen counter.

Valentines Muffin
Looking for a gift for someone with a sweet tooth? Or are you hoping to find something to serve at your valentines day gathering? Then why not go out and pick up these fabulous muffins? These heavenly dark chocolate muffins are filled with sweet chunks of strawberries, dark chocolate chips, and smothered with a luscious milk and white chocolate icing! To make these decadent muffins even more spectacular, they are then sprinkled with candied hearts and topped with a sweet strawberry!

Valentines Pillow
This Valentines throw pillow is a great gift idea as it's something your loved one can keep forever. This red satin and gold encrusted pillow with gold tassels has been carefully sewn into a delightful heart shaped then covered with a dainty rose pattern. Whether you place this graceful pillow in the corner of your windowsill, upon your couch, or on your bed, this stunning pillow will be sure to catch your eye every time you walk in the room.
Happy Valentines Day, everyone! Enjoy your day with your loved and cherished ones.