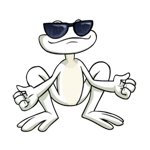 The Top NP Wearables

by mondaybear21

--------



Hi! There are not a lot of users out there who don't use NP a lot, including me! It's because you don't get NP a lot, or you aren't interested in NP at all. But that is okay. But what NP wearables do you really need? It could take a while to decide that question, but now, I will be honest that you should read this guide! This has 10 of the best NP only wearables in my own opinion and plus, there are a few suggestions of similar items you should check out on your own! And lastly, each item will have its own rarity and price.

Wearable #1: Black Square Glasses
Rarity: 101 (Special)
Price: 125K-200K NP
These glasses are glasses that can make any Neopet smart. Their style is different from all of the other NP glasses, because their style gives them a whole new look. Also, they are different from all types of glasses! But if you can afford the huge NP range which can be normally one-fifth a million NP, then these glasses should be for you!
Also Recommended:
Jazzmosis Glasses: These glasses are the original form of glasses. Goes great with almost any outfit, and also has a cheap price!
Price: 10,000 NP
Rarity: 101 (Special)
Censor Bar Glasses: These glasses are super-cheap, and that is a good sign about this item! These glasses are forward in glasses technology!
Price: 500-1,000 NP
Rarity: 70

Wearable #2: Double Rainbow Background
Rarity: 101 (Special)
Price: 70,000 NP
This background is a double rainbow across the sky! It's so intense... BUT WHAT DOES IT MEAN? Anyways... this background is one of those backgrounds that is in a outside setting. Cool, huh? Okay, back to the background. This background looks good on any pet with a few good wearables, like an Explorer Backpack, Basic White Shirt, Khaki Trousers... oh yeah, also this background can look kinda cool with an adventurer outfit, or something related to it. It's all up to you!
Also Recommended:
8-Bit Mystery Island Background: I'm sorry I can't find anything to fit in this situation, but this actually is another outdoor background and also, it's 8-Bit! That's awesome, right?
Price: 110K NP
Rarity: 88 (Rare)

Wearable #3: 404 Shirt
Rarity: 88 (Rare)
Price: possibly in the 30K range
Okay, so this tee is a good addition to your closet collection. Why? Because this 404 Shirt is possibly a good shirt for being stylish because it has 404 on it! And what other thing can make this so useful right now? Well, according to the description of this item, "When Neopets goes down, the shirt comes on!" And that is why the 404 shirt has its name. Now, we are moving on with the program, because I need to.
Also Recommended:
Basic White Shirt: Ever heard of "back to basics?" Well, this is what this shirt is for. This takes a normal white shirt, and turn it into a good item with fashionable respect. This can look good with any outfit, since there are a limitless number of possible wearables you can match up with this shirt.
Price: 1,000 NP
Rarity: 40
Destruct-o-Match Shirt: Like shirts with game related things? Well, this answers the question! This Destruct-o-Match Shirt will possibly make you get noticed, since these are NOT cheap. And if you do have one, that is good for you.
Price: 70-80K NP
Rarity: 101 (Special)

Wearable #4: White Belt
Rarity: 101 (Special)
Price: 300 NP
I know, I know, you're saying, "Why would you ever put this item on this list?" Well, here it is. This belt is like a good belt to have, since there are not a lot of NP-only belts right now. You could be thinking that is a bad idea, but seriously, you should go with the flow. Perfect look, perfect colour, and it has a VERY CHEAP PRICE! Whoa!
Also Recommended:
Holiday Belt: If the White Belt or the Green Belt is not in your style, and/or you are a little festive, then a belt like this should be for YOU! And a little bonus here: this is a cheap Advent Calendar item!
Price: 450-500 NP
Rarity: 101 (Special)
Green Belt: OK, White Belts aren't your thing, or the Holiday Belt? Well, there is one more thing you should check out: the Green Belt! It is the most expensive of the three Belts, but it isn't expensive at all! Get this one, or get 'em all, because they all won't cost a lot at all! (Wow, that seems like a good slogan! I might use that one time.)
Price: 1,000-1,800 NP
Rarity: 101 (Special)

Wearable #5: AAA Host Trousers
Rarity: 101 (Special)
Price: 14K-19K NP
Good pants make up for a great outfit, so if you want great pants to plan a perfect outfit, you should totally get these trousers! I know, they aren't the cheapest trouser you can ever find, but having a good NP amount will get you some nice trousers. And yeah, it will be good in looks. Period.
Also Recommended:
White Top Chop Trousers: When you think about, let's say buying trousers, cheap ones, and it will look good on almost any outfit. So these are where these clean, white trousers come in. For maximum effect, get the White Top Chop Robe, a White Belt, and the Shenkuu Training School Background; you already have a perfect outfit that is easy!
Price: 1,000 NP
Rarity: 101 (Special)

Wearable #6: Hubrid Nox Moustache
Rarity: 101 (Special)
Price: 1,500 NP
Wigs are hard to actually find and like, aren't they? Of course they are. But some NP wigs aren't wigs. And is this a wig? This is actually a good item you can customize with, because this is the only mustache you can only get with NP! There is also something else if you were wondering why this has a rarity of 101... This was actually an Advent Calendar item! Cool, huh? Yeah, I thought so too.
Also Recommended:
White Gnome Beard: Alright, this is something related to this. I think. But let's get to the point, I had to pick something. So I picked this. It's a White Gnome Beard! Hooray, gnomes!
Price: 1,000 NP
Rarity: 101 (Special)

Wearable #7: Stylish Volcano Run II Shoes
Rarity: 101 (Special)
Price: 2,500 NP
When I started on Neopets, this was one of my first wearable items! Yippee! This has been in my closet ever since I got it, and these shoes look good with any outfit, any time! Also, I think they have made a point whenever they put "Stylish" in the style. And how is this possible? All you need are the shoes.
Also Recommended:
Snow Wurm Socks: These socks are, um... strange. Whenever you put these on a Neopet, it feels like their feet are being eaten! Actually, it seems cool. Because they look so realistic without being real.
Price: 22K NP
Rarity: 101 (Special)

Wearable #8: Replica Lucky Coin
Rarity: 101 (Special)
Price: 17K NP
Codestone Leis are cool, but they are cost a lot of NP. Maybe in the 30K range. But do you want to have a good necklace without high prices? Well, this Replica Lucky Coin is the thing. So, this is not the real Lucky Coin (since it says "replica" in the title), you can have something stylish and cool that isn't a real thing for a low price!
Also Recommended:
Neopies Backstage Pass: This is a great item-er... necklace. It means you have a cheap backstage pass for a VERY LOW price of NP! Wait-this isn't a real backstage pass. But still, you can own a piece of the Neopies whenever you want! C'mon, you can do it! It's not cheap either!
Price: 500 NP
Rarity: 101 (Special)

Wearable #9: Snowager Cap
Rarity: 101 (Special)
Price: 4,000 NP
Okay, so you need the perfect hat to celebrate Terror Mountain, huh? Well, there is only ONE solution to the problem. This super-cute Snowager Cap! Well... this doesn't feel like a cap at all. So, it's different from a cap. And now, the Snowager need his own cap, right? Sure he does! Okay, so this cap is great, and also it would be cool if it were possible to put this cap on a pile of items.
Also Recommended:
Winter Blechy Hat: Now we might get to the fact that I heard you like Blechies... because there is a Blechy related hat! Hooray! This is different because the rarity of this item is higher than most of the items in this article.
Price: 2,200 NP
Rarity: 180

Wearable #10: Asparagus Scarf
Rarity: 101 (Special)
Price: 1,000 NP
This is the last item on the list that is a main wearable. Even I can't believe this list has to come to an end. *sad* Also, we celebrate the end of this list with an Asparagus themed wearable! If you think of it, this is the great way to end this list. Anyways, the scarf is like all of the scarves, except this is an Asparagus scarf! Still, it looks great and looks even BETTER with the recommended item below. Now go check it out...
Also Recommended:
Fingerless Asparagus Gloves: Yeah, I knew you were thinking about something Asparagus-related. So, this is it. The final item. And... it's over. :(
Price: 400-600 NP
Rarity: 101 (Special)
That is it! We covered 10 NP-only wearables from shoes, scarves, caps, backgrounds, and more! Remember: these were ALL in my opinion. I hope you can find different NP-only wearable items on your own! Have fun, customizers!