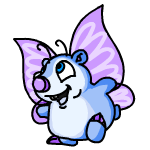 Countdown of the 10 Cutest Faerie Petpets

by simplysochic

--------

After years of struggling and saving and passing up on every frivolous purchase you could possibly make in Neopia, you did it: you painted your pet . . . FAERIE. Arguably the favorite color among Neopians, your Wocky/Pteri/Lutari (just imagine your pet listed here, folks) can now soar and fly in circles around all of your friends' pets.

But something isn't right. I bet you know what it is: your faerie pet needs a friend. A faerie petpet friend! So I have compiled a list of the ten cutest faerie petpets that reside in the lands of Neopia and have had them rated them on a scale of one to ten by a panel of willing faeries who wanted to better the lives of the Neopians across the globe.

So let's see the results and the judges' comments!

Tenth Place . . . Faerie Intesteen
Jhudora: I like how lumpy its little blue body is.
Jhuidah: The navy and orange wings of the Faerie Intesteen have a tropical feel to them.
Illusen: I just want to cuddle with this cutie pie!
Fyora: I appreciate the Faerie Intesteen's coloring and intriguing appearance.

Ninth Place . . . Faerie Spyder
Jhudora: It has a lot of eyes. What's not to like?
Jhuidah: The striped wings are a nice touch.
Illusen: The purple and blue color palette is so very pretty.
Fyora: Although underloved and often ignored by the Neopian population, the Faerie Spyder is quite lovable. I myself have one as a companion.

Eighth Place . . . Faerie Crabula
Jhudora: The claws on the Faerie Crabula are exceptionally large – great guard petpet.
Jhuidah: I feel like this little guy could burrow between your toes for a good snuggle!
Illusen: This petpet could fit in with any family and just hang on.
Fyora: The Faerie Crabula is one of those petpets that every family should have. They're loyal and protective of those that they love.

Seventh Place . . . Faerie Walking Carpet
Jhudora: I like a petpet whose mouth can't be seen. They're perfect for keeping my secrets a secret.
Jhuidah: They're like big fuzzy pillows that you can hug and squish forever.
Illusen: I like the big orange eyes. Faerie Walking Carpets make great petpets for Neopians with poor eyesight.
Fyora: I believe that Faerie Walking Carpets are often selected because they remind Neopians of their childhood plushies.

Sixth Place . . . Faerie Swabby
Jhudora: I bet I could give someone a good whack or two with this one.
Jhuidah: The Faerie Swabby's curly rear end is just so darn adorable.
Illusen: I like how the sharpness of the pointed wings are balanced by the, um, curly rear end.
Fyora: I suppose the Faerie Swabby could be considered the petpet for the faerie Neopet who is a pirate at heart.

Fifth Place . . . Faerie Staragus
Jhudora: This one can suction itself to people's faces, right?
Jhuidah: The detailing on the top if this petpet's head reminds me of asparagus – YUM! [rubs stomach]
Illusen: The purple detailing on the wings and extremities is a perfect complement to the blue-green body.
Fyora: The Faerie Staragus is the perfect petpet for all who love being hugged. Look at those little arms they have. They're hugging machines.

Fourth Place . . . Faerie Tasu
Jhudora: This one loves to play . . . and pounce . . . and scratch [evil laugh]. I mean, this one likes playing with its friends.
Jhuidah: The blue spots are a perfect camouflage when you play hide and seek with them on the shores of Mystery Island. The Faerie Tasu would make a great friend for competitive gamers.
Illusen: I think this petpet is wonderful for those who want to invest in a furry shovel – they love to dig around in your garden!
Fyora: Faerie Tasus are lovely petpets for those who like a companion while running to stay in shape. They have plentiful energy and love to motivate others.

Third Place . . . Faerie Meepit
Jhudora: There's something slightly evil about this petpet that I'm totally rocking along with. Party on, Faerie Meepit!
Jhuidah: Um, who suggested this petpet be on the list?
Illusen: It certainly wasn't me! Guys? [scream] Oh my cupcakes, it's coming closer!
Fyora: Stop acting so childish. The Faerie Meepit can be a very lovable pet. But you might want to take it to the veterinarian's office before you take it home, so you can confirm it has gotten all of its shots and vaccinations.

Second Place . . . Faerie Polarchuck
Jhudora: No comment from me. This one looks too innocent. Shoot, that could be considered a comment!
Jhuidah: I think that the Faerie Polarchuck is adorable. I would want to fly around with this one all day long.
Illusen: Aww . . . he's so cute [cuddles]. Can I keep him when we're done with judging? Please?
Fyora: I love the incorruptibility and purity of Faerie Polarchucks. They are the perfect petpet for the Neopians who like to have a good cry while watching a sad film or two.

First Place . . . Faerie Mallard
Jhudora: I like how this one looks like he is wearing a mask. It's like an "I'm-gonna-rob-your-bank" look. Not too shabby.
Jhuidah: This petpet has a variety of colors and patterns on it. I like that! It would look good alongside any of the Faerie Pets in Neopia.
Illusen: Faerie Mallards are fabulous for splashing around in puddles and puttering in the dirt and mud, so they are otherwise known as the greatest petpet for Neopians who are still children at heart.
Fyora: Clearly adorable, the Faerie Mallard is not only aesthetically pleasing but also one to remain trustworthy and faithful in difficult times.
NOTE: Although Illusen did not get to keep the Faerie Polarchuck that had been brought to judging, Fyora is planning to send her one for her birthday this year.
So there you have it: the ten cutest Faerie Petpets in all of Neopia. Whether you agree with our judges or not, I'm sure you will be able to find the petpet that best suits your Neopet. After all, who knows them best but you?