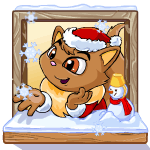 Make it Merry: Winter NC Fashion Guide

by giggilogalmewmew

--------

'Tis the season to be dressed and jolly, fa la la la la, tra la, la, tra la la!

Welcome to winter, my friends! A season of mirth and merriment, with icicles dancing amidst a background of twirling snowflake ballerinas! Winter is my favourite season of all time, playing a host to my favourite of holidays. When the snow falls, and the ponds freeze, I find myself bringing out the hot cocoa and anticipating the lights and joy to come. For those of us that are fans of fashion, winter brings out a new set of challenges that most other seasons do not come with. It is difficult, if not near impossible, to create a stunning look that can fight against the cold of the dead of winter without looking bulky and horrendous. Most Neopians usually choose to be freezing and fashionable, or warm, snugly, but equally ugly. So what does the wayward clothing fan do? Look here and read, that's what! I, the skilled winter clothing aficionado, am here to help you dress beautifully for the winter season. This, my friends, is my review of the top ten neocash winter wearables!

Prissy Miss Snowflake Dress
Long and cascading, the Prissy Miss Snowflake Dress makes any dress wearing Neopian a vision of winter in powder blue and crisp snow white! This dress is more like a gown, enrobing the wearer in plush velvet and faux fur. A classic snowflake print covers the dress, creating a unique falling effect when the wearer walks anywhere, and a powder blue ribbon accents the middle. The trim on the entire dress hints at what warm faux fur lies beneath the surface, making the dress not only beautiful but also very warm! This dress is perfect if you want to make a statement, and can be jazzed up or worn as is depending on the occasion.
Make it Merry: Turn up the holiday heat by adding a pair of Cherub Wings! This simple accessory takes your outfit from winter to angel in one easy step.

Sparkling Winter Cloak
For those of you who worry about keeping warm and still looking like you stepped out of Cosmopolitan Fashion Guide, this cloak is the perfect outer wear for you! This draping cloak goes from head to floor, with long sleeves and a large hood. It is made of a heavy material, lined with fleece and trimmed with a plush trimmed down faux fur. The rich blue and silver trims are highlighted by a stunning silver and sapphire broach, giving this cloak a rich texture and look. The beauty of this cloak is that it's a showpiece all on its own, and can completely cover whatever drab outfit you might be hiding underneath! My suggestion, though, is to pair it with a stunning dress and show the world just what you can do.
Make it Merry: Taking yourself from winter fashionista to snow kissed Queen can happen in seconds if you simply add in a Glamorous Snowflake Wig! Just a few minutes in the mirror and a couple of bobby pins and you'll be set to go.

Summer Ruffle Shirt
Not all winter-wear must be stifling with weighted down fabrics! This fantastic light blue ruffled shirt does double duty as a light airy shirt for the summer, and when paired with appropriate clothing in the winter, is a fantastic tribute to the colours of the season. Delicate with pleated trim and ruffles encasing the neck, this shirt is an eye catching piece all on its own, taking the wearer to a whole new level when paired with something extra fancy. Pair it with a simple jacket and trousers for the daytime, and accessorize it keenly at night. No one will imagine you walking in wearing this!
Make it Merry: Accessorizing this shirt is as simple as pairing it with a Starlit Scarf! The soft white-blue and glittering tassels of this scarf are a stunning and simple way to highlight the elegance of this shirt.


Woodland Archer Dress and Shoes
There seems to be a common theme among winter clothing, and that theme is blue, blue, and bluer! As much as I love blue, white, and all the pastels that winter invokes, I have to ask an important question: what happened to the kickback to natural living? The Woodland Archer Dress and Shoes set embodies just this love for natural clothes, reminding us that winter is not just snow and icicles, but beautiful sleeping fir trees too! Donning this simple outfit is a classically rustic way to pay homage to the natural earth-bound roots of the winter season, and it looks great too. Just make sure you wear a warm cover up so you aren't chilled!
Make it Merry: A rich green frock is nothing without a holiday pop of red, so why not add some poinsettias? For those who are Elite, a Pretty Poinsettia Purse is a fantastic way to accessorize this dress set. For those who are not, kick up the volume with a Winter Poinsettia Staff!

Winter Prince Jacket
This sultan-inspired jacket is a sure hit for every fashion forward pet who wants an embellished look this chilly season! Dressed in all white, this jacket is loose fitting yet warm, with puffed sleeves and trim, belts, and a stunning broach in gold and sapphire. Add in some embroidery on the right sleeve, and this jacket is most definitely fit for a ball! Downplaying this jacket at all would be a crying shame, but if you must, pair with a simple pair of trousers and a cozy jacket.
Make it Merry: Want to go from Winter Prince to Winter King? It's as easy as simply donning an Ice Crown! Pop that baby on top of your noggin and you'll be cool as an icicle wherever you go.

Cosy Ski Jumper
Whoever said this wasn't fashionable was crazy! The Cosy Ski Jumper is the cutest ski jumper ever to grace the market, and I can tell you with a firm reassurance that big, gaudy, holiday prints are completely IN. This warm jumper is skilfully knit to create a vision of a clear winter's eve, with adorable yellow tassels to boot! With a warm adjustable turtleneck and thick comfortable sleeves, this ski jumper is perfect for any cold day, and even better for a ski trip with your friends.
Make it Merry: Donning a Curly Blonde Cherub Wig takes this ski jumper to an entirely new level by creating a carefree, athletic, 'What's up dude!' visage!

Heart Thermal Shirt
Winter isn't all about blue and white, it caters to the pink fan too! This gorgeous fleece shirt has been made from the finest babaa wool, tightly woven with a maximum thread count, making it not only soft, but extremely warm as well. The beautiful bright pink heart print fabric has been adorned with a patchwork red heart, red sleeve trim and two perfectly placed buttons for ease of adjustment. With this thermal shirt, you're sure to catch the eye of any swooning admirer!
Make it Merry: A Heart Thermal Shirt is beautiful as-is, but adding a Valentine Heart Pouffy Vest overtop takes your pink winter wear to a new level! Zip this up before you go out and you'll be warm AND extra cute.

Warm Puffy Jacket
Others say the igloo look is out, but I say it's just beginning! What better way to keep warm and fashionable this winter season than with a cuddly warm jacket? This beautiful cream coloured coat brings back the Terror Mountain igloo days with heavy puffed sleeves, and a large hood. Trimmed with fleece designed to look like fur, this jacket is adorned with rich chocolate brown, light pink, and powder blue. It is warm in all weather conditions, and is sure to be eye catching all season long! Wear this over any outfit and you'll stay fashionable no matter what.
Make it Merry: Carry with you a Sparkling Ice Staff and you'll look just like you've come out of a long winter's hike all day long! The cold air will keep it well frozen, and it will help to provide balance during those long treks through thick snow. Function and fashion never collided so well!

Shiny Horns
There are few ways to instantly turn up the fashion notch that do it better than a pair of stunning Shiny Horns! These beautiful curved horns add a sense of theatrics and ceremony to any situation, instantly making the wearer eye-catching and important. With stunning turquoise adorning the silver and blue-violet horns, you even glitter in the sun! The beauty of these horns is that they are simple, easy to wear, and go in every situation. Go ahead, wear them anywhere!
Make it Merry: If you want to really make your look stand out, it's as easy as one, two, and three. 1. Carefully apply a pair of Icy Eyes. 2. Smudge some Snowflake Face Paint over your eye. 3. Slide on a Silver Cobrall Cuff, and strut your stuff!
Brown Corduroy Trousers
Corduroy is a very durable fabric, read to take on any weather! It does the best in cold though when you're needing something a bit thicker, and because of this, the Brown Corduroy Jacket and Trousers set is a favourite pick of mine. Complete with a matching jacket and pair of pants, this stunning set has a classic pinstripe design and rich medium brown colour. It's perfect for wearing in separate pieces, or all together, to create any look from casual to business, to very fancy! This suit is the ultimate in multitasking for this upcoming winter season.
Make it Merry: Dress this outfit up with a Steaming Mug of Hot Borovan, the Holiday Ornament Earrings and Necklace set. Not only will it carry you into the festive season, but you'll look like you're enjoying yourself along the way!
The winter season may be blistering cold, but there is no reason that you, the tasteful fashion fanatic, can't be as cool and unique as the falling snowflakes! Fashion is fluid, and there are hundreds of amazing items that you can utilize to create a brilliant winter inspired look that is not only stylish but doesn't look weighted down. Above were my ten favourite winter items for this upcoming season, and I hope you've enjoyed them and will utilize them in your own styles! Tally ho, fashion fans, it's going to be a very merry winter indeed!