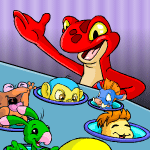 Old vs New: Which Game is For You? Part I

by lakefox

--------

Have you ever wondered what happens when you type a game's identification number into the address bar and your neopet appears then tells you "Sorry, this game is not available." Well, welcome to Old vs New, where each week my pets and I will be taking a look at some popular games located in the game room. Sometimes while playing the games located there, we discovered a bit of nostalgia for the older games, which inspired the newer versions. To appease myself (and my neopets), I do play the original and/or older versions of games which can be located at the Game Graveyard (located in the Haunted Woods), but please keep in mind, no neopoints will be made or high scores saved. The games located in the Game Graveyard are there for fun, essentially for people like myself, and perhaps fellow Neopians who just want to play them; after all, that is what we are here for, right? This week, we are going to take a look at Techo Says vs Techo Says, Kiko Match I vs Kiko Match II, and Codebreakers vs Time Tunnel vs Clockwork Codebreaker.

*As a side note: All of the articles will have the following format. General information about the game (Title, Type, Location, Identification, and Status) followed by a brief overview of each game. Once all related games have been discussed, then I will give my opinion, but please feel free to form your own.

Title: Techo Says

Type: Puzzle

Location: Game Graveyard

ID: 1

Status: RIP Y5

Ah! What better place to start than the first flash based game Neopia ever experienced; Techo Says. Remember the good ole days where you bopped petpets on the head with a giant mallet, all while a Techo was distracting you. Oh wait... you don't have to remember! You can experience it yourself by entering the Game Graveyard and wander on over to the Techo Says gravestone. This is essentially a memory based game, where you repeat what the "Techo Says". You start with one petpet; then you build on a sequence of petpets. For example: Quiggle; Quiggle, Moehog; Quiggle, Moehog, Chia; etc. In each round the sequence gets longer (add five every time) and does not build upon previous rounds sequences. So round one is a sequence of five, round two is ten, round three is fifteen, etc. When I was first introduced to Neopets, this was one of the first games I ever played and continues to be one of my favorites. I also earned a lovely Silver Trophy in this game, before I even knew you could have trophies in games, and this was one of the first trophies I ever had!

Title: Techo Says

Type: Action/Puzzle

Location: Neopia

ID: 1000

Status: Active

Well, if the original Techo Says was the first game in Neopia, therefore what better way to celebrate than by having Techo Says (new version) be the 1000th game in Neopia. I was extremely sad to see the original version go with nothing to take its place, but I was extremely excited when this game came out. The name of the game is the same as original, as well as game play. In fact, if you were to load the games in side by side windows, they would be identical. The only exceptions are this Techo Says will earn you neopoints as well as a possibility at a game trophy. This is one of the few games where I have the pleasure of saying that I hold trophies in the original and new versions of the game.

My pick: With identical game play, it is a tie. You can't go wrong with either edition.

Title: Kiko Match I

Type: Puzzle

Location: Game Graveyard

ID: 3

Status: RIP Y3

Oh my! Who can forget those adorable little Kikos in Kiko Match. In each level it was a race to match the Kikos before time ran out, but be careful because every Kiko was not created equal. Some Kikos are red, while others were Blue, Yellow, or even Green. Oh, and what about those facial features; some were happy and others sad. Now you can't forget about those backgrounds either. Why, the backgrounds had different colors, and let me tell you, when the background and Kiko color were the same, it made for some exciting matches. Each level you had to match more Kikos and it was a challenge to see if you could beat your previous score. Don't let the size of the matches overwhelm you, just have a good time flipping those cards over and finding its match.

Title: Kiko Match II

Type: Puzzle

Location: Kiko Lake

ID: 519

Status: Active

Well, what can you expect from a matching sequel... well, let me tell you. The Kikos in this game are similar to the original where you have multiple color Kikos and backgrounds. Graphics are definitely much better, and you have the opportunity of turning off the option to flip cards over, which can slow some computers down. In each level you still race against the clock to match all the Kikos, and of course in progressing levels you will have to make more matches. Remember, you only have one life in this game and if the clock runs out, it is game over. There are fourteen levels in this version, but please don't let the number of matches overwhelm you. After a few practice games you will be a pro in no time at all.

My pick: Kiko Match II!

Title: Codebreakers

Type: Puzzle

Location: Game Graveyard

ID: 2

Status: RIP Y7

Hmm... well, I can honestly say I didn't play this game much at the time because I simply didn't want to take the time to learn it. Well, I understand it now and do play the current versions based on this game. When this game first loaded, you were looking a neopet with a rather large brain (which put me off as well). This neopet thought no one would be able to break his code, which is ultimately what you need to do in this game. You are given four stones and you have ten tries to solve the code. The stones have six color selections: red, white, yellow, brown, purple, and green. Each time you make a guess, if a black mark appeared, you had a correct color stone in the correct location; however, if a white mark appeared, you have the correct color stone but in the wrong location.

Title: Time Tunnel

Type: Puzzle

Location: Kreludor

ID: 536

Status: Active

A great upgrade to the original game. At least to me it is; when the game loads, I don't have to look at a pulsating brain anymore. Instead you see a giant wheel in the background and a cute little Grundo in the foreground. This time you have four colored stones in the center of the wheel, and twelve tries to solve the code. Different marks will appear next to each try. A white mark indicates there are not any stones correct in color or location, while an orange mark indicates you have a correct color but in the wrong location, and finally a green mark indicates you have a correct color and position. Please keep in mind, the position of each mark does not indicate which stone it corresponds to. Also if you manage to finish the level with time left you will earn bonus points for the level; meanwhile you will have twelve tries for each level.

Title: Clockwork Codebreaker

Type: Puzzle

Location: Kreludor

ID: 1173

Status: Active

Ah Ha! Now we are talking about a game which combines Codebreaker and Time Tunnel. Similar to Time Tunnel you are staring at a huge wheel, but this wheel is made up of gears. Instead of using colored stones, you have to rotate the gears for each guess. Once again you have twelve tries to break the code. Similar to the first Codebreakers your indicators will be shown at the top of the screen. If a green light appears, you have a gear the correct color and position. If a red light appears, you have a gear the correct color and wrong position. If no light appears, the gear is the wrong color and position. Please remember that the lights do not refer to specific gears.

My pick: Time Tunnel!

I hope you enjoyed the first edition of Old vs New: Which Game is For You? If you weren't aware of the games listed here, I hope you are now and can form your own opinions of the games. Remember that the point of these games is to have fun whether earning neopoints or not. Some great finds can be found in the spooky Game Graveyard. Next week, tune in for reviews of the following games: Kau Korral vs Extreme Herder vs Extreme Herder II, Ice Caves vs Faerie Caves vs Faerie Caves II – Fyora's Quest, and Nimmo's Pond vs Nimmos Pond.
Search the Neopian Times


---
Great stories!
---------
---------
---------
---------
---