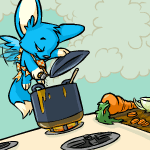 Perfecting Your Valentine's Day Meal

by ridiculer

--------

Also by deadlaw

When Valentine's Day comes rolling around Neopians from all over are looking forward to impressing someone they care about. Whether it's their family or friends, there's always a need to make each other happy with gifts and new surprises every year. Gifts are pretty simple on Valentine's Day, really; a few cards, flowers, chocolates, and perhaps some jewelry works!

However, how many Neopians think about Valentine's Day dinner? Not that many! It's a huge hassle to plan out a dinner that's decorated perfectly for Valentine's Day while making sure the food still tastes good. If you're a little behind on your dinner plans and have a few guests coming over to your neohome, or simply want to give your Neopets a special Valentine's Day dinner, don't panic!

This guide has organized possible meals in three different budgets: cheap, medium, and expensive and gives you two options per appetiser, main course, side dish, dessert, and of course drinks! All items are Valentine's Day related because they're either Valentine's Day coloured, come in shapes of hearts and flowers, or revolve around the theme of love and caring. Feel free to mix and match different budgets if you're concerned more with what you're serving than the price!

Cheap Budget

APPETISER


Option 1: Tomato Basil Scone
For a slightly less traditional appetiser, try a scone! This perfectly seasoned scone comes in a pinkish-tan colour. The basil jazzes up the flavour of the tomato base, creating a perfect appetiser.
Option 2: Hot Strawberry Soup
This hot strawberry soup will warm up any cold winter day, and is nothing less than delicious. Its adorable pink colour is an added plus!
MAIN COURSE


Option 1: Pink Hot Dog
For an easy classic that will surely satisfy anyone, try one of these! Topped with rare pink onions, this will surely be a success!
Option 2: Spicy Tomato Soup
As a riskier entree, try this! It's extra spicy and works well with any vegetarians looking for an extra kick on their vegetables. It's also great for those who love spicy food.
SIDE


Option 1: Sweetcorn with Tomato Sauce
The tomato sauce adds extra flavour to the boring sweetcorn! This is a nicely enhanced classic.
Option 2: Faerie Dumplings
Faerie Dumplings are as heavenly as the faeries who create them! They work well as an alternative to a plain side dish, but are still surely to be loved!
DESSERT


Option 1: Red Rose Sugar Cookie
This beautifully decorated cookie will show the appreciation and love you have for your guests while at the same time giving them something deliciously sugary to munch on!
Option 2: Cheops Cupcake
This delicious cupcake is bigger than you might imagine it to be! With sugary pink icing dripping and a cheops on top, it's sure to be one of the best remembered desserts!
DRINK


Option 1: Black Cherry Tea
This black cherry tea will relax your dinner guests while at the same time making sure they're not thirsty!
Option 2: Cherry Milkshake
This works best for the sweet tooth of the house; have a nice milkshake to wash down your dessert.
Medium Budget
APPETISER


Option 1: Cheese and Raspberry Plate
For a more creative appetiser, try this cheese and raspberry dish for your cheese lover guests.
Option 2: Pink Shenkuu Soup
If you're looking to take a risk on your appetisers, this would be the perfect one! It's also a fabulous pink colour so it's beautiful to look and tasty at the same time!
MAIN COURSE


Option 1: Heavenly Roast Turkey
For a succulent and absolutely terrific turkey, try the heavenly roast turkey! It's jaw-dropping beautiful, and even tastes better than it looks!
Option 2: Pink Triple Decker Sandwich
For a simple dish that anyone will love, try going on the safe side with a Pink Triple Decker Sandwich! The pink bread is surely to amuse your guests while its taste satisfies their taste buds!
SIDE


Option 1: Tomato Stuffed Jacket Potato
This is possibly the most perfect side dish for Valentine's Day! Its tomato sauce adds just the kick a jacket potato would need and the tomato slices add texture to the potato.
Option 2: Soup Faerie Soup
The Soup Faerie has spent years creating and practicing new soups! This is surely the perfect soup!
DESSERT


Option 1: White Strochal
Dripping in melted white chocolate and perfectly accompanied by a strawberry, this is a dessert that will hit the spot!
Option 2: Heart Petit Fours
With adorably cut heart cakes, these petit fours are light and decorated with pink icing and candy roses!
DRINK


Option 1: Tomato Basil Juice
The basil adds an unusual twist to the average tomato juice, however is ideal if you're looking for an ingredient to compliment the natural taste!
Option 2: Bubbly Roseatte Juice
The delicate bubbles in this juice keep the taste fresh and crisp. It's made from the tempting and rare roseatte berries!
Expensive
APPETISER


Option 1: Faerie Fruit Salad
Made from the finest fruits, this a great way to start a fresh meal filled with delicate and exquisite ingredients.
Option 2: Tomato Soup Fountain
This gorgeous Tomato Soup Fountain keeps your soup from staying too hot while at the same time is architecturally beautiful!
MAIN COURSE


Option 1: Strawberry Salmon
This salmon is garnished with a tangy strawberry sauce. Its intricate taste makes for a great seafood dish and its appearance is extraordinary.
Option 2: Roast Pork
This tender roast pork is a classic that cannot fail! Cooked carefully to reach the perfect texture, it'll work well at any table setting.
SIDE


Option 1: Tomato Kebab
The small and cheery tomatoes on this kebab are grilled to perfection. When they reach the desired tenderness, they're ready to serve!
Option 2: Seafood Pasta Salad
With every type of seafood you can imagine, this brilliantly decorated pasta salad is packed with flavour.
DESSERT


Option 1: Bubbling Kraku Thickshake
If you're looking for a great way to end a meal, try one of these! This shake bubbles gorgeously and is placed in a delicate glass to give it a beautiful shape.
Option 2: Heart Fruit
This is the perfect treat for chocolate lovers! From the Heart Fruit Tree, the petite heart shaped chocolate fruit makes a great addition to any dinner in need of a dessert!
DRINK


Option 1: Sparkling Raspberry Juice
This juice will truly sparkle your taste buds! With a gorgeous bottle decoration and divine taste, it goes well with any meal.
Option 2: Strawberry Kiwi Tea
This adorable and unique cup of tea comes in a vibrant pink. Its fresh strawberry taste is combined with a splash of kiwi to make it a bright and truly enjoyable drink.
Happy Valentine's Day to all in Neopia! Hopefully this guide has helped make your Valentine's Day meal easier to plan!