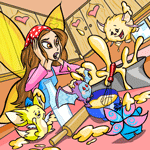 The Guide to Brilliant Breakfasts!

by eihpos95

--------

This is the one and only best breakfast guide ever, so read through carefully and take notes if you wish!

The only way to a great start of the day is if you have a brilliant breakfast. If you can't decide what to have, read this guide and you will enjoy your mornings forever more!

What's Hot?

If it is a cold winter day, I am sure you will be cold in the morning, so you would want something to warm you up; well, I have the thing to do just that. But of course there are much more different flavours than shown here! These are the three flavours: Hot, chocolate and fruity.

Fiery Gelert Day Pancakes: they are a great start to the day and have a slightly warm sensation when you eat one. Also, they are quite spicy and hot; that make the goodness flow through out your body!

Chococherry Pancakes: they are a fabulous way to greet the morning with sugary fun and delicious melted chocolate that trickles down the side of the pancakes all over your plate! Great for neopets with a craving for sugar and chocolate but if you don't like chocolate that much, you should try a fruity flavoured pancake instead.
Strawberry Wocky pancakes: Yum! I love fruit and strawberries, so what clever combinations, don't you think? Perfect for the lovers of fruit, it is so dreamy when the strawberry runs down you throat, making you jump for joy! Once you eat one you can never stop, because the taste it has is magnificent as soon as you take a single bite.
The Four Favourites!
Four things that make a good breakfast! You can make all sorts of tasty morning treats with them; of course they are eggs, bacon, toast and beans! Let's start with eggs, shall we? Firstly, eggs make a nice snack on their own, so imagine how scrumptious they will be put with something else! It makes my mouth water just thinking about it.

Eggs on rock are a favoured meal for the morning in Tyrannia, where they place them on rocks and let them bake in the sun for two minutes because any longer and they will be far too hot to eat! Of course they taste much better when baked on a rock fresh, but you can bake them in your oven for five minutes too. They are addictive once you try them because of their unique taste.
Only one example, but there's so many to choose from, I just could not decide! Let's move onto another of my favourites… BACON!

Bacon muffin! What a treat for the morning, the crispy bacon is to die for and when the cheese melts all over the bacon, it just makes you want to sing at the top of your voice. The bun tastes like bacon because the grease from it drips all over the bun, how dreamy!
Yum! That does look nice; this is making me feel very hungry just looking at all this lovely meals to start the day with. Next up is toast! You can put all sorts of things on toast; just look at this!

WOW! Look how colourful it is, that will certainly wake you up in the morning! Rainbow Toast with Rainbow Jam is a great treat now and again, but I don't buy it too often because it is quite a bit pricey, but that hasn't ever stopped me. The colours make a lovely tingly feeling on your tongue as you take a huge bit of it I mean, what more could you ask for, because it's the best Jam and toast around!

Beans! I love them, don't you? This is a fine example of how tasty beans can be put on a jacket potato! Jacket Potato with Beans is a mouth-watering meal fit for a king; try one and you will notice why. The beans blend in with the Potato nicely, making it taste out of this world and the sauce from the beans dribbles down the side of Potato like a sponge. The taste is not easy to forget because it is just so dreamy!
Other Breakfast Goodies!
Don't forget other things! There's many more tasty morning treats to go around from every part of Neopia! Of course I can't show you all of them because there are just too many of them.

Who ever thought of inventing this must have been a chocolate genius! The chocolate melts making it a wonderful meal that I'm sure you won't forget or regret! The crumpet so chewy yet soft, how satisfying! It will make all your troubles fly away and turn them into happiness! Every bite is so heavenly you will feel like you are flying high in the sky. I would give anything to try one right now. You can probably guess what it is called, can't you? Of course it is called a… CHOCOLATE CHIP CRUMPET!

A Breakfast croissant is a lovely thing to eat first thing and as an added bonus it is stuffed with yummy scrambled eggs and chewy bacon! The melted eggs makes the bacon go heavenly chewy, but there's only one problem and it is that once you try it, you will want to go straight out to buy at least a dozen more! There's a secret to make it even more delicious and it is to add lots of cheese on top and watch it melt onto the bacon. It tastes so good you could just sit there for days looking at it!
Drinks to die for!
Of course you would like a drink in the morning, right? So here is a list of some great morning time drinks!

Chocolate milk straight from a Kau! Much better then plain normal milk, I'll say. The chocolate flavour is very yummy and strong and it's all so great with a cookie or two as well! Come on, you know you can't resist its milky and chocolatey goodness!

Wow! This might have beaten my favourite drink, hot chocolate! Hot Doughnutfruit juice is the greatest hot drink around and when you take a sip, it brings a warm sensation to your stomach that stays there for hours on end, making a smile appear on your face! Great for cold days and definitely on Christmas Eve! Try it, but be warned it's highly addictive.
They are the two types of drink which are hot and cold, but the question is, which do you prefer?
End of breakfast!
I hope you found out great things to have for breakfast more often and trust me, I know what is a good breakfast and a not so good one, so follow this guide and you will have a grin on your face in no time. So good-bye and happy breakfasting from me!