Editorial
I was wondering...where did the Noticeboard go? - Cresentina
Oops... Hehe I removed it from the shops toolbar but didn't realise it wasn't linked from anywhere else. It will be back on the toolbar next week :) For now you can get to it here.
I was serching for amulets on the shop wizard when he mentioned the Eye of Xantan Amulet. When I looked for the Eye of Xantan amulet specifically he couldn't find anything. So what is it? What does it do? What does it look like?
The Eye of Xantan Amulet is a special prize that was given out to the first people who completed Neoquest. You cannot buy it in any Neopian shop and I doubt anyone who has one will want to part with it. This is what it looks like though.

People's prices are too high!!! You should add a thing where you can report the shop :)
People will only price things as high as people will buy them. Simply refuse to buy the over-priced items and the prices will HAVE to go down.
It says in the "World" section of Neopets in the "Coming soon" column Tyrannian Land War and I would like to know is there going to be another war?
No, it is not a war as such, but it won't be live for a while yet as we are focusing on other games.
Could you PLEASE come to the U.S (like maybe in Sacramento) and do something like you did at Hamleys? PLEASE?? *puppy dog eyes* - Physickitty11
Wow, we got a lot of requests to go all over the world and do something along the lines of the Hamleys launch. I have passed this on to the people in charge of that stuff and who knows :)
If you signed up under 13 years old when you turn 13 to you get to do all the stuff that a 13 year old can do on the site? - Sneezinalot24
Yes, as soon as you become 13 your age will automatically update and you will be able to do everything that someone signing up as a 13 plus account would be able to do.
Is the Snowager a neopet or a petpet?
Neither. Its a ferocious beast that lurks in a dark cavern in the Ice Caves.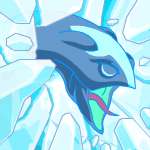 Was the neopets game The Darkest Faerie playable at the E3 Expo? - Otterboy2000
The whole game was not, but a demo that showed three playable levels was.
What do the Bumper Prize Stockings do? I heard that they will randomly give you presents during christmastime...
They didn't actually do anything, it is just a nice collectable item.
Will there ever be a time when there are no longer neopoints so everything is free because you did say that once?
No, that was something we said as an April fool's joke. Doing that would ruin the site and make it no fun to play anymore.
Can you really have your account frozen if you have too many NP? - Churrros
Nope. You can have as many Neopoints as you like.
You may not want to think about this now but what about the other wet countries of Britain? I mean the Scottish and Welsh are often ignored and I don't really want to suffer the embarrassment of going into Claires... So is Edinburgh and Cardiff going to get the London treatment or do I have to get a 10 hour train to London? - Baits26?
Heh, we actually go to the other wet countries of Britain most times we are home although we will not be doing an official launch there. The good news is you can buy the voice activated toys all over the UK in pretty much every Toys r us, Argos, Woolworths and major toy shop so you won't have to take that train journey after all.
The other day I was quite angry so I decided to play Whack-A-Staff-Member, and it really calmed me down! I was thinking, maybe you would consider telling anger management teachers about this game so they could offer it to their students?
Glad we could help you :)
What is the thingy on the "39 month" shield?
Its a flower called the Sillie Daisy.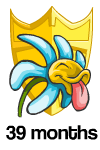 Since June 6th is JubJub day, and June 13th is Quiggle day, do they get to be special that day? - Snakstix?
Yes, all pets get to be special on their days no matter how popular they are.
Hiya Adam or Donna I was just wondering in the Playstation site you linked to it was about the game in America. So my question is will it be released in the UK in November as well? - Katie02310
Yes, it is scheduled for worldwide release in November 2003. If this changes we will let you know.
In the section "World Events", under "Half Price Day" you say, "...anounced that the third of every month..." But you didn't specify the day.
The day changes depending on the month, that is why we do not specify it. It is the 3rd of every month.
Who drew the new Grundo? It's sooo cuuute! - Newbie_144?
Ahh that would be Mr Tiger Catcher himself.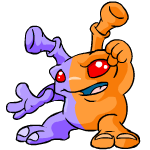 Hey, I wanted to let you know, and ask 'Why?' about something that happened when I was playing 'Escape From Meridell Castle' as the featured game. I clicked send score and it said around 621NP or so, but I only got 1000 NP, not around 1200NP. Why is that?
All flash games give out a maximum of 1000NP regardless of your score. This is why your prize was capped at 1000 NP.
The new Playstation game, The Darkest Faerie, is that for Playstation 1 or Playstation 2?
It is a playstation 1 game (and it looks super cool on the new playstations with the little screens built in) but I think you can play it on a PS2 as well.
What is the difference between a morphing potion and a transmogrification potion? - Meooooowww?
A morphing potion turns your pet into whatever the potion is called for example a Blue Grundo Morphing Potion will turn your pet into a blue Grundo. A transmogrification will only turn your pet into a mutant.
Will you ever translate the site into American? - Qtpinke?
Hahahaha... no :)
I noticed that you said it was Mr. Pickle's aka El Picklesaur's birthday on May 27th. Are the staff members Mister Pickles (from the Ski Lodge Murder Mystery) and El Picklesaur the same person? Or is there a staff member with the last name "Pickle" and El Picklesaur is his "screen name"? - Laurachan2379?
Mister Pickles is El Picklesaur, I just abbreviated Mister to Mr. on new features.
---
Need more help?
If you have a question that you think should be answered here, e-mail it to editor@neopets.com. The most common/bizarre questions will appear here next week.