Your questions answered!
Read the answers to the most commonly asked Neopets questions this week in the Editorial section. Each week the most popular questions will be answered by one of the creators of Neopets, so keep checking back to stay updated.
Quest to be the Best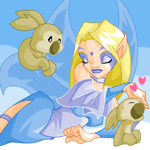 If you are new to quests, an average quester, or a user that is totally addicted to fetching expensive items, then this article is for you. I'm not a quest mad person who buys heaps of items before they go out on a quest, just in case one of the gracious Faeries needs one of them. No. But, luckily for you, I do know quite a few things about quests, and am here to give you a little bit of advice before you race off with a million Neopoints and come back with none... more>>
Tiki Tunes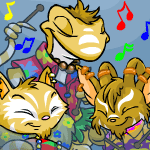 Hey, there is a new sound arriving from Mystery Island and you don't have to be there to appreciate it anymore. The Hikalakas are here to introduce this 'island sound' to the population outside its place of origin, and they hope to gain mainstream success. But can they do it? Will Neopians like this new music... more>>
Bounty Hunter or Business Lupe?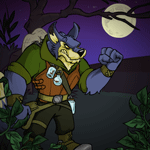 The last place I ever want to be, but when one's duty is too clear the record on so called "denizens" of Neopia, I have to go where I must. With my Sell-a-holic Yellow Poogle Poogleemee in tow, I had wandered deep into the woods in search of Balthazar, the large Lupe "bounty hunter" responsible for giving us bottled faeries... more>>
Other Stories
"A Pteri's Tear" by chocolateisamust - "Please sis… haven't we lived on the streets long enough? It'd be a change… a good change."... more>>


"The Jelly Job" by buddy33774 - "How about a jelly newspaper everyone can eat after reading it!"... more>>


"Smiling Through Tears" by niskala_biru - He can still remember her face, her smile, her voice, her laugh, her love. Her tears... more>>


Neocola: It's Out of This World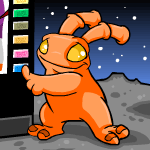 This week's issue is brought to you by: Neocola Machine

Submit your stories, articles, and comics using the new submission form.