Editorial
Are Hasees a new kind of neopet or are they a type of Petpet? Either would be nice. - Call180kitkat
Hasees are an already existing Petpet. They are rarity 99 so that might explain why you haven't seen much of them before.



What does the description of the Jumbleberry mean? - Twinkies1111
Ooh, I remember that one. For ages it was released with med_berry_3 as its name until we realised and changed it. Its just a little joke :)
I have a plushie called "Scorcie Plushie". Isn't it supposed to be "Scorchie Plushie"? - kcclubsedric
Hehe, no, its one of those horrible reject plushies you can win at the Deserted Fairground. Its some creepy hybrid of a Scorchio and an Eyrie I think...

In the game it shows an Orange Hasee as one of the characters, but you cant paint your Hasee Orange! - Sweet_as_suga_4eva
Yes, I just noticed that too, never fear, Orange Hasees will be available very soon!
A random event turned my pet invisible, will he turn back or do I have to buy a new paintbrush so I can see him again? - Pillow_chan
I am afraid he will not turn back. You will need to find a paint brush if you wish to change his colour.
Are you gonna be making anymore snow petpets, I just love the colour, and I love snow. Pretty Please? - Bebexkisses
Yes we will add more Snow Petpets, but its more seasonal to add more summery colours like Island right now.
I was wondering when you will had the Collectable Coins shop to Neopia - Proud_american_77
Eep, I totally forgot about that. We will get that done this week. There will soon be a new look shops map but shh.. don't tell anyone I said that!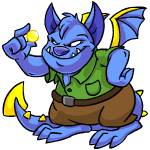 Well I dont actually have a Royal pet BUT say I did and I sent him/her to the Lab and the gender changed from Female to Male would it become a Prince? - Dreamless_slumber32
At the moment no, but we are fixing it so this will happen.
Are you going to create a new neopet, and if so will it be this year? - Kss400
Yes, as a matter of fact if all things go as planned this week you should get to see a new species VERY soon :)
Why is the Plum Chia Eraser an toy and not a school item? It is well, an eraser. - Neostarmaster
The Plum Chia Eraser was created long before we made the Back To School shop so there wasnt the option to have it as a school item. The next best thing was to add it as a toy as it wasn't a food, book or battledome item. I have updated it now so it makes more sense.
Fyora said "We are closed currently for stock taking! Please come back later!" What does it mean by 'stock taking'? - Waterefernal
Every now and again shop owners have to go through all their inventory and count how many of everything they have left. This is called stock taking. Most places close early or dont open for a day while they do it.
Could you make some new colors for the petpet Goldy??? They don't have any at all... 8( - Blink182gurllover90
Yes, in fact as it looks so good after the makeover we may well have a Goldy themed day soon.
---
Coming soon...
We thought you might like to have a little advance warning for some of the theme days that are coming up in the future. This week we will be mainly featuring the new soon to be revealed species, but later in the month there could be a NeoQuest II day, Fyora Day and a Gruslen Day.
---
Need more help?
If you have a question that you think should be answered, click here and you can use our submission form. The most common/bizarre questions will appear here next week.