Chapter 1: Brightvale
I ran. Faster than I ever had before. I was being hunted down. Posters, search parties, newspapers! It's only been two days and all of Neopia knows I'm missing. Faerieland isn't far, thankfully. I can't bring attention to myself at all, not until this hype dies down. Who knows when that will be?
When was the last time I ate? I didn't even notice the gnawing hunger in my belly until the scent of fresh bread wafted in the air. I couldn't resist following it. After a few minutes I stumbled across a flea market. Merchants everywhere. There was a food truck, selling baked goods. How do I get some without being noticed. I thought through my options. I had no money. If I get recognized, I will be sent back. I could steal... No. My morals wouldn't be affected by my new life of adventure... but it did smell delicious.
I laughed as I walked among the trees. Stealing was easier than one may think... and this crescent roll tasted wonderful. Stealing wasn't that bad after all, if you didn't think about it too much. The roll made me thirsty. I sat on smooth boulder and listened quietly. Yes! I could hear the sound of running water. A stream had to be nearby. I could grab a quick drink, then follow it to Faerieland.
Chapter 2: Faerieland
I shivered. Faerieland was surprisingly cold for the middle of summer. Exhaustion was taking over my body, and I could feel myself drifting off to sleep. I slept for a few minutes back in Brightvale, but not for long. I had to keep moving.
I set up camp under a cherry blossom tree. There was plenty of shrubbery around, so I was well hidden. The fallen blossoms snuggled my body and provided some added warmth. I took a quick glance at the small backpack that held what items I took with me. A canteen(half-full with the water I retrieved from the stream), a black sweater for extremely cold weather, a pack of matches, and single photo of my parents. Tears began to well up in my eyes. No. Crying would be pointless. What's done is done and there is no going back. I shut my eyes and drifted off to sleep.
I awoke to the sound of growling and shredding fabric. I quickly stood up and saw a group of three werhonds fighting over my backpack. No!, I shouted and darted towards the beasts. They scattered into different directions. My backpack was torn in a few places, but was still in useable condition. The contents inside were unharmed. I sat down on a log and thought over what had just happened. Whew! At least it was just a few werhonds. Still, I needed to be more careful. I threw my backpack over my shoulder and continued my journey. I had everywhere to go, and nowhere to be. That was how I liked it.
Chapter 2 1/2: Enchanted Forest
It's getting darker and darker as I leave the bright happy city of Faerieland behind. Either dusk is falling or I'm nearing the haunted woods. The trees are growing thicker and strange brightly colored plants are starting to appear. Weird.
This spot will do just fine, I thought when looking for an overnight shelter. I flopped down and pulled an apple from my backpack. What a great find! Who knew people owned apple orchards in the outskirts of Faerieland? I started a small fire and put on my sweater. After eating another apple, and drinking the rest of my water supply, I closed my eyes and slept.
I woke up undisturbed and stretched. It was still dark, but sunlight was starting to peek through the tree branches above. The trees to my left rustled. Wait, there's no wind... my mind was racing. Something wasn't right. I glanced around, but nothing was out of place. Then I saw it. I ran.
Stop!, shouted a tiny elf.
I continued to run when the elf muttered some inaudible words and a tree root shot out and held me down. I struggled but the root wasn't loosening its grasp.
Who are you?, asked the elf.
I sat in silence. Any second she would recognize me. Blow my cover.
Who are you?, she asked again, only her tone was more demanding.
Xzale, I sputtered. There. It was out. I waited for a look of recognition to cross the elf's face, but if she knew who I was, she sure didn't show it.
What is your business here in the Enchanted Forest?
Wait, the Enchanted Forest is a real place?
I couldn't help but ask. I had been taught all my life this place was just a legend.
Of coarse it is!
I didn't reply. I sat in silence and blinked.
The elf sighed.
Look, just tell what you're doing here? The Colony Officials don't tolerate human invaders.
I'm just traveling to the Haunted Woods, it was dark so I decided to sleep here.
The elf looked at me for a second,smiled, then said, I'm Eiylee.
I listened to her story. She was an outcast, didn't have many friends, and never left the colony. She was very adventurous however ,and good with a sword.
It wasn't long before I opened up, and told my story. My whole story. From the days of my old life, up until now.
Eiylee promised to keep my story secret, and offered me a home with her whenever I needed it. We talked all day, and I left the following night. Telling someone my story made me feel better, happier even.
Chapter 3: Haunted Woods
I had been walking since nightfall. Hours had to of gone by. It was still really dark. Was the haunted woods always like this? I felt uneasy, and I turned my head around. Nothing. It makes sense why they call this place the Haunted Woods. I left the Enchanted Forest feeling full. I continued to walk on, until I began to see faint lights through the thick trees. I peered through the branches, and saw what appeared to a gypsy camp. No one was outside, but if you listened carefully, you could hear the old husky voices. I blew out the match that I was carrying for light, and walked into the open camp. If I stayed along the outer edge, I could an open path to the Lost Desert. I stayed quiet, not too worried about being caught. One thing I know about the Haunted Woods Gypsies is that they rarely come out in the daylight.
I reached the main part of town. Sure enough, there were people everywhere. It was obvious I didn't belong. The locals here were scary! They had evil scowls, sharp teeth, and some had wings! I stood out. A tourist group was walking around taking pictures. It was a risk, but I had to do it. I found a long blade of grass, and I tied my silvery hair back. I put my sweater on, a used the hood to hide most of my face. I joined in the group, and no one paid me any attention. As the tourist group continued their photo-taking and landmark browsing, I grew increasingly uncomfortable. Signs labled MISSING and HAVE YOU SEEN ME? were posted everywhere. A couple tourist stopped and looked at the posters. One even snapped a picture! I was thankful for the darkness. I broke away from the group when I had the chance. I found my path. A small arrow stood out from the ground, pointing the way. The trail was rough, but I knew I could do it. I was on my way. I shook my canteen. The water sloshed, and I could tell it was only filled halfway. I knew I would soon need a refill. My journey would be getting hot. I slid off my sweater, but I left my hair tied back. I was making progress.
Chapter 4: Lost Desert
Coming soon.
Chapter 5: Altador
Coming soon.
Chapter 6: Shenkuu
Coming soon.
Chapter 7: Terror Mountain
Coming soon.
Chapter 8: Mystery Island
Coming soon.
Chapter 9: Moltara
Coming soon.
Chapter 10: Meridell
Coming soon.
Toybox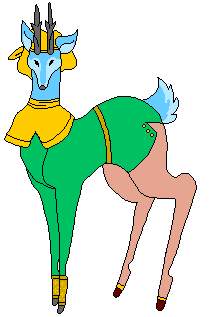 Template from
That Kills Me
. | Bullets and dividers from
The Lunch Box.