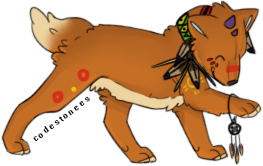 This is best viewed in Chrome with 1600x900 resolution. Enjoy!
Welcome to my page! Feel free to have a look around if you wish.

You shiver and pull the heavy wool blanket closer around your shoulders as you step into the doe-skin tepee. The blizzard swirls furiously around the simple structure, threatening to pick it up in a gust of wind and mix it with the snow flying around in the sky.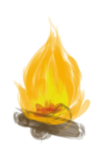 Inside, a warm aura glows from a barely kindled fire. Finding dry material in such weather would be painstakingly difficult and most likely futile. The flapping entrance-way to the tepee awoke its single resident. In a sluggish movement, the once sleeping man lurched for a spear beside the deer pelt cot. His movement came to a slow when you collapse in the door; snow flurries swirling around your form and into the warm oasis in the frozen wasteland.
----------------
Your eyes flicker open, only to be blinded by sunlight coming in through the smoke vent in the peak of the tepee. You shrink back and hiss at the sudden intrusion burning your eyes. You notice you were no longer in your snow-soaked clothes that you had entered in. Why didn't you remember lying down or who even was in the tepee then? Bracing yourself for the light this time, you slowly open your eyes once more and study the environment. Bare walls were stretched out on a mesquite frame that held the tepee up.
The blankets rustle as you move to sit up and search for a drink of water to help your parched throat. A man alerted by the noise opens the flap from the outside and peers in at you. He had dark skin and piercing eyes that looked straight into your own. Unnerved, you look down to your lap and study the rocks scattered on the floor. Anything other than look at those eyes. They seemed black and full of intensity. Like an abyss already located deep within the belly of a dark cave.
You need water.
He states flatly.
Please.
you cough out. He left and then reentered with a clay pitcher of melted snow, handing it to you to gulp down.
It's a good thing you manged to find my tepee before you fell asleep outside. The Te apu'u may have gotten you. And you would have only been a shell of your former existence."
The Te apu'u? I'm afraid I'm not familiar,
you state.
The Dream Eater. Listen foreign one, and I will tell you of him. His appearance differs from soul to soul, but he is often the demise of most people's lives. To my people, he's seen as a demon who preys on humans, driving them mad in their sleep with morbid dreams. There was one young girl who was able to control him though...

Za-lee-ah
Age: As old as humanity
Gender: Male
Species: Gelert
Color: Darigan
Height: 3 1/2 feet
Family: None, but considers Atuos and xxx_xalia_xxx at the HQ as brothers.
Occupation: Keeper of dream. Often only credited for causing nightmares though.
Personality: Blunt, highly spiritual, level-headed

---
dreams

Dreams. Everyone has them, but not one soul knows why. People have superficially guessed at what they might be or mean for millennia, but none have ever truly known. Some cultures believed a spirit was responsible, or some great divinity was doing so to their bleak minds as they slept; filling their subconscious with vibrant images and sounds. Dreams can foresee events, or bring back past recollections, but depending on the mind, and what enters it during sleep, it can be broken down. First, one may experience a nightmare that brings about guilt, and then as the dream reoccurs they begin to feel paranoid. Not long after that does one of my colleagues, the Keeper of Sanity, sense that it's time for their marble to drop- down to the earth below, deteriorating with their mind. Dreams aren't all bad mind you. Sometimes they encourage one to seek out fortunes, or go on adventures, but the majority of the time, they are just something pleasant to tease your mind with as you rest.
petpet
I actually haven't decided which petpet I want for Xalia... I'm torn between a Schmoonie, a Dandan, and a Tomamu, but to be honest, I really have no idea. Whatever it turns out being, I do plan on it being the pet of the little girl Xalia befriends later in his story.

Atuos
Atuos is the Keeper of Sanity. Probably not a good job to saddle him with… He's blatantly irresponsible, and loud, but has a good heart. He was painted desert in March by Carrie and enjoys showing off the fact that he never has to tan now. He resides in the Lost Desert, where he carelessly wanders about with his marbles, which contain your sanity I might add, flipping about and around in his sack at his waist, free to bounce out and fall onto the ground where they sink into the earth and dissolve whomever's sanity that marble that belonged to.
9hr
9hr; the Spirit of the Sand. Also known as the Keeper of the Middle-Eastern sands. He's always quiet and seems like he's constantly brooding. He has a sharp tongue and is not afraid to use it; probably something that comes with age… The poor fellow is always being relentlessly pestered by Atuos over in the Lost Desert branch of the organization. One of these days he's gonna end up biting Atuos' tail off, and to be honest, I wouldn't blame him. As Nine runs his rounds, sand storms follow in his wake. He is responsible for keeping things like erosion and the like happening.
n00bies
N00bies, is well, n00bies. Nobody really knows what he looks like since he spends all of his time awake in the underground science lab at HQ. I do enjoy chatting with him over the intercom when he's not busy with some big experiment. Most people just refer to him as the lab rat, but I think that's kind of cruel. I like the possibly little, heck who knows, guy. He's really nice and always has a good story to tell or an open ear to listen.

Chapter 1
Atuos! Nine! I'm heading out for a few months. I'll see you when I get back!
Xalia hollered into the commons area of HQ, where his close friends and fellow Keepers were currently relaxing.
Later Bro!
they cheerfully replied. Xalia shook his head,
I'm not your 'bro.'
he said in return, knowing in his heart that he'd always think of these guys as brothers. After all, they'd been together for centuries. It'd be a shame if they still considered each other as colleagues and nothing more. Everyone at the HQ, where everyone went when they didn't have a mission, was a family and they'd all look out for each other's backs. Before Xalia head through the exit of the base he made one last stop for one more goodbye. There was a counter overwhelmed by an insane amount of paperwork and books. To the far right of the mess, was a sole intercom with nothing more than a push-button microphone and a speaker. Xalia hoisted his front half up onto the counter's edge and placed a paw on the button. A crackle sounded out and a feeble voice began,
Hello? Ah Xalia, that must be you. Heard you were going back out to the Mountain Branch for a few missions and were setting out this afternoon. You be careful, I don't know what I'd do without our daily talks. I can withstand you being away for a little bit, but I'm not sure what I'd do if you were gone forev-AH!
There was a crashing noise on the other end of the microphone. It sounded like glass was shattering and books and papers were flying through the air.
N00bies, you alright? It sounds like an elephant tore through your lab."
Safety is confirmed. Just a minor mishap.
Xalia didn't feel convinced as more items could be heard hitting the floor of the Headquarters' lab.
Take care, Xalia. And be back soon, won't you?
N00bies lightheartedly said.
Sure thing,
Xalia said with a nod that he knew there was no way N00bies could see.
Well, I'm off!
Xalia released the button and slid down off the counter and onto all fours. He adjusted the pack that he was to deliver to the Mountain Branch onto his other shoulder blade, and finally set off through the gold-embellished doorway framing the entrance to the exclusive Keepers Headquarters. With a final glance back before he descended the canyon surrounded path to the Mountain Branch, he took in everything about the place. Its tall spires and flapping pennants which sported the red twisted emblem of the Keepers; everything was so treasured to him. For some reason though, it felt like things were going to change on this venture. Hopefully, it was for the better.
It was amazing how just through simple miles that terrain could change so much. Xalia's surroundings went from the blazing red canyons around the HQ, to lurid looking recently fire ravaged trees in a flat area where everything was a saddening shade of grey. Onward past that snow covered peaks began to peer over the foothills to the mountains and a light snow began to descend from the sky. He spotted the homes of simple people as he ran by. The stretched animal skin over feeble frames kept their residents warm from the dangerous chill of the environment. Small children overdressed in their parent's fur parkas played in the mounds of still soft snow forming over fallen piles of leaves. The crunching of the near microscopic ice crystals under their boots could be heard with his keen ears for several yards. Xalia preferred this weather; the calm atmosphere and strong cold that his thick fur was meant to hold up to was wonderful in his opinion. Now whenever those desert rats Atuos and Nine came out here, they suffered so much. They just weren't meant for this particular harsh environment. A cracking branch interrupted his thoughts. He slowed his gait down to a stop and whipped himself in the direction it came from. It was unnaturally loud and he wondered where it came from. More branches snapped on the ground as whatever it was closed their distance. The bushes in front of Xalia rustled as the fur on the back of his neck stood. Dream matter started to seep out of the bead on the back of his collar, preparing to be used defensively.
To be continued...
Art by me
Drag to the address bar to view full- blah blah blah, you know the drill.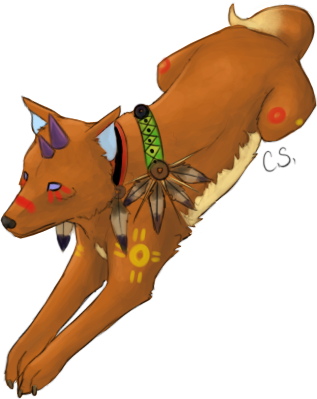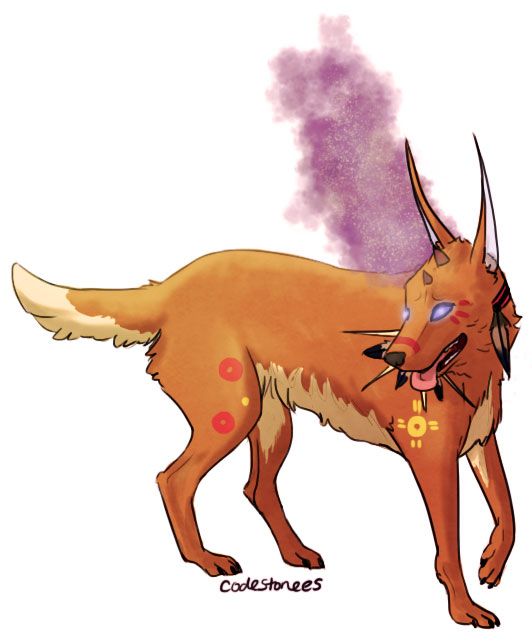 Art by others
Thanks so much for the art you guys! :D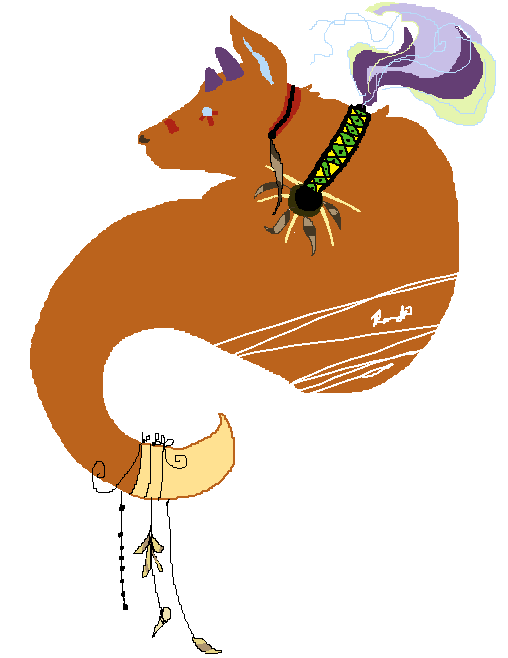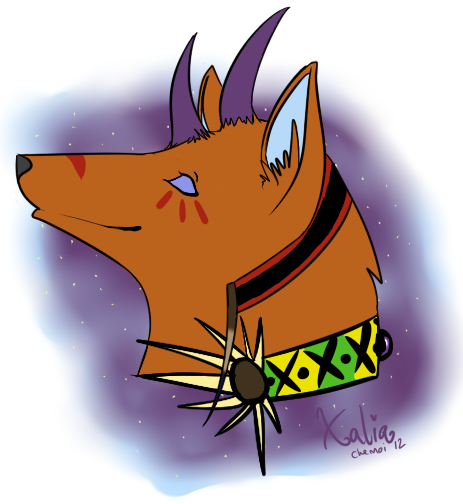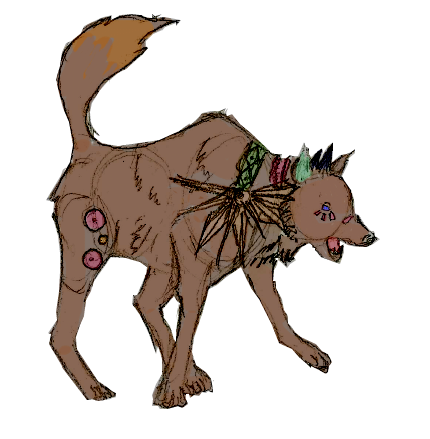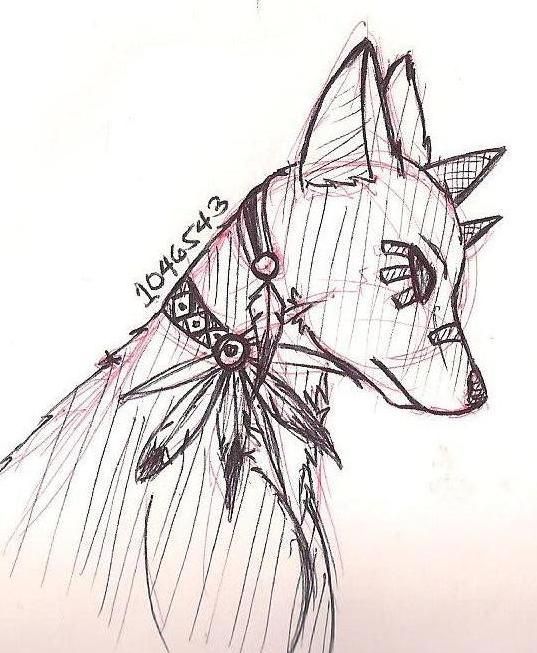 Adopted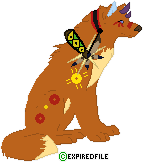 For you to adopt
Adoptable Requests:
Tentatively Open (I'm having computer troubles)
Trades:
Same as for requests
Basics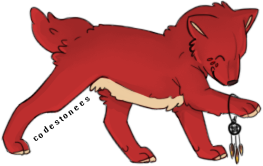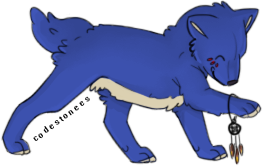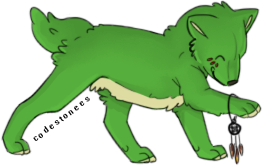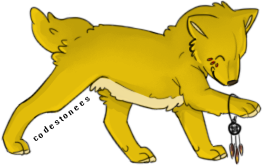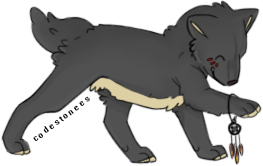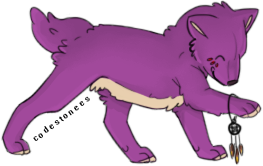 Customs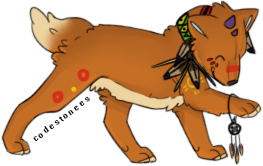 ---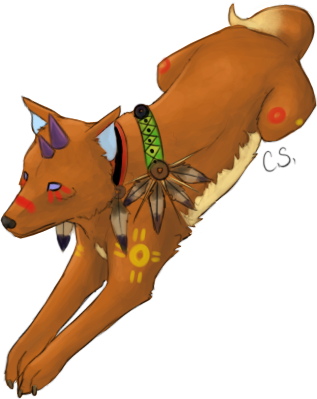 Thanks for coming to my page and learning a few things about me. I hope to see you some other time! Also, take an adoptable on your way out, a little clone would look so nice on your page! :)
I'd like to thank
Monica
and
Snoopy
for helping me proofread and critiquing my application for Xalia. You two and the others helped so much and I really appreciate you taking the time to go over my application. Again, thanks a ton. :)
I'd like to thank Kitten a million times more for letting me adopt Xalia and I promise he will have a wonderful home here on my account! :D
Link Out?
If you really have to go, you should leave my patch someplace safe so if you ever want to visit me again, I'll be easy to find!
Thanks for coming, and I hope to see you soon!
Other great pages you should poke around: