VOTE FOR ME IN THE BC! CLICK ON THE IMAGE BELOW vvvvv
Click
here
for more art of Harrie
Trees cover up the sliver of sun that was still up in the sky. You glance up, sleeping back in hand and back pack on. It's starting to get dark, and you know it's time to get back to the group. If only you knew which direction camp was.. You start to pick up your pace and look around, a bit nervous, as shadows become larger on trees. Suddenly, you hear a bush rustle. Tightening your grip on your possession, you brace yourself to attack anything coming near you. Just as you're about to dismiss it as nothing, a pink and black striped creature lunges out and lets out a loud snarling roar. Your scream like a little girl and drop your sleeping bag, eyes bugging out. Suddenly, you become quiet, when you realize that it's just a small little giggling creature.
Crossing your arms, you lean down to stare it dead in the eye. The creature chews on it's bottom lip, eyes starting to water from laughing so much. "You scared me out of my pants." you snap, picking back up your sleeping bag. The creature lets out a loud cackle, throwing it's head back. "Sorry, dude. I thought it was funny." the creature said. The voice is sweet and low, it was a voice that could make anyone feel safe. That's when you know for a fact this creature was a female, but that's all you can find out about her. Also, you note she's probably a wolf.. or, some kind of canine. You look around for a bit, then glance back to her. She's still softly laughing to herself, shaking her head, and saying things like "You should've seen your face," and "I thought you were gonna pee your pants."
Getting fed up, you turn from her and start to storm away. She pads up besides you and raises her eye brows, and that's when you fully look over her features. She was a white wolf with zebra strips on her head, ears, back, tail, and legs. Her stomach was black with pink stripes, and her eyes were bright pink. You get the urge to leave suddenly, to run back to your camp, and to never look at her again. She looked like the creature you would see in your dream, or like a creature in Alice in Wonderland. "No hard feelings?" she asks softly. You shrug your shoulder and quicken your pace, leaving her standing there alone.
Name:
Harriotte
Prefers to be called:
Harrie
Gender:
Chick
Parents:
Not really sure about them... Todd's never told me about them, and I don't remember ever meeting them.
Sibling(s):
Todd, my amazing older brother.
Personality:
Bubbly, tom boy, loves to rough house/scare people, protective, trustworthy, naive
H
arrie can't remember much about being young. The furthest back she can remember is first being taught how to howl by Todd, and that was when she was about 2 months old. She wished she could remember further than that, because then maybe she could remember her parents. Todd never told anything about them, no matter how many times she would ask. He would just say "They weren't important," and change the subject to something like food. She would just go along with it, believing him. I mean, if they were important, they would've stuck around to take care of her and Todd, right?
T
oo bad Harrie doesn't know the actual truth behind her not knowing her parents. Todd had found Harrie one day curled up under a tree's shade, peacefully sleeping, with out a care in the world. Todd had searched around the area, looking for someone who would be responsible for this pup, but found no one. Instinctively, he picked the pup up by her nape, and carried her back to his den. Instead of deeming her his daughter, he called her his sister. They were too close in age to be daughter and father, and that might make their relationship awkward. So, she thought of him as her brother, but she never knew that she was adopted, and Todd refuses to tell her, or let anyone else tell her. He's extremely protective over it.
S
he never questioned his ways. She never asked him why he wouldn't let her out late at night, or why he wouldn't let her speak to guys. She realized how protective he was over her, which made her love him even more. She couldn't have wished for a better brother or best friend. Todd let her go with her friends, but he made sure he knew where he was at all times. Ever since that little "incident" when she was 7 months old, Todd had been overly protective with her, and Harrie knows it.
W
hen she was 7 months old, Harrie had talked Todd into allowing her to sleep over with her friends. She failed to mention though that her friend was inviting a few of their guy friends over. Harrie had told herself "we'll just be hanging out, nothing will happen. Todd doesn't have to know about it." Todd kissed her good bye, and she walked over to her friend's den, walking in with a small smile. She walked into a room of 4 girls and 5 guys. The immediately walked up to her and greeted her with welcome nuzzles. She smiled at all of them.
L
ater that night, all of her girl friends had fallen asleep, and Harrie and her guy friends stayed up telling each other scary stories. She was getting really spooked from them, and told them to stop. They agreed without hesitation, and three of them excused themselves to go to the bathroom. Harrie lay there with the two other boys, waiting for the three to return. 20 minutes passed, then 30, then 40. She started to get impatient. "Where do you think they are?" she asked to the remaining boys. They simple grin and snickered as a response.
H
arrie glared at them and stuck her head out the den door, taking a few steps out. The two boys followed, giggling the whole time. She began to feel uneasy after she was about 30 feet from the door. Suddenly, everything became quiet, and the snickering stopped. She spun around.
She was alone.
Harrie gasped and froze, remembering all the scary stories she had heard that night about little wolves alone in the forest. She swallowed hard and looked around. "Guys?" she wailed softly, her ears lowering against her head. No response.
S
he made her way back to the den, when all of a sudden there was rustling in the bushes. She spun around to stare at them, and screamed when a small rabbit bounced out of them. Bracing herself against a tree and breathing deeply, she started to walk towards the door again. Suddenly, she saw a blur of color to the side of her, and to the other side. Pretty soon, there was something sprinting around her. She squealed and felt her eyes fill up to the brim with tears.
S
tarting to sprint back, she was cut short by a branch, and she tripped, landing flat on her face. She felt something pull at her tail and bite at her side. Looking up, she saw all 5 of the boys cackling and poking at her. "Stop!" she shouted. She couldn't stand being picked up. Harrie jumped to her feet and sprinted, further away from the den, and further away from the boys. She couldn't believe they were poking at biting her. She ran fast, hard, and far. She refused to stop, in case they were following her.
H
arrie found herself lost, as she curled up next to a small stream. She started sobbing, her face buried in her paws, and she stayed in the position for the next 4 days, until Todd finally found her. He was in hysterics, and that was when he forbid her to go anywhere at night, and to ever talk to boys again. She didn't fight back. Instead, she started crying along with her brother, and she buried her face into his chest. It felt so good to be back with Todd again.
ADOPTABLES
Rules: Don't steal them or take my link off. n_n
Trades: Open
Requests: Eeh.. if im in the mood.
Customs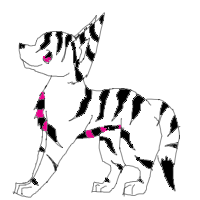 ~~That's it so far~~
My toybox will be located on Maloluki's petpage, above the rest of my art.
Link back?


Quilt
(Neomail me if you want me to add you)