♠♥♦♣Intro

It isn't long until you realize that what started as a slight murmur in the distance is suddenly a tremendous stampede headed your direction. Leading the mob is a dark-pelted lupe; the whole situation is almost comical - like a wild game of meerca chase on 'hard' difficulty mode. That is, until the lupe almost pummels you.

Git outta my way!

Is all she manages to shout in between clenched teeth and heavy breaths. A small brown satchel swings madly from her mouth. For some strange reason, you feel drawn to chase after her... so you do (that's strange, don't you have anything better to do than throw yourself in the middle of a wild goose chase?). You two begin to lose the angry mob; the lupe dives behind a boulder and crawls into what appears to be a well-concealed tunnel of some sort. The tunnel is well suited for a lupe, not for a human. But with some struggle, you manage to heave yourself out of the dirt passageway into a safe haven - an endless pasture lit by the milky moonlight.

Having found a safe place, the lupe finally notices you sitting nearby.

Oh, come on! You really followed me all that way?!

♠♥♦♣A Sophisticated Bandit

You shrug in response to her disbelief.
Look, if you somehow help that angry mob track me, I'll make sure you regret even having GLANCED in my direction when I ran past you
She snaps.
You stop her as she begins to trot off, in hopes that she'll reveal who she's running from and for what reason. Giving into your persistence, she sits.
THIS is why they're after me.
She scoots the satchel you noticed earlier towards you, motioning to open it. You cautiously untie the drawstring and peer inside. What you see inside leaves you dumbfounded.
It's exactly what it looks like! A toenail clipping! You see, my most recent residence was with Prince Jahryn - you know him, the one who claims he's related to Coltzan, yes THEE Coltzan. What do you mean 'do i believe it'?! Not for one second! Are you kidding me? What do you take me as...? Some sort of..fool?
Her eyes narrow at you, and for a split second a hint of malicious intent flashes in her eyes. You quickly shake your head 'no'.
Good.
The lupess had taken to circling you like a vulture since she started her story. This makes you nervous.
So Jahryn - that fool - thought he could impress me by telling me he traveled aaaaaallll the way to the ice caves and personally snuck into the Snow Wagers lair.
♠♥♦♣An Unlikely Pairing

♠♥♦♣Shukumei; Unchartered Land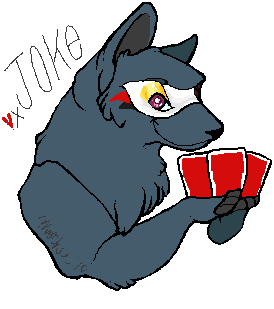 -=Stats=-
♠ Given Name: x___joke
♥ Goes by: Joke
♦ Age (human approximation): 23
♣ Gender: Female
♠ Pelt: Blue-grey with charcoal underbelly, paws, and inner ears
♥ Special markings: White masquerade mask with red and charcoal detailing and jester bells. Usul tail in lieu of the typical Lupe tail.
♦ Personality: Snarky, cynical, "holier-than-thou" attitude, almost unapproachable, but surprisingly social if one makes the effort to interact with her
♣ Special skills: Card tricks, trivial talents acquired while travelling
♠ Partner: none
♥ Petpet: Charles the Meowclops
♦Roleplay: Open (quad-style)

♠♥♦♣Family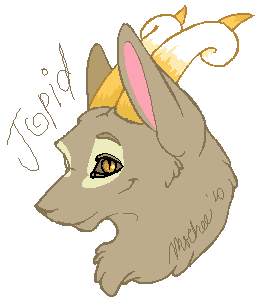 Jopid Who? Oh.. Jopid? The lupess mutters something incomprehensible What do you care for him? You shrug and explain that you remember having been told some time ago the two were related We're NOT related She snaps defensively but we ARE family... I suppose. In any case, I've never met anyone so arrogant and full of themself. Jopid thinks he's nature's gift to females, every lupess' dream man, some sort of DEMI god... Well, he's certainly something out of this world with those stupid horns and that equally stupid smirk... You sense the animosity in Joke's voice and decide it'd be best to move along...
♠♥♦♣Adoptables of Joke
Lupe-in-a-Bottle Adoptables!
Trades: Open
Requests: Closed
When picking up your custom, please link back to this page
Queue: Kympai
Kahlihu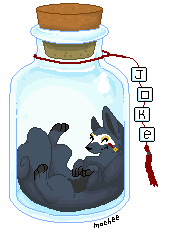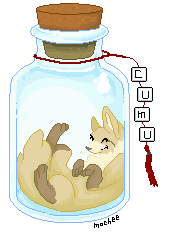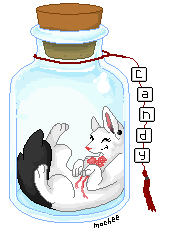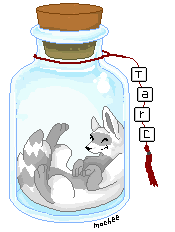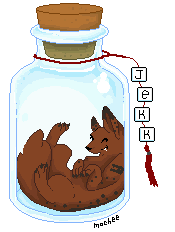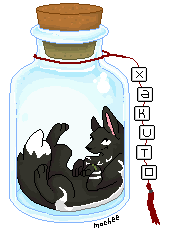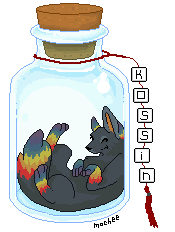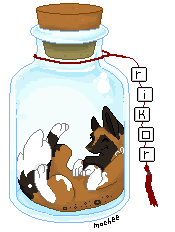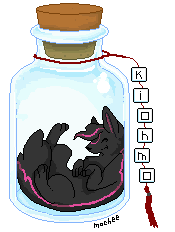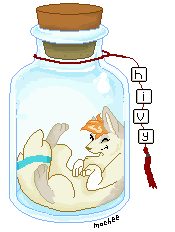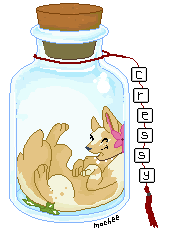 ♠♥♦♣Fanart/Trades

by (trinacobrajet on DA!)

by Lachtaube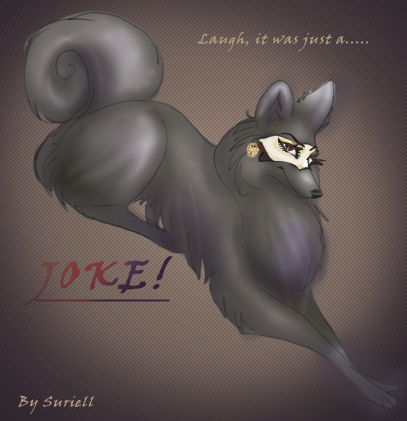 by Suriell
Take a button, will you?