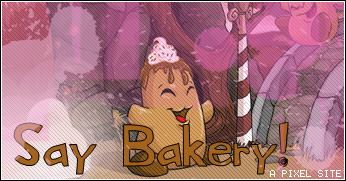 Navigation
About
Rules
Content
Sitely

Upon opening an old fashioned, dark wooden door you are greeted by a sweet smell coming from all around the building. You then notice a small cross stitched, framed sign that reads 'Say Bakery - since 1/4/12'. You are then greeted by who seems to be the owner of the old looking bakery you seem to have stumbled upon.

Welcome to Say Bakery. Say Bakery is a site similar to Say Shenkuu (my other pixel site). The difference is that Say Shenkuu has a variety of Japanese themed pixels for you to use, and Say Bakery has a variety of sugary themed foods for you to use.

So why did I create a similar pixel site?

Well, I decided that I was bored of just one pixel site that I could only create Japanese themed pixels for. Whereas, with a bakery themed pixel site, I can create cakes, croissants, crepes, coffee, etc - which seem to be popular.

Tra la la la la...

I'm currently looking for affiliates, sister sites etc. So if you're interested please give me a neomail! (Currently only seeking pixel related affiliates)! Obviously, there are rules that are easy and need to be followed. If these rules aren't followed then I will be tempted to remove my pixel sites as I spend time and effort creating these for you to use and I don't want them stolen etc.

1. Do not remove the link code from my pixels unless you are going to leave some other sort of visible credit to me.

2. Do not claim my pixels to be your own or anybody else's.

3. Do not steal any content from my site. This includes coding, banners etc.

Who's stolen one of my tarts?!
Diary

2/04/12: Added a new affiliate! Boxed up inside!



1/04/12: Interested in pixels/graphics? Check out my new guild inspired by the pixel sites iI have created!



1/04/12: Site opened!

Bakery affiliates
Non pixel related affiliates

Bakery listers
Advertise the bakery?

Credits
Navigation coding by Oggie Doggie .


NEOPETS, characters, logos, names and all related indicia
are trademarks of Neopets, Inc., © 1999-2013.
® denotes Reg. US Pat. & TM Office. All rights reserved.
PRIVACY POLICY | Safety Tips | Contact Us | About Us | Press Kit
Use of this site signifies your acceptance of the Terms and Conditions