Click the picture for Vare's Revo Profile


The road you've chosen means you can never got to Heaven or Hell.




=======



========


-The Peter Project-
Project Pan
The origin story behind Vare's species

Like all great creations, Vare started with a dream. A dream that most will do anything to obtain and make reality. Immortality, to live forever young, forever beautiful and forever strong is what most older humans wish to gain. To cheat death would be a gift above all gifts no matter what the cost. And the person, who finds this way to live forever, would not only be happy for the rest of his life but also rich beyond their imagination.

===================



-Identification Card-

.:Status:.
[x]Name:: Variedade
[x]Nickname:: Vare, Peter or Pan
[x]Gender:: Male
[x]D.O.B.:: N/A
[x]Looks:: 14
[x]Dead Type:: Not dead or alive
[x]Family:: Forgotten
[x]Partner:: Never
[x]Kids:: Never
[x]Eye Color:: Green
[x]Pelt Color:: Gray
[x]Role-play:: Open [Anthro for now]



Reference Sheet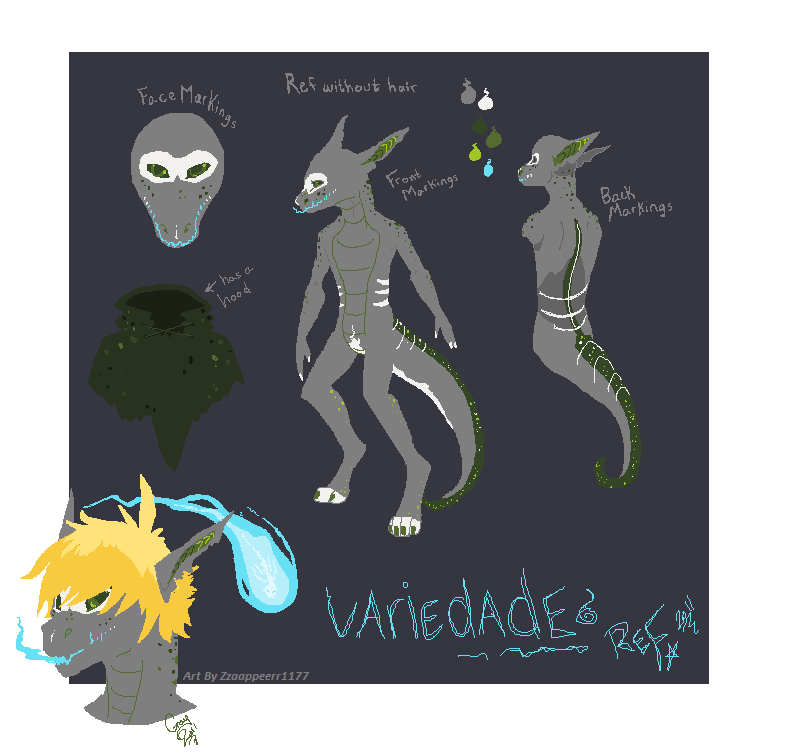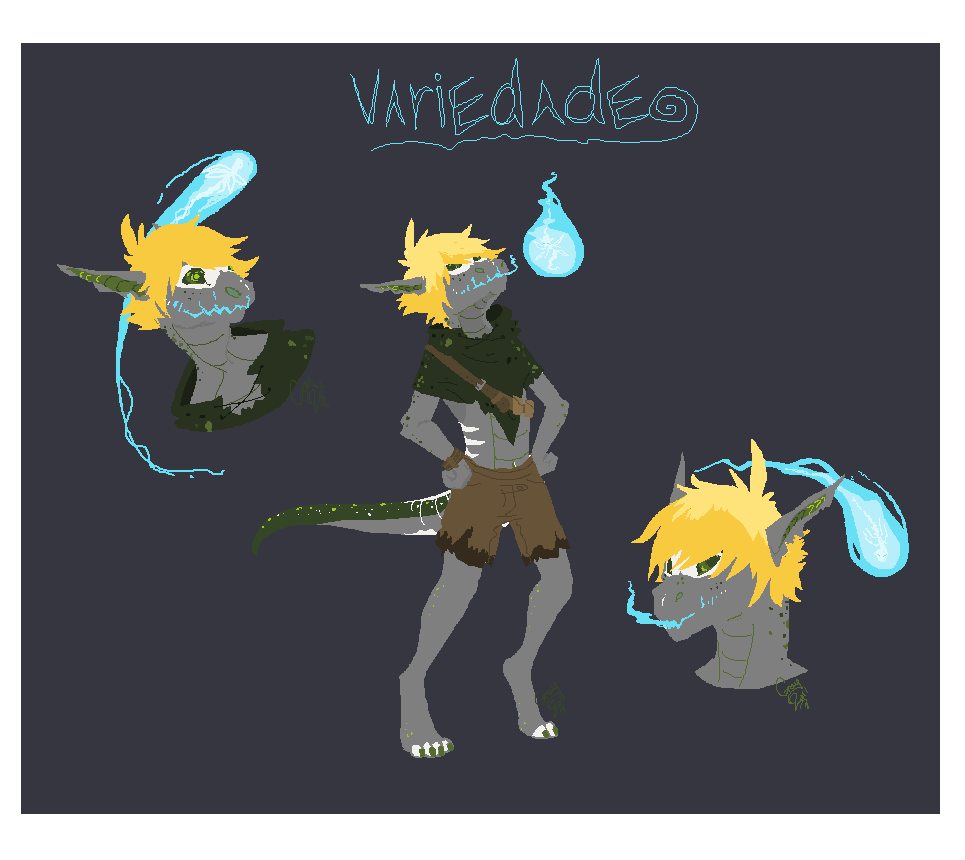 Art by Gray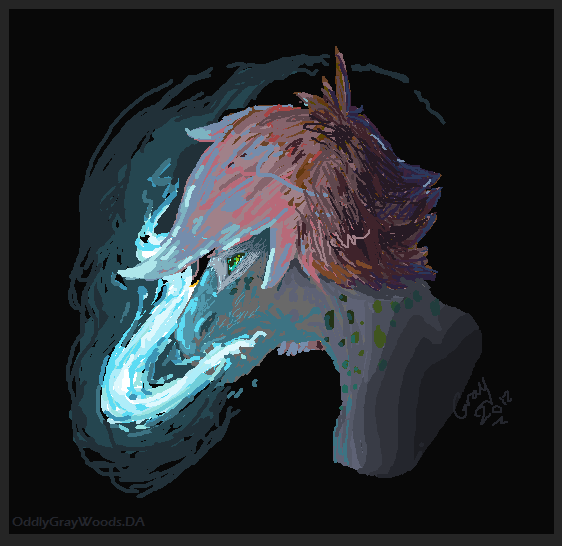 .:Back to Top:.

===================

-Appearance-

Vare is about 4ft and 11in tall with a build that is small and lean. He's rather strong for his size, slightly muscular from climbing multiple drain pipes. His appearance screams street urchin. His clothes don't fit. His pants are frayed and torn and his poncho shirt reeks of his adventures. His hair is shaggy and matted and he looks likes he hasn't bathed in weeks. Adults tend to over look him because of his appearance. Some of them hope that if they ignore him, he'll dissapear. Vare often uses this to his advantage to sneak around. If anyone paid enough attention to study him closely, they would say he had an air of confidence around him. Some would call this face pouty but that's just Vare practicing his glare.

-Personality-

Vare lives for himself and won't do anything that won't benefit him in some way. He's not a mystical hero jumping bad guys in allies. He's more like the person who looks the way while someone gets their money stolen. He's not cruel, he just doesn't care. This "every man for himself" personality was something he gained from childhood. Left alone in an ally way, when he was a child, made him brittle and hard. If nobody cared about me, why should I care about them? He's learned to strengthen himself and become over confident in his abilities. He sneaks and steals food like any over street urchin and lives his life walking a fine line between danger and death.

Vare is very stubborn and immature and will hold a grudge if something doesn't go his way. He enjoys taunting and bragging but most of all play pranks. He'll trick anyone who has the misfortune of coming across him. They're small and harmless pranks such as scaring a night guard with hallucinations of ghosts or dumping a bucket of fish on a passerby. They're infuriating but he'd never do anything to harm.


.:Back to Top:.

===================

Lullaby
Pronounced Lull-uh-bee





Lullaby is a hallucination created by Vare subconsciously. She's Vare's partner in crime and the two do everything together. Like Vare, she has a trickster personality and enjoys pranking people as much as him. Lullaby never slacks off in anything. Whatever she tries, she puts 100 percent into everything. Even though this can come in handy at times, it can get her into trouble, especially when it comes to her emotions. She's quick to jealously and anger but Vare never faults her for her jealous actions. Lullaby is so small, and simply developed, that she can only hold one emotion at a time. For example, she can only be angry or sad but never both. Since Vare never hangs out with anyone else, Lullaby is always happy.

Lullaby can't speak normal words but instead speaks to Vare telepathically. She appears as a bright neon blue light and is constantly flying around Vare's head. People she likes can feel a warm glow radiating from her and fear seems to dissolve. She leaves a trail of calm in her wake when she's happy. Yet if she's mad, she can cause misfortune to anyone who angers her. Lullaby lives her life for Vare and would gladly give up her life if it meant protecting him.



.:Back to Top:.

===================



-Preference-

.:Hates:.

X: Adults and Dogs
X: Losing
X: Love {Cause he doesn't get it}
X: Being proven wrong
X: Loneliness
X: The whispering voices

.:Likes:.

X: Eating
X: No responsibilities
X: Being Young
X: Lullaby
X: Games
X: Playing tricks



.:Back to Top:.

===================

Hallucination Breath

The most unique thing about Vare is his hallucination breath. His breath allows him to alter the mind of a person and makes their dreams seem like reality. His breath helps him to steal time from the living and stay young forever. It is an odorless gas that has different effects on each person. There are a few ways it can affect you and some are more dangerous then others.

When Vare goes to take souls from other children, Vare cloaks himself in hallucinations to weaken the child's awareness. The most common hallucination, that Vare takes, is the fictional character Peter Pan and his glorious Neverland. What is more useful for Vare, about his hullucinations, is that his dream actions don't align with the real world. While the child's mind is flying with Peter, Vare could be calmly walking over to the child to take their soul. Whatever dream a person has while under Vare's breath, he never changes what people intemperate. Vare doesn't care what they see just as long as he gets a soul. The only thing he does add is his friend Lullaby.

Lullaby is the part of Vare's subconscious that thinks he's truly lonely. He created her during his first few years as a soul eater. He was confused, lost and afraid. Lullaby appeared in a warm blue light to soothe his worries and fears. Since Vare is so attached to Lullaby, he believes with his whole heart that she is real and will explode with rage at anyone who says otherwise.

Vare's mood plays an affect in the hallucination gases. For example, when he is sad, the affects become weak and easier to break from. When scared, they can twist the visions to reflect how Vare feels. Anger is the most dangerous of the emotion. Anger is uncontrollable and able to kill people from concentrated amounts of the gases. Since Vare is forever a little kid, he has little control over his anger and has been known to jump to rage and frustration quickly.

Another danger is when Vare is interrupted while he's taking a soul. Normally, this is when a parent or dog catch him before he can finish. Even though the child's soul is saved, stopping the process can permanently damage the mind. The deeper into the process Vare is before he stops, the more damage is done to the brain. Victims of "quick stop" are plagued by visions of Peter and can't focus on reality. Some waste their entire lives on an obsessive search for Peter Pan. Extreame cases have been known to jump off rooftops trying to fly to Neverland. Few children have been able to recover from the madness.

Age and mental strength also play a role in how Vare's breath can effect a person. For example, children tend to be more excepting of mythical beings. This makes it easier for Vare to trick them. Adults need a little more planning before Vare's breath can take them. Their minds can be more easily influenced if their mind are more open or relaxed to the idea of magic. This could be in a dark allyway when they're afraid or just before they sleep or wake(Granted, they have to be really tired). Even though Vare can take an adult's soul, he less likely to do so for obvious reasons. It'slso too much trouble.

Vare has never tried to change the myth or separate himself from the story. He finds it easier to assume a given identity. Besides, it's a lot harder to catch a mythical boy with a fairy than a cereal killer.



===================

What Happens to the Souls…

As soon as the souls are taken, Vare feels a rush of energy similar to a sugar or adrenaline rush. Since Vare takes a child's life, some of that person remains part of him and he can sometimes hear them talking in his ears. Their voices come out only as a mumble of incoherent whispers and they annoy him immensely. He's been known to become so frustrated and unfocused, that he's shouted at random people in rage.

The child is sent to a world of their fantasies with Peter Pan. There they live an un-ageing life in their mind. They have no idea that they're dead or that they have left their bodies behind. They just enjoy the life and adventures with Peter and slowly forget their previous lives. Once Vare has used up their time on Earth, the child fades from Vare and disappears from Peter's world. The child never goes to heaven and becomes forgotten as though they never existed.

Vare has no idea of the affects of his curse. He only knows it grants him new life and the chance to stay young forever.




.:Back to Top:.

===================

Neverland





Neverland is one of the places where the soulless children go after an encounter with Vare. This little island has a warm tropical climate all year round with some snowy places that feel just as nice as the sunny beaches. Kids are able to survive well in this habitat and fruit is abundant.

The island is constantly changing and developing. Its condition and appearance change with each new child who comes to Neverland and alters itself to how they imagine it to be (This would explain the tropical warm snow slopes). The kids see the world as one huge game and the worries of the world mean nothing. They battle pirates, talk with mermaids, trade stories with the natives and live everyday in utter bliss and excitement.

Neverland was never originally called Neverland, it was just some ghost island where the soulless children kept appearing. Since so many children thought it was Neverland, Neverland it became. The natives on the island, known as the Narakti, were the first creators of this home. The island is part of a parallel universe that is connected through Vare's Soul breath. The Island wasn't created to hold the soulless children but the Narakti are unconcerned with the sudden appearance of these children. They know that the island will always accommodate its self to provide for any new inhabitants. Neverland is like a living paradise island, made of the dreams and wishes of children.

When I child fades from Neverland, their existence is erased from the mind of every child in Neverland. The Narakti, however, always record the existence of the children and all their adventures. This way the child is never truly forgotten. Even though they record the child's Neverland History, they never tell the other still living children. Neverland was meant to be a paradise and so sadness has no room in Neverland. They uphold this law to never tell of the children fading, in order to protect the island from twisting into a dark cursed island consumed in sadness.



.:Back to Top:.

===================

The Narakti
Pronounced: Nuh-Rock-Tee




The Narakti are a small group of tribe-like creators who specialize in fortune telling, healing, storytelling and dream weaving. Unlike the children who appear from Vare taking their souls, the Narakti are the original inhabitants of the island. They are relatively peaceful but they have hunters and warriors in case the shade-like pirates decide to rage war. They hunt and fight with bows and small knives, killing only when necessary.

Narakti stand on two legs and live in portable tents that they use to travel. They have long graceful necks and furry upper torsos. Their faces look very owl-like with slitted almond eyes that appear closed by first glance. The Narakti love to decorate themselves in beads and feathers and will always been seen with something decorating their fir or horns. Their pelt color has a wide range of color hues which makes them resemble a walking rainbow when they travel. What is unique about each Narakti is their horns. The Narakti have a wide range of horns (Goat, Ram, Gazelle, unicorn, etc.) and it's believed that if you listen to the horn of a dead Narakti, you can hear the dreams of the world.

Along with some of their other talents, dream weaving is a specialty of the Narakti. The dream weaving is one of the causes that children have sweet dreams. The Narakti sing every night and their songs create the dreams. The Dream Weavers are the creators of the songs and each set of note has a different meaning to the story's interpretation. There are no designated Dream Weavers, so any of them could created a song, but there are a few Narakti who are revered for their songs.

Along with dream weaving, story telling is another talent that the Narakti love to share. They can memorize large sums of verses and have a deep and vast memory for saving stories. Since their memory is so good, pass down their stories through an oral tradition. As practice, elder Narakti assign younger Narakti to follow one of the lost children and remember their history. The deeds that the young Narakti remember often get put into the Dream Weaver songs.

The Narakti believe that the soulless children were once people who were honest and just in their past life. Since they were honorable, the Narakti think the spirits gave them the right to share their island. They are unaware of the true reason of their appearance but have know way of truly knowing.



.:Back to Top:.

===================

Strange Travelers

Along Vare's travels, he has met two types of ghost-like characters, the scheming Threnz and the reckless Innomous. Both will play a huge part in Vare's development and his ideals. Vare doesn't really like either of them but they keep appearing in his life like unwanted spectors.


Threnz
Threnz normally wouldn't show interest in another's life. However, Vare seems to be the exception. Threnz keeps an eye on Vare, following the trails of soul pathways that appear after each reap. He enjoys talking to Vare and twisting the young soul eater's thoughts and personality. The reason that Threnz follows and engages Vare is unknown. Maybe he sees himself in Vare? Or perhaps he's just looking for something to entertain him in his long afterlife. Yet what ever the reason, Threnz insist that Vare needs him.
Innomous
The leaders in Innomous's group have grown concerned with Vare and Threnz's interactions. Not only is Vare a soul eater like Threnz, but he's a lose cannon that no one understands. Some are concerned that Threnz's conversations have ulterior motives and so see Vare as a wild card that might play into the phantom's favor. In order to find out what Threnz is planning, they have chosen Innomous to try to engage Vare in conversation. On this kind of assignment, normally, a more experienced reaper would go but they've found Vare to be reluctant to talk to older people.

Innomous sees this job as little more then baby sitting and it irritates him. The only thing that keeps him from abandoning the mission is that his rival, Threnz, is involved. Innomous not only loves to thwart the phantom but he wants to be the one to destroy the cunning ghost.




.:Back to Top:.

===================

Street Urchins

The only children that Vare can't get close to are the other street children. Years ago when Vare had been left in the ally way, he was running on almost animal instincts. His need for souls overwhelmed him and he hunted a lot of the kids who lived in that district. Since then, the street urchins have given him a wide berth and try to attack him or run if Vare gets too close. Their minds are more aware of Vare's hallucination breath so it's become a lot harder to trick them using this method. The street urchins not only fear Vare for his soul hunger but they also hate him for making the street life harder to survive. Cops are constantly on the lookout for street children, following the descriptions from parents who caught Vare during his soul eating process. Children who get taken by the police are never seen again. Revenge hangs on the mind of almost every captain of each group but with cops becoming more vigilant, they have to be more concerned with the well being of their group.



.:Back to Top:.

===================

Leaders and Districts
Street Urchin Groups

The homeless kids live in divided groups scatter around the city. The groups range from three to eight members, with one leader who decides all their endeavors. The districts act as small kingdoms and each group has to respect each others boundary lines. This however, isn't the case with some of the smaller groups but the bigger groups maintain this order because of the risk of getting taken by the police. There are three groups that have the most power due to their members and ability. The top groups are (Yet to name)


The Maywind Group [Pier District]
Russle's group is a mix of kids who have chosen to make their home around the piers and docks of Maywind Bay. They are a group of five who live in a run down boat house on the edge of the bay. This group makes a living by pick pocketing and selling their goods to a dealer who ships their items out to sea. They make a fair profit for their troubles and manage to live a decent life on the money they get. Russle leads his group with a strong fist, sometimes yelling harshly at his group if they do something wrong. Some would consider it harsh but Russle does it with good intentions. He believes if he acts this way, his kids will be stronger and know how to handle the real world. Survival wasn't kept by using nice words.

[x]Name: Maywind Group
[x]Leader: Russle Wayrow
[x]Age: 15
[x]Philosophy: Lead with a tough firm hand.
[x]Group Size: Five (Not including Russle)
[x]Majority: Older 8-16


Russle Wayrow

Lotus Coalition [Down Town District]
Diana's group is mostly a girl's group who live all in a rather large section of down town. Their group's main hideout is in an abandon attic of a Chinese food restaurant hidden deep in China town. The group doesn't have a specialty but they try every technique to survive. They believe that the people they steal from are rich enough and they can always buy more. They pick pocket, steal, cheat, con and they do it without remorse or regret. Diana handles her group like she's the mother, making sure everyone is fed and accounted. She puts her kids first, even if it puts her at risk. Diana teaches her group that strength comes by team work and caring for your own.

[x]Name: Lotus Coalition
[x]Leader: Diana Cleff
[x]Age:: 16
[x]Philosophy: Give everything for your teammates.
[x]Group Size: 6(Not including Diana)
[x]Majority: Girls 5-14

Diana Cleff

(Yet to Name) [Down Town District]
Will and Reese Foster, known as the Foster twins, lead the largest group of street kids around. Both brothers command sections of their group and let their kids spread out around the city in pods(groups of three or four) Their sudden success has allowed their group to grow and thrive. Rumor has it that they make their living by working for an adult who exchanges food and information (about stealing opportunities) for their services. The Twins don't deny it but they don't confirm it either. Their group likes to remain secretive and joining their group is by invitation only. Since they're so secretive, no one really knows how the twins govern their group.

[x]Name: Yet to be Named
[x]Leader(s): William(Will) and Reese Foster
[x]Age: 14
[x]Philosophy: Unknown
[x]Group Size: 16 (Not Including the Foster Twins)
[x]Majority: Mixed Mostly Older


The Foster Twins

Red River Group[Pier District]
Before Vare showed up, there was once a forth group known as the Red River group. Their group was an inspiration to homeless kids everywhere. They did a lot of Robin Hood type work, stealing from the rich and giving to the poor. They made their living anyway they could, mastering the streets and sewer tunnels underground. Their main headquarters was inside an old theme park fun house that rested on the docks of Maywind Bay. Rue, their leader, was said to be just and brave, and she always had an air of confidence around her. Some say that their leader was even Diana's role-mole. No one knows exactly what caused their disbandment. However, there is a rumored that Rue ran into conflict with the Foster Twins about territory. Yet what ever the cause, none of them will ever forget the massacre of the Red River Group and the red blaze that engulfed the theme park.

[x]Name: Red River Group
[x]Leader: Rue Rivers
[x]Age: 16
[x]Philosophy: Take from the rich to feed the needy
[x]Group Size: 17 (Not including Rue)
[x]Majority: Mix
[x]Extra Info: They got their name from the red ribbons that Rue used to wear in her hair. They seemed to wave in the wind like a flowing river.
Innomous was also said to have be on this team and the fire was the cause of his death.




Rue Rivers





.:Back to Top:.

===================



-Dream Away Adopts-
Adoptables




-Adoptables-

Only take them if they were made for you!
Ref picture of any sorts is a must!
These I'll be slightly picky to who I accept. If I request to you, then you're open to these adopts.
Do not use these off the neopet website!
-I don't think I have to say further than that.
You all know the rules.

-Trades are open!-

-Working on-

Empty
Empty
Empty





.:Back to Top:.

===================



-Souviniers-

I'm way too old to play with toys but it doesn't hurt to have a couple of me hanging around.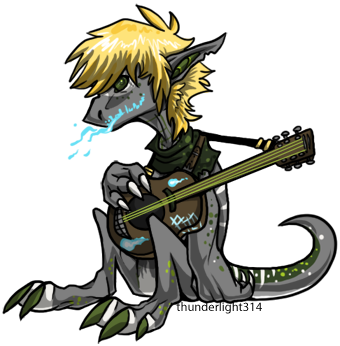 .:Back to Top:.

===================



-Tributes-
Fan Art
Hover for Artist
Drag to Address Bar for Full View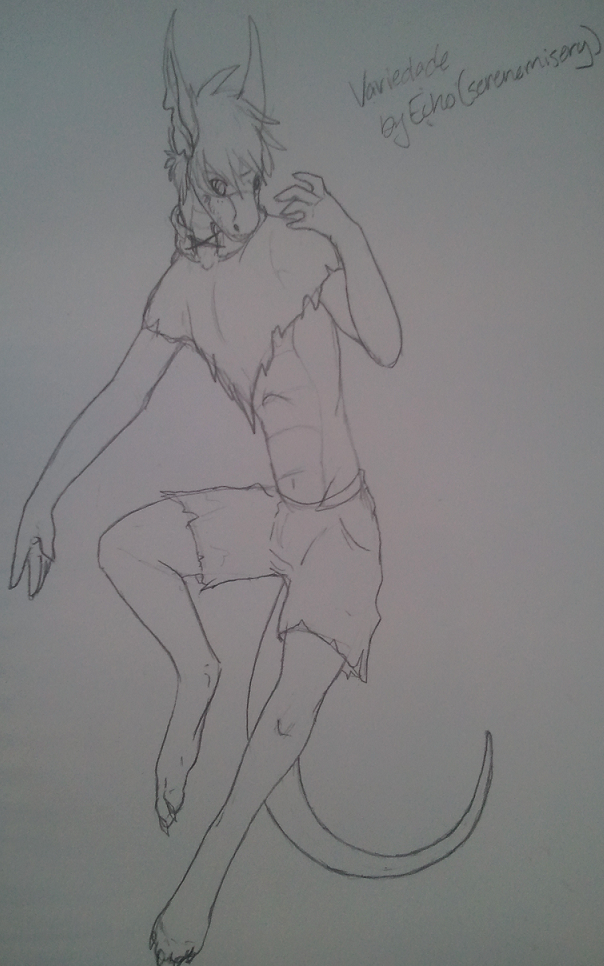 ===================



Truth in Writing
Awesome poem by:
Quidest(Neesboy)


Live every day like it's not your last,
A guarantee that you'll have tomorrow.
No edge to live on, so just live fast
And let the devil take the sorrow.
When the lies you speak are honesty,
And things they think appear what is real,
Souls will go when you say come with me,
It would be a crime to never steal.
Never mind the cost, they'll foot the bill,
Their lives un-lived are your years to spend.
So live it up, you can have your fill,
Eternity never has to end.



===================



-Way Back-







[50x50]





[50x50]



.:Back to Top:.

===================



-Gray Pages-









.:Back to Top:.

===================








Credit

Thanks to Shan(Shazoie) for helping me come up with ideas for the street uchins!
Unless stated other wise, all art and writing was done by me, please don't steal.