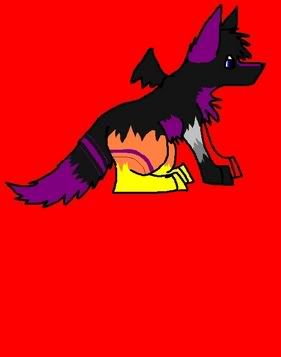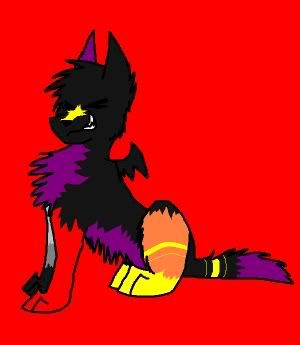 ------------This code origonally at http://www.neopets.com/~kitxoone. You may alter it as much as you desire, and put your own hidden message here.------------
About Me:
Name:Varekki
NickName:Var
Pronounciation:Varekki=(var-eh-key) Var=(var)
Age:11
Love:YUKK!!
Friends:None...
Enemies:Still None...
My Story:
When my parents met, they had no idea that they would be in so much trouble for being together. He was a rainbow/shadow wolf from the Garuro clan, and she was a twisted mutt from some unknown clan. They were attacked shortly after I turned 4, and realized how to fight. The poor wolf stole me, and mom went crazy. I heard her yelling even at the edge of the forest. She ran after him like a mad bull, and caught up very soon. She rammed him, grabbed me, and he went flying! That is basically the only exciting thing that I can remember... If anything happens, i'll put it here though!




My Adoptables: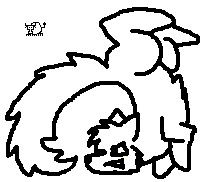 Rules:
Always link back
Don't take them if they're not yours
There has to be NO stolen ANYTHING or else you get nothing from me ever
Bug me and you shall feel my true power with words...
Yes, requests are open..for now...
Customs Of Me:
Customs Of Others:
Yilth: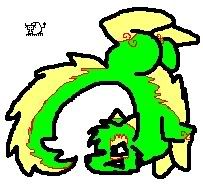 Code(again replace('s with correct brakkets) : (a href="http://www.neopets.com/~varekki")(http://i73.photobucket.com/albums/i201/Wolf_grl_4_life/boo.jpg)(/a)
Reference: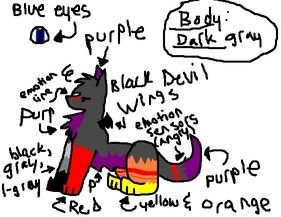 Emotion Sensor Colors:
Red=Angry
Blue=Sad
Light Purple=Surprised
Yellow=Happy
Dark Orange=Proud
White=Starving (hungry)
Black=Sick
Green=Calm
Pink=Love
Links:
NEOPETS, characters, logos, names and all related indicia
are trademarks of Neopets, Inc., © 1999-2013.
® denotes Reg. US Pat. & TM Office. All rights reserved.
PRIVACY POLICY | Safety Tips | Contact Us | About Us | Press Kit
Use of this site signifies your acceptance of the Terms and Conditions