Updates
4.27.10 : Cleared some old layouts. Working on getting some fresh content in for you guys. Adding a Resource Section (may become it's own page) :)
4.20.10 : Updated a few layouts and put in some new content. Wiped the old update list and rearranged the site layout.
Linkback
| | |
| --- | --- |
| Linkage & Rules | |
Listed At
Affiliated With
Rules For Using My Premades
Updated on October 22, 2009 | General Information »
This page is full of coding that I have put here for those of you who want it. They're pretty easy to edit and change so that you get the look you want. But there are some rules. Please show respect for me and my work by following them. :)

01. You are allowed to use them or I wouldn't have put them here, but you have to give the credit that I made them with the link back to this page.

02. You are allowed to change things but you need to give credit to me for having done the original coding. Editing a premade is still using a premade.

03. You can take my coding and look at it, tear it down, and learn from it or how to do things. TNT said so here. But please do not use it and take credit for coding it, because you didn't, I did.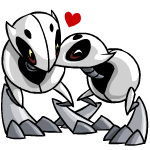 Coding Information
Updated on October 22, 2009 | General Information »
How to use the coding:

01. Left click on the pink box that contains the coding.

02. On your keyboard, press Ctrl + A (or command + A on a Mac), and then Ctrl + C (or command + C).

03. Now go to the the place where you edit the coding for your lookup, pet-lookups, petpages, shop, or gallery (this is dependent upon what you are trying to edit) and paste (Ctrl + V) the coding into the HTML editing box provided.
| | |
| --- | --- |
| User Profiles | |
style d'un
NEOPETS, characters, logos, names and all related indicia
are trademarks of Neopets, Inc., © 1999-2013.
® denotes Reg. US Pat. & TM Office. All rights reserved.
PRIVACY POLICY | Safety Tips | Contact Us | About Us | Press Kit
Use of this site signifies your acceptance of the Terms and Conditions