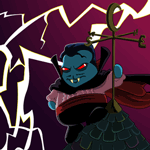 On the 5th of October, 2010, something dreadful happened. Something, the horror of which has not been equalled in Neopia before or since. Hubrid Nox, a world class Necromancer of global repute, was struck down by the renowned criminal, Xandra.
And why was such a dashing and powerful Chia struck down in the prime of his unlife? Was Xandra seeking his power? Jealous of his successes? After his world-class ice cream collection? No! She attacked him to
frame him for a crime he did not commit!
The world was, quite rightly, shocked and appalled at Xandra's actions. This petpage is a memorial to Hubrid Nox, who may be dead, but will never be forgotten.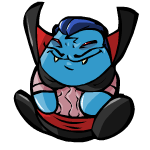 So just who is, or was, Hubrid Nox? Well, he is perhaps one of the most elusive characters in Neopian lore. His exact nature is unknown, but many believe him to be some form of vampire. He has lived in the Haunted Woods for a great many years, making his home in an old
castle/mansion
on the outskirts of the Deserted Fairground. From there, he has launched many attacks on the great and good of Neopia. Hubrid was known to be a powerful Necromancer, summoning ghosts and zombies to do his bidding as well as enslaving creatures like MAGAX. The exact extent of his magical abilities remain unknown - was he powerful enough to overcome death?
He is first thought to have appeared in early year 2 in a Collectable Card, making him quite old indeed. He has since risen to fame in the evil underbelly of Neopia with appearances in Caption Competitions and his own entry in the
Gallery of Evil.
It wasn't until Year 4 though that Nox's most memorable appearance came - featuring as the main villian in
MAGAX: Destroyer.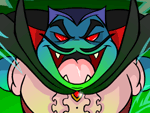 Here, he was pitched up against his former ally, MAGAX, as he sought revenge against Hubrid. The Necromancer displayed an ability to shapeshift during this game, taking the form of a Cybunny called Cheelee. This game proved so popular, a
sequel
was released in Year 9. Hubrid also appeared in the
Neoquest II
game released in Year 6. There, he was an optional boss in the Haunted Woods stage, fought atop his fortress to free him from Edna's powerful spell.
Hubrid's appearances have since been varied, from Better Than You competitions, TCG cards, a second game in the form of
Hubrid's Hero Heist
, and even his own entry in the
Neopets pronunciation page!
Sadly, his final appearance while alive, or whatever he was, was during the
Faeries' Ruin plot
, where he was mercilessly struck down by Xandra. Though for Hubrid, it seems that death was only the beginning...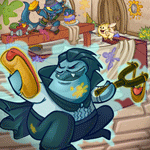 Since Nox's death, there have been several key sightings - all in the Advent Calendar. The first came soon after his death at the hands of Xandra, on the
13th Day of Giving
, Year 12. MAGAX was seen visiting Hubrid's grave, only for a ghostly hand to rise from the ground and claim the gift. This was followed up by a similar entry on the
9th Day of Giving
, Year 13. There, a clear ghostly version of Nox was shown attempting to play a prank on MAGAX. The pattern was confirmed on the
10th Day of Giving
, Year 14, with yet another ghostly Nox animation.
The Year 14 Masks of Dread event at first seemed to be featuring the ghost of Nox as a thief around Neopia, until the closing section of the event revealed Kanrik to be the real culprit. He had been impersonating Hubrid, casting doubt on the ghostly sightings. The Year 15 Advent Calendar featured Hubrid again, this time on the
26th Day of Giving.
Here, Hubrid was seen planning a party with the ghost of two other famous Neopians, the Clockwork Negg Guardian, Rutu, and the Meepit Oaks nurse, Lucy.
Could it be that Hubrid has returned from the grave as a ghost? If so, why hasn't he returned to his castle? Or conquered the world now that he is invulnerable in his ghostly state? These questions and more we seek to answer with an annual Nox Memorial Day.
An old Necromancer dies? So what!?
, I hear you cry.
One less evil thing in Neopia!
Well,
wrong
. The death of Hubrid Nox is likely to have had far reaching consequences for all of Neopia.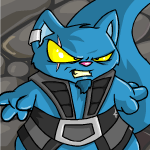 Perhaps the most notable consequence has been to Hubrid's long time nemesis and former ally, MAGAX. Without Hubrid to battle against, MAGAX has lost his purpose in life. Certainly, at the few public appearances he has made since Hubrid's death, he has looked quite depressed. Who knows what MAGAX could get up to without his battle against Nox to keep in occupied? He seems to have joined the mercenary band, the Brute Squad, but will this be enough purpose for him?

Visitors, or rather looters, who visit Nox's home in the Deserted Fairground, may notice it is quite deserted. This seems strange, as during his appearance in Neoquest II, Hubrid had an army of Chias protecting his fortress. Of course, Hubrid's undead minions will likely have crumbled or evaporated with his death, but where have these Chias gone? Unemployment must surely have spiked in the Haunted Woods area, and legions of evil angry Chia warriors roaming the countryside can hardly be a good thing for the public.
Why exactly have the Defenders of Neopia not stopped people raiding the late Nox's home? A steady stream of would-be criminals enter it, and mess about in his private laboratory in the hopes of stealing items of clothing. Something suspicious is going on when an international crime fighting agency does nothing to stop such a blatant disregard for the law.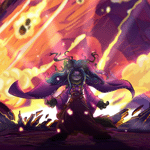 The fate of Nox's assailant, Xandra, is also unknown. Last we knew she had been turned into a statue and taken into Queen Fyora's personal care, but how can we be sure this is a fitting punishment? Is she even aware of the passage of time while encased in stone? And if not, how could it even be considered a punishment? Again, the authorities are strangely silent on this matter.
Finally, the absence of Hubrid from the Haunted Woods area will inevitably created a power vacuum that others will be racing to fill. Edna, Balthazar, and Eliv Thade must now be increasing their output of evil and mischief in order to move in on Nox's territory - an upset to the balance of power in the Haunted Woods can be good for no one.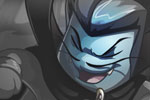 So what's the solution? Well, how about an annual Nox Day? One day of the year when citizens across Neopia can come together to remember the planet's foremost necromancer on the anniversary of his death - October 5th. Perhaps, if enough great minds come together, there may even be a way to bring Hubrid back from beyond the grave.
In 2011, this day
came to pass.
There was a grand
poetry gallery
,
entries in the art gallery
, a themed
gallery spotlight
winner, and a themed
caption competition
. In addition, new, Hubrid themed content was released on the site. But the joy of Nox Day was equalled only by the lows of the 7th of October, just two days later. In the
Neopian Times editorial
, the Neopets Team claimed that Nox Day was a one time only deal, and not the annual event that so many wished for. In an attempt to bring about Nox Day, users in 2012 submitted a whole host of content to competitions, and succeeding in making quite a few Nox-themed. But TNT did not bring back the annual news day.
But this is not the end of the story. Nox Day can still happen if enough people take it upon themselves to celebrate his life on the 5th of October every year. You too can help to keep the memory of Hubrid Nox alive in our hearts, by spreading the word of Nox and Nox Day to those you meet in your travels across Neopia, and gathering together to remember him on October 5th.
Hubrid Nox has been featured in a lot of user submitted material over the years, and here's a complete (hopefully!) list of everything. I've tried my best to contact everyone in this section for their permission to list them, but some accounts were frozen or inactive. If you're on the list and want your entry removed for whatever reason, just drop me a neomail and I'll be happy to oblige. Equally, if I've forgotten you and you'd like to be added, contact me and I'll fix it sharpish :)
|
Art Gallery
|
Poetry Gallery
|
Storytelling Contest
|
Caption Contest
|
Random Contest
|
Neopian Times
|
Art Gallery
[
Back to Main Competitions Listing
]
Poetry Gallery
[
Back to Main Competitions Listing
]
Storytelling Competition
Storytelling #591
This was the tale of an Ixi who got tangled up with the dark Faerie, Jhudora, and her hunt for the mysterious Bridge of Tears. It didn't directly feature Hubrid - but the main character, Norbert, was reading the Nox Memoirs at several points - and that's good enough for me!
Storytelling #576
In this tale, Chef Bonju, his apprentice Juli, and her father Charles became embroiled in the efforts of the League of Nox - a secret society dedicated to resurrecting their master.
Storytelling #562
A pair of Neopets came across the spirit of Hubrid, trapped inside a dusty book. They follow directions to free the Chia, but end up tangling with Jhudora as well!
Storytelling #531
It's Halloween, and a pair of Neopets have dressed up (one as Hubrid!). But when people start becoming the creatures and characters their costumes are based on, chaos breaks out on the streets of Neopia.
Storytelling #505
Nox's faithful servant Algare and MAGAX team up to bring Hubrid back from beyond the grave, but is all as it seems?
Storytelling #497
Boochi has another victim, freshly turned into a baby - one problem, Boochi has picked on Hubrid Nox!
Storytelling #450
Several villains from across Neopia exchange correspondence, each wanting to double-cross the others. Hubrid Nox is among them, but how will things end?
Storytelling #394
Okay, so this tale of a band's encounter with the Spider Grundo didn't really have anything to do with Hubrid. But he was mentioned ever so briefly in one part. That counts, right? :P
Storytelling #366
A story about superheroes and supervillains, and what happens when they attend seminars. Hubrid was one of the evil-doers attending the How to Rule Neopia course, when a most unexpected mastermind springs a trap.
Storytelling #303
Okay, so maybe this one didn't precisely feature Nox in more than an offhand comment either, but it still counts. This was a tale about the Advent Calendar, but when the presents start coming to life, it is clear that something has gone quite wrong.
Storytelling #296
A great Halloween party happens, where the costumes turn people into the things they are based on - in the end, it turns out Hubrid was behind it all.
Storytelling #184
Hubrid Nox launches his latest half-baked scheme - putting Chia Flour in the Breadmaster's creations to turn all of Neopia into Chias! Can he be stopped?
Storytelling #168
Hubrid's got a problem - a baby Chomby has turned up on his doorstep, thinking the Chia is his father. Still maybe Hubrid can use this to his own gain.
Storytelling #111
Hubrid has somehow managed to cast a spell that stops everyone in the Haunted Woods giving out quests, and capture both MAGAX and Florg. Can a pair of Neopets stop his evil scheme before it gets any worse?
Storytelling #40
This earliest tale of Hubrid charts his efforts to gain notoriety and be featured in the Gallery of Evil. What lows will he stoop to to achieve his goal?
Storytelling #600
In a Meepit-controlled future, Hubrid Nox's ghost joins a group determined to save the world!
Storytelling #622
A strange moss is recovered from Hubrid Nox's old home - this can't end well!
Storytelling #626
A poor young girl ventures into the Deserted Fairground looking for her friend, but when it leads her into Castle Nox she gets more than she bargains for!
[
Back to Main Competitions Listing
]
Caption Competition
[
Back to Main Competitions Listing
]
Random Contest
[
Back to Main Competitions Listing
]
Neopian Times
[
Back to Main Competitions Listing
]