Neopets Site Spotlight #834!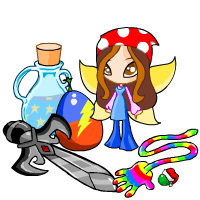 The New Battledome was an unexpected change when The Neopets Team first announced it in 2012. They changed almost every aspect of the Battledome and we expect more to come in the future. Some of the major changes include the following:
• Completely New Appearance & Structure.
• NP & Item Rewards for Battling.
• Different/Newer Arenas including an exclusive Premium arena called Cosmic Dome.
• Revamped Faerie Abilities.
Of course I cannot place every change in detail here since there are so many. The changes that have occurred will be explained through guides, news & information within this page. This is the place to become introduced to The New Battledome! You will be able to learn everything about the Battledome from this page directly and the links provided below. I also have the history of The New Battledome so you can become familiar with how it became what it is today and any recent changes made.
If you have any suggestions, opinions, guides to add or more, please do neomail me - Enjoy!
---
History of The New Battledome
Everything mentioned in this portion was information & news released to users from The Neopets Team only. The information below is written verbatim from Neopets Team. Any text in italics is additional information I wrote. This will continue to be updated as they release more information.
––––––––––––––––––––––––––––––––––
On 6/27/2014, Neopets Team released a new statement saying change is not a priority as they are focusing on games, random events, etc. (you can read below). The banner below represents the dedication towards The Battledome. If you wish to place it up, feel free!
––––––––––––––––––––––––––––––––––
2012
5th October
•
Battledome News!
- In the next week or so, we'll be taking down the current Battledome permanently to make way for a NEW BATTLEDOME coming later this year! We'll be providing more information in the weeks to come, but for now, take this time to say your final farewells to an old friend. *tear*
We had some good times, old Battledome. We had some good times.
We also thought we'd open sign-ups for the new Battledome Closed Beta. We're a ways away from that still, but if you're interested in participating when the time comes, check out the sign-up page!

(This was when everyone was shocked & stunned with Neopets re-vamping the entire battledome! There were no hints or tips - Everyone was stunned. Almost everyone who was a battler immediately signed up to be a beta tester.)
11th October
• Battledome Update! - We wanted to let you know that we are currently planning on shutting down the old Battledome early next week. Unless that changes (we'll let you know), you'll have through the weekend if you want to spend some time fighting for old time's sake. We've also put up an FAQ Question with information on what you need to do before the old system is shut down. (The short answer is nothing! There's nothing you need to do!) More information will be released as we get closer to the betas!
17th October
• Goodbye, old friend! - The (old) Battledome is now officially closed. It has sacrificed itself so that its brother, New Battledome, may soon live. ALL HAIL OLD BATTLEDOME! Anyone interested and able can join us on the Battledome Neoboard as we say goodbye. And for the technical stuff: when attempting to visit any Battledome pages, you'll be forwarded to an error page. You'll also receive an error when trying to equip items from your inventory. Next up will be Closed Beta and we'll announce that here in New Features when we start sending out invitations.
27th and 28th October
• Closed Beta! - Are you ready to test the new Battledome? Closed beta has begun with very small groups for now. If you are one of the "chosen" Neopians, you should receive a Neomail soon with all the details. (Neomails will be sent as we add new people, so keep an eye out.) We will see you there! *secret handshake*
(Neopets Team began sending out neomails to those who were invited to the "BetaDome." There was a message board for those invited to discuss details in addition to being able to battle in the new system. Here is what the neomail invite said to users.)
Here is additional information Snarkie gave in regards to a question I asked:
(Snarkie implied that there were very slight changes to movement made and eventually it will have more of an impact on battling.)
9th November
• BATTLEDOME OPEN BETA! It's here! The New Battledome is now open to all players to beta test. There are still kinks to work out, of course, but we thought it was time everyone had a chance to give it a go, discuss, and send us feedback!

Since it's beta, some weapons are touchy, some challengers are being mean, prizes need some tweaking, etc., so please send us a bug report for anything you find. You can also check out the Beta News page for information on known issues (i.e. what not to report!) before you dive in.



A few important notes from Beta News:
• Your old stats are safe and sound! They will be merged with your new stats later on in Open Beta.
• If you're having issues fighting, it may be IE8 or a browser add-on. Try upgrading IE or disabling add-ons.
• Equipping from your inventory is still disabled! Visit the Stats section in the Battledome to equip/unequip. After you've gone through all the notes, feel free to rush head-long into battle or check out the new Tutorial to get yourself acquainted first. New challengers await!
We still have bugs to fix, issues to work out, and feedback to review -- plus stances and abilities revamps on the way -- but we look forward to hearing what you think so far! Please do send us your feedback or join your fellow 'Domers on the Battledome Board to discuss.
We hope you like it!
Note to Closed Beta Testers: Your hard work and feedback during the Closed Beta was AWESOME! Thank you so much for all your help. We're working on a little gift to show our appreciation, so expect that in the next week or so. :D
(This day is what allowed every Neopian to battle in the new battling system. The only difference is unless you were specially invited, you were still unable to post on the Beta Battledome Thread. The "little gift" mentioned for Closed Beta Testers was still never given out (as of 5/21/13). Following this news, there were a few hints mentioned in January notifying players to train their pets & maintenance that would occur. While these involved the battledome, it was in reference to The War of the Obelisk.)
2013
1st February
• New Bottled Faeries! - Aethia is almost ready to open her new Ability Academy in the Battledome, but your Neopet won't be able to train without the proper blessings. Thankfully -- or unfortunately, depending on how you look at it -- Balthazar has recently stepped up his game and come up with some new Bottled Faerie technology. If you find one of these new bottles, you can open it and start collecting blessings to prepare!







This means the old bottles' magic is fading fast, but fear not. It's said that if you somehow combine them together, there may just be enough magic left to help you train.
20th February
• Aethia's Ability Academy! (BETA) - Aethia has opened shop and is now ready to teach your Neopets a plethora of new abilities for use in the Battledome... if you're strong enough! Some things to note:
• How does the new system work? In short, open new bottles to receive blessings and then use those blessings to train the abilities available to your Neopet based on their level. You can train one ability per tier! Any ability you train can be used during a fight using the new slot next to your weapons. Visit the Ability Academy to check it out.

• You may start finding stronger bottles that give out more blessings!

• The new ability system, just like the new Battledome, is in beta! Please report any bugs or irregularities! We may also need to change certain abilities or their blessing costs based on fight data and your feedback, to make sure things are balanced. If we change anything, we'll let you know!

• Old abilities are no more! If you had any of them, please be sure to visit the Battledome, where you will be compensated for your loss. Veteran Battledomers will also receive a trophy to commemorate the old Battledome. *moment of silence*
There's more to learn, but that's the gist. The tutorial and Battledome FAQs will be updated as we work out the kinks. We hope you like the new system. Please continue to send us your feedback on all things Battledome!

(It has taken many weeks and numerous hours in order to understand every ability. They are currently still in Beta (5/21/13) and could change any time. Many aspects of the abilities changed from the original handful of abilities we had available.)
21st February
•
Although this was not confirmed or released via The Neopets Team, these are official images from Neopets which were found
: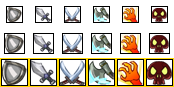 There is no additional information regarding these images. Although it can be assumed what each stance image is, there is no confirmation at this time. The good news is stances will eventually return!
2nd and 3rd March
• Neopian Times Editorial Question -
As a longtime player who missed the Darigan / Meridell war back in the day, I just wanted to say a huge THANK YOU for the Tyrannian war so far! :D I love the way the 'Dome is set up to not have Hit Point increases for the challengers after each win (so beginner battlers can still participate for a nice while), and also that there's a target number of wins to aim for. Keep up the great work, and may the best faction *coughs* Awakened *coughs* win! ~dragonsflame_uk
Woo! Glad you're enjoying it. We're pretty sure things will get tougher from here, though, so keep training. ;)
We've gotten a bunch of feedback about how the difficulty system is working really well for a lot of folks, so that's a relief. :) We will say, however, that we're still deciding how to re-implement an HP increase system. Back around launch, there were some really great constructive discussions going on about it. There was some awesome feedback about things the new system replaced well, but also holes that it left for the mid / higher-level crowd, so we've added it back to the docket. We schedule content quite a ways in advance, though, and this isn't an easy addition to implement, so we need to design it and then figure out when and how to fit it in. Whenever we do add it back, don't worry. It won't affect the difficulty system as it stands now. :)
(For many of the veteran battlers, this news was major. Neopets Team stated the current system will stay; however, they will bring back difficulty increase in the future.)
30th April
• Tyrannian Battleground! - It seems that the boons bestowed by the oracle have faded and the battlefield has been cleared for the next skirmish. It's again time for the factions to fight to claim the oracle's blessing for themselves! The oracle will choose three factions (excluding the previous winner) to fight in each Battleground. Choose a faction to support, aid your fellows in battle, and be rewarded!



(Although this is not news about the technical aspects of The New Battledome, this is a big addition. After the Obelisk War ended, the Tyrannian Battleground became a permanent feature involving the Battledome. Every two weeks, users can join a team and fight to win an avatar, site theme & boons.)




11th and 12th May
• Neopian Times Editorial Question -
Howdy, Neopets Team! Instead of another question about the Battledome and updates / new information, I have a slightly different question. How long ago did you begin planning the new Battledome & The Obelisk War? I was curious as to how long in advance you prepared for these two major aspects before you announced them on the site. Thank you! ~_mariokart_
Oof. A long time. The initial planning stages began in late 2010/ early 2011. Early planning consists of research, writing docs, wire-framing, designing the UI, prototyping, etc. And that's all before actual production even starts. In January of 2011 (as soon as we knew we were revamping the Battledome), we decided we'd do a war set in Tyrannia. In mid-2012 we began to plan the specifics of the war as we got near the BD's final production stages.
(Although I submit many other battledome questions they decided to answer this one which gave us some insight to their process. They began The New Battledome over two years ago and continue to improve it today.)
25th, 26th, and 27th May
• Neopian Times Editorial Question -
Howdy, Neopets Team! Can we expect any updates regarding the beta Battledome? Are we almost out of beta, or is there still a way to go? Thank you! ~_mariokart_
We still have a lot of improvements we'd like to make to the Battledome (such as fixing some abilities, adding stances back in, and figuring out HP increase, among other things). We've gotten a lot of great feedback and we're continuing to work to improve it. That said, such things can take quite a bit of time, so the Battledome will remain in beta until we feel it is complete. :)
(Even though we knew about the HP increases and was hinted to stances returning with images found, it was nice of the Neopets Team to give us a small update. We were also informed that Faerie Abilities will be adjusted to some extent. From this message it sounds like we will be in Beta for a while longer.)
24th July
• Submitted Ticket -
After a few months of no updates or information, I submitted a lengthy ticket in regards to The New Battledome. In short I asked if we could expect any updates soon or if there is anything particular they are working on. Thirty minutes after submitting my ticket I received an official, personalized response which you can read below.
25th and 26th July
• Answered Neomails -
In order to obtain some more information, I mailed a staff member a simple question to where we should submit bugs & issues - This is the conversation.
2014
11th and 12th January
• Neopian Times Editorial Question -
Can you give us any updates on the Beta status of the new Battledome? The constant complaining on the Battledome Chat is getting in the way of our usual bickering. Thanks? ~stoicjohn
We have a list of updates we'd like to do, including a version of HP increase. However, these are not simple updates so we do not have an estimated timeframe for them.
(After eight months of no updates or mention of The Battledome from The Neopets Team, we see this question answered. Unfortunately it still does not provide us with much information and it sounds like there is still quite a waiting period left.)
28th and 29th June
• Neopian Times Editorial Question -
Howdy, Neopets Team. It's been over six months now since the Battledome has been mentioned by Neopets / JumpStart Staff (and almost two years since the initial launch). Are there any updates to report? Can we expect any changes? Thank you. ~_mariokart_
We don't have much to report on the Battledome at the moment. :( We did organise a priority list for fixes so we could quickly take advantage of any programmers being freed up from other projects, but we've yet to get a window of opportunity. We know it's not what you want to hear (We don't like broken content, either!), but that's all we have to report at the moment. In response to the survey we sent out, we've reworked our current priority list to focus on the most requested content, which included games and dailies, mobile, and small new events.
(Probably the worst news mentioned for The Battledome Community thus far - We are not a priority and they have no plans to fix anything yet due to working on "games and dailies, mobile & small new events." As a result of this comment, more battlers have either left the site, login less frequently or given up on battling and went to different areas of the site. Its one thing to not be able to not be able to update the battledome - Its a whole other issue to not fix the glitches that they initially created. You know players are angry when Premium Players for well over five years cancel their membership over this news.)
12th and 13th July
• Neopian Times Editorial Question -
Last week, you gave a controversial but much-appreciated comment regarding the Battledome. Even though it's not the answer we wanted, we battlers are glad that you were finally honest about where you are in the process. I have a few follow-up questions that we are all dying to know the answers to. First, when you conducted your survey, did you take into consideration the account age of those who responded? It seems, based on what I've seen on the boards, that those asking for more games and dailies are likely those who only play casually, while those who have been around for longer and spend hours on the site every day would probably have asked for improvements to the great site features that already exist. Secondly, if you don't have the manpower to fix the current Battledome, then would it be possible to give us a copy of the old Battledome to play in the interim? I know it's outdated, but it worked much more smoothly. Sincerely, A Heartbroken Battler ~dafinsrock
We sorted our data by account age, time spent on the site, Premium players, age of players, NC spenders, gender... every possible way we could think of, we sorted it. There were some changes depending on account age when you got lower down in the rankings, but the top ranked stuff was pretty much the same regardless of how we sorted the players.
With regard to your second question, the new Battledome uses new code, but it is built on top of the foundation that was already there to make sure certain things carried over. That foundation was modified a bit for what the new BD needed, so the old BD code wouldn't work even if we wanted to put it back up.
As for the new Battledome itself, we'd like to reiterate that we have no intention of abandoning it and still intend on getting back to it. It just isn't at the top of the list of things that players requested most. :/
(Ultimately this was yet another repeat of what we have been told. They said there are no plans to abandon it (even though its been two years of no updates already) so I guess even more waiting...)
13th November
• Misc. Mention -
(Over the last few months, The Neopets Team has been trying to communicate more with the players. Although its usually offsite, its a step in the right direction. The Battledome has been mentioned many times and The Neopets Team usually responds by apologizing, hopefully "soon", etc. This response to a comment is the first time they mentioned "working on it!" Although we are still waiting, we now know that they are putting time into The Battledome. This is fantastic news and hopefully we can see changes sooner than later.)
24th November
• Answered Neomail -
(This was a response from a Neopets Team member via neomail. They responded a few weeks after I mailed them but it provides some information/plans for the future. I suppose there will be more of a wait time, but they are working on things, which is important to remember.)
2015
24th November
• No Updates -
(We have not received any official news from Neopets Team this year. Today marks one year of no official contact regarding The Battledome.)
---
Introduction
The New Battledome has been completely recreated for Neopians to enjoy and while it has a nice appearance, it could certainly be overwhelming. I am going to break down the technical aspects of The New Battledome and general battling concepts here for you to learn. There are plenty of aspects to grasp if you are new to battling and less for those who need to adjust to the changes. Before I start getting in-depth about battling, lets go over the mechanics and how The New Battledome is structurally setup.
Introduction Image Key
1. Your Neopet's picture, name and hit points. Green is the health you have left and red is how much health you lost that round.
2. & 2a. Your two weapon slots.
3. Weapons you currently have equipped to your pet.
4. Your active ability.
5. Your opponents's picture, name and hit points. Green is the health they have left and red is how much health they lost that round.
6. & 6a. Your opponents two weapon slots.
7. Your opponents active ability.
8. Fight Button - Click when you are ready to make your move for the round.
9. & 9a. Chat icon and the chat window above with the content which was typed.
10. Refresh button to replay the previous round.
11. Combat Log: You are able to click it in order to open or close. This is where all the information shows for the duration of the battle. The round number is shown on the left side and the moves made down the middle. The entire combat log will refresh for every round that passes.
12. This is your side of the combat log which shows any damage you receive or block. It also shows if you have healed and your total damage taken on the bottom.
13. This is your opponents side of the combat log which shows any damage your opponent received or blocked. It also shows if they healed and their total damage taken on the bottom.
If you battled previously in the Old Battledome, you may also realize that the classic icon images were given a new look. Here are the new images and what they represent:
| | | | | | | | | |
| --- | --- | --- | --- | --- | --- | --- | --- | --- |
| New Air Icon | New Dark Icon | New Earth Icon | New Fire Icon | New Light Icon | New Water Icon | New Physical Icon | New Healing Icon | Freezing Icon |
Understanding how the battledome is virtually structured is extremely important to being a successful battler. Battling involves numerous aspects when you start thinking of training, weapons, faerie abilities, battling pets, etc. All of these aspects are fully explained in detail within the guides section of this page. There are some great, in-depth guides specifically listed for those certain aspects. It would not benefit you for me to repeat what others have already mentioned & organized for you to read.
When you begin to battle, you will immediately notice there are two different styles: 1-Player & 2-Player Battles. 1-Player involves yourself battling any of the opponents found around Neopia. 2-Player allows you to challenge other Neopet users (and others to challenge you) to a dual between two Neopets. These two styles are extremely different and involve various styles & techniques in order to succeed.
1-Player battles are available to every Neopian who would like to fight. You are able to find opponents all around the World of Neopia. There are a plethora of opponents to battle with a wide range of difficulty to accommodate all fighters. One of the major aspects of the battledome is the high score table (which I discuss more here). Many battlers battle in order to be placed on the table for achieving such high scores. In the Old Battledome, battlers were able to withdraw a battle without having any consequences. This rule has been removed so when you enter for battle, make sure you are ready & healed up! There are only two ways to leave a battle - Win or Lose.
One of the biggest technical changes made to 1-Player battling is the method of difficulty for the opponents. The Old Battledome simply had one difficulty that would increase with each win you obtained. That method alone has retired and is forever part of the past. The New Battledome introduced a tier difficulty without any increase of challenge.
Difficulty: Easy
Information: You cannot get any easier than this. If you are just beginning in the Battledome you should practice with this difficulty and see how it goes.
Difficulty: Strong
Information: The middle of the three difficulties allows you to increase your challenge. Be careful though as some of the opponents (like the Space Faerie & Snowager) greatly increase in strength making it almost impossible for the strongest pets to defeat.
Difficulty: Mighty
Information: The most difficult of all the options allowing you to obtain the most score possible per win. Similar to strong, be careful of certain opponents as they greatly increase in challenge making it near impossible to defeat them.
Please be aware that The Neopets Team has confirmed difficulty/HP increase will return at some point in the future; however, it will not interfere with the current tier system. Click here to view their statement.
While this tier difficulty came with much criticism, no one can argue that it did help bring plenty of new battlers into the community. Increasing the battledome community allows for more competition in various areas - One of them being 1-Player Battle Scores! Every user has a score for each opponent and then their total score from every battle in 1-Player mode. The score you obtain per battle uses the following formula:
Score = Opponents Difficulty + the % of HP you have remaining.
Example: Defeating Grarrl on mighty is 300 difficulty. When I defeat him with full HP, I obtain 400 score.
Ultimately that means challenging your opponents on higher difficulty will allow you to obtain higher scores per battle. You can still achieve high scores on lower difficulties; however, it will take you more battles to make up for the lack of difficulty.

Battling 1-Player does not involve too much strategy unless you challenge an opponent far stronger than your pet. As long as you stay around similar difficulty/stats, you should be fine with a well rounded set. As with any set, it really depends on your finances for what you can battle with. The type of icons (air, dark, light, etc.) your weapon delivers is not very important for these battles - Quantity over quality. Regarding defensive shield(s) or reflectors, you may want to do a little research about your opponents. If you are generally battling them all, then get a shield or two that covers a little bit of everything. If you know you want to spend a few hours battling a particular opponent, check to see what weapons they use. Many opponents use one particular icon constantly making it easy for you to block or reflect. Freezing allows you to stall your opponent for one round and this is quite handy in 1-Player. It allows you to fully attack your opponent without receiving any damage. Be aware that your opponent is able to use a faerie ability in order to disable your weapons during that turn making the freeze useless. Regardless of who you battle, you need to have a healing weapon! There are a variety for you to pick depending upon your pets' stats - Just make sure to purchase one! The final weapon type is a stealer. This can be helpful if your opponent has stronger weapons to steal otherwise, this is just for fun in 1-Player. Usually it is a better idea to use that space for another weapon. While this may seem like a lot for the weapons, it is quite smooth compared to 2-Player.
Many say that 2-Player battles are where the true strategy is...and I must agree. While the battle mechanics & structure are the same as 1-Player, it is a very different type of battle. You are no longer playing against the computer, you are battling another Neopian like yourself. This opens up a whole possibilities of weapon combinations, strategies and more.

Weapons: The types of weapons you can have equipped are the same as 1-Player: Offensive constants, bombs, defensive shields, reflectors, freezer, healer & stealer. Which ones to use strongly depend on who your opponent is; however, the problem is you dont know what weapons your challenger may have. This is where you have to start using some strategy. In order to pick your weapons, you need to consider mainstream weapons, the budget & your stats.
• Offense: Within your budget, it is important to know what common shields are available to battlers around your level. If a commonly equipped shield blocks all light, then you should try to have a different icon type for battle. It is impossible to never have your damage blocked; however, try your best to limit it.
• Defense: Within your budget, it is important to know what common icons are used by other battlers. There are a variety of shields on all levels to choose form (some even are 100% blockers)!
• Reflect: This can be extremely helpful & powerful if you are know your opponents set. This allows you to reflect a percentage of damage they dealt you back at them. After battling a user a few times, you will know their weapons and can adjust your set accordingly. The unfortunate aspect is if you use a dark icon reflector and you received no dark damage then you wasted a weapon slot - Be careful!
I lightly discussed certain aspects and what to look for. The best way to learn 2-Player is from personal experience of battling. You may not always win, but there is always something to learn from the battle.
Leagues: With the changes of The New Battledome, the league system may change in the near future. It is still important to understand the overall concept what leagues allow. Every pet under training is placed into a league (from 4 to 25). The higher the number, the stronger the pet. The lower the number, the weaker the pet. When it is time to find an opponent to battle, users usually stay within one or two leagues of their own pet. If you are L9 (League 9), it would not be even to battle a L4 (League 4). Please note that just because a pet is a lower league does not mean they will have weak set. Many battlers out there have extremely powerful, wealthy sets but choose to fight on the lower leagues. If you are concerned, ask your opponent about a Neopoint Maximum Set. This will allow you and your opponent to agree upon a max value of a set to use.
---
Why Battle?
The introduction of The New Battledome allowed the battling community to grow excessively. Many users that never thought about battling suddenly cannot get enough of it. It allows for a new generation to join the already experienced into battle. While many Neopians start learning and understanding the important aspects of battling, it is also crucial to know just what you can accomplish. Many users may not realize it but the Battledome has more to offer than just a "fight."

Battling is what makes us train our pets and obtain & upgrade to strong weapons but what if you were told you could be rewarded in numerous ways for doing so? There are numerous aspects of The New Battledome which should not be forgotten about or ignored. One of the first and most obvious achievements is your battling reputation. If you learn the technical aspects and become a strategic fighter, it will be noticed by many. If you enjoy 1-Player battling then you can focus on wins, total score & defeating tougher opponents. 2-Player allows you to really be strategic and learn how battlers around your stats fight and with what weapons/abilities. As you improve your battling talent, others will notice and you may start to become known in the battling community.
Those who train & battle know just how expensive and time consuming this hobby can be. It is unfortunate (but true) that a majority of the Battledome community always has their eye on a bigger & better weapon. Even with a well rounded set, there is usually another item you begin saving for immediately. With the issue of weapons being so expensive, it could sometimes benefit you in the long run. As with any item in Neopia, holding onto certain ones for a while could prove to be a smart investment. There are many times throughout the year when weapons increase and decrease in price. It usually depends on if a Neopian Plot/War is occuring or if there are guild events happening within the Battledome community. When such activities occur, weapon prices peak due to simple supply & demand rules. This gives users an opportunity to sell a weapon or two for profit and purchase later on after things settle. In addition to this, certain items randomly increase with time (Smugglers Cove & Plot/War Prizes) due to inflation. Hidden Tower items also retire at least once per year the last few years (on Fyora Day). Who thought battling could be so profitable?!
With The New Battledome came many new changes - One of them being the NP/Item rewards. This caused mixed, opinionated emotions from all battlers; however, it is here to stay! Once a day, you are able to battle opponents to receive up to fifteen items and 1500 NP. Some of the items are worth 1np while others can allow you decent profits. The Neopets Team currently has maintained the same items as rewards so nothing extremely expensive will be obtained. Certain arenas reward different prizes (and even certain opponents give out their own prizes). All of the arenas do reward regular codestones, red codestones & bottled faeries. One of the most common arenas to battle in is The Dome of the Deep. These underwater opponents have very few unique arena prizes which results in higher chances of winning codestones & faeries. Here are a few other popular battling arenas with their prizes:
Cosmic Dome (Premium Users Only): The best prizes to obtain here are Nerkmids.


Pango Palladium: Although they are rare, you have the chance of winning four different paint brushes - The best two being Mystery Island & Stealth.


Neocola Centre: For those who need defense stat (or just profit), you may want to battle here to possibly win Armoured Neggs - They give a nice profit and +1 Defense stat.
There are a few other challenger specific prizes that reward a fair profit; however, they are rarer to obtain.
The Old Battledome may have not been a top priority before this transformation occurred; however, it was usually involved in plots. In the early 2000's, users had wars involving The Rock Beast, The Monoceraptor and even Lord Kass! While some may argue the recent years have not provided the same war dynamic, battling was still incorporated in most plots. We are introduced to a plot or war around every two years; however, there is no statement from Neopets Team saying that is their guideline - That is just what has happened historically. While a plot/war occurs, users attempt to obtain as many points as possible. As most of us know, the more points achieved means the more chance of rewards & prizes. While a plot does not strictly involve battling, it is usually incorporated at some point for additional points. When a war occurs, it means most of the event will be battling related. Having a well trained pet with decent weapons will allow you to obtain additional points to your total score for a plot. For the duration of a war, it is critical to have the strongest weapons and pet possible to achieve all you can. Once the event is completed and rewards are given out, you will be able to cash in your hard work. You are able to obtain NP prizes/weapons, a trophy and possible an avatar/site theme! There is no better feeling than battling as best to your ability and being nicely rewarded for a job well done!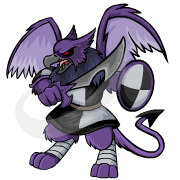 While this achievement may not be important to the majority of the battlers, it is one of the most vital aspects for veterans - The High Score Table! The tables are still under construction at this time; however, it is vital to the battldome community. Battlers continue to fight, adjust their set when needed and learn strategies in order to achieve the high score table. Neopians that appear on these tables have shown extreme dedication and power against each specific challenger. Since the tables are still down in the BetaDome, it will be interesting to see how they appear with the new battling system. Once they do return, I will edit this portion and provide additional information to how you can battle your way to the top!
Whether you are looking to be a well known battler, increase your wealth or simply enjoy some fun battles, The New Battledome has plenty to offer! The final advantage battling has that I want to mention is simple - It allows you to become a seasoned Neopian! It may not seem like an importance now, but I constantly see users wishing they participated more in previous battles. Whether they wanted to build their battling score, increase their battling opponents, obtain avatars/trophies, etc., it is unfortunate to think back and say "I wish I did this..." Avoid being one of those users and prepare yourself today for all the wonderful aspects The New Battledome has to offer to Neopians!



---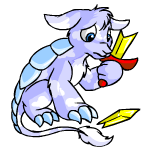 Current Glitches
With the Battledome still being worked on and in Beta, it is important to be aware of the current glitches in The New Battledome. Before I continue, please know that The Neopets Team created this page to keep users updated. This page has been changed a few times previously; however, it does not have all the information. Here is what we know so far:
• Difficulty Increase: This is well known in the battling community. Its not so much a glitch but its an issue for mid to high level battlers. The Neopets Team has mentioned it will return but no information on when.
• High Score Tables: Obviously they plan to return them since there is a link for it already. No information has been given on how the tables will work and/or when they will be released.
• 2-Player Battling: Unfortunately this is one of the main problems since 2-Player is a big part of battling. I cannot break down each glitch in detail since there are too many. Overall it seems that rounds are skipped/repeated, freezing may not work and abilities may work differently.
• Faerie Abilities: These seem to all be working; however, Neopets Team mentioned they will be adjusting a few of them.
• Faerie Blessings: Certain pets are unable to train faerie abilities. They give all the required faerie blessings; however, there is an issue when attempting to learn an ability. Other pets on the same user work fine; however, nothing seems to help the situation. Make sure to submit a ticket to the Neopets Team so it can be addressed.
• Freezing: It no longer seems to automatically freeze your opponent the following round - It now depends on who clicks first after a freezer is used. No one knows if this is intentional or not.
• Stealing: This was working well in The New Battledome; however, it seems certain items no longer work. The stealing item will disappear for battle but you will not receive an item in return.
• Reflecting: Weapons that use your opponents strength/defense are not currently working. Some example of these weapons are Glowing Cauldron & Prickly Potion.
• Item Generation: When a weapon is used that creates a new item in your equipment, you have to refresh to see the item. Whether you successfully steal, use Hubrids Puzzle Box or another weapon, make sure to refresh for now!
• Defensive Combat Log: In regards to blocking & defensive items, the combat log may appear inaccurately. The number of icons shown blocked does not always match the actual damage defended.
• Species Resistances: There are no longer any specie resistances within the Battledome. Whether they return in the future from Neopets Team we do not know; however, they are currently a thing of the past.
• Stances: One of the most important aspects from the Old Battledome. They are not currently incorporated in the New Battledome; however, Neopets Team confirmed this will be returning.
• Defenders of Neopia: These battles are not yet active in The New Battledome. Neopets Team has confirmed they still need to transfer the system over. You can battle the opponents; however, it will not affect the DoN Series at the moment.
• 2-Player Challenge Request: For pets that participate in 2-Player battles, this is a major issue. No one knows why or when this occurs as it seems to be random, but at some point, players become unable to send challenges to other pets. The error states there are too many pending challenges when there are none. The Neopets Team has been made aware of this issue but never resolved.
This issue was resolved in September 2014 after the transition onto Jumpstart servers.
---
The New Battledome Fortune Cookies
Along with many of the technical changes involving The Battledome, the Neopets Team introduced various fortune cookies in order to aid in training your pet. Since there are only so few and not mentioned in many (if any) guides, I thought an explanation of each here would suffice.
Faerie Quest Fortune Cookie: 100 NC - Active
Power: Grants you one faerie quest daily for seven days.
Special Information: This was introduced to us on May 24, 2012 and has become one of the most popular cookies to use for battlers. It is important to know that stats given from faerie quests will go to your active pet.
Lab Ray Fortune Cookie: 125 NC - Active
Power: Gives you an extra 1-3 zap(s) for seven days at the Secret Laboratory.
Special Information: This was introduced to us on April 27, 2012 - The first of the cookies to help with training. This is extremely helpful for those users who use the lab ray for stats.
Training Fortune Cookie: 125 NC - Active
Power: Reduces your training time by 30%-75% for five days.
Special Information: This was introduced to us on January 25, 2013 and became one of the most helpful cookies! Considering so many users use the schools to train, this allows you to extremely speed up the process. You may use this for all pets simultaneously.
---
The New Battledome Guides
Due to the drastic changes made to the Battledome, it is important to fully understand how battling now works. There is too much information to simply place here, so here are numerous guides to help you through the various aspects of The New Battledome.
•
Training & Battling Guide
: This page is extremely helpful with all around information regarding the new battling system, training, Defenders of Neopia help & more.
• Faerie Ability Guide: This guide was created the night the abilities were introduced to the site. Myself and multiple users tested abilities in order to gather accurate information in one place. Since it is still in Beta, the page is still being updated with new information.
If you know of any other guides related to The New Battledome, please neomail me. Not looking to add any guides with outdated information or referring to help in the Old Battledome - Thank You.
---
Link Back
In case you really enjoy this page and want to support it, please use the graphics below. It will allow yourself and others to easily return for information - Thank you.
BACK TO TOP