Neopia's Cutest Canines
You can now dress your pages with this new Hot Dog themed Tiled Background.

Want some Hot Dog Themed fun images to spice up your petpages? Then these are perfect for you!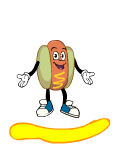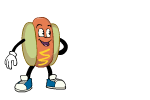 Be a Hero and help Hubert defend his precious Hot Dogs in this fun-filled game, Hot Dog Hero!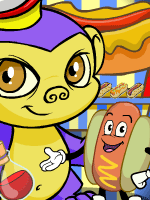 You may even get one of these shiny new trophies to display on your look-up!



If you LOVE Hot Dogs, you'll LOVE this new Screensaver

You can also show off your love of Hot Dogs with the new MSN and AIM Buddy Icons.




Wow, you can even dress your pet us as one of these delicious snacks!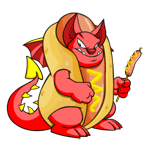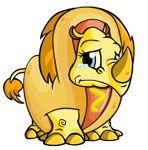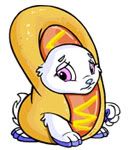 Here are the links to other pets dressed as the Hot Dog Mascot, to see what they look like, just click on the species name.
Uni
Draik
Grarrl
Elephante
Blumaroo
Lupe
Jetsam
I am currently looking for pets dressed as the Hot Dog Mascot for this page, if you know of a pet, please
Neomail Me.
I'd really appreciate it!
Please note that this item is wearable by ALL Neopets.
Dos and Don'ts:
Everyday guide to eating Hot Dogs.
Don't...
put hot dog toppings between the hot dog and the bun. Always "dress the dog," not the bun. Condiments should be applied in the following order: wet condiments like mustard and chili are applied first, followed by chunky condiments like relish, onions and sauerkraut, followed by shredded cheese, followed by spices, like celery salt or pepper.
Do...
serve sesame seed, poppy seed and plain buns with hot dogs.
Don't...
use a cloth napkin to wipe your mouth when eating a hot dog. Paper is always preferable.
Do...
eat hot dogs on buns with your hands. Utensils should not touch hot dogs on buns.
Do...
use paper plates to serve hot dogs. Every day dishes are acceptable; china is a no-no.
Don't...
take more than 7 bites to finish a hot dog. For foot-long wiener, 9 bites are acceptable.
Don't...
leave bits of bun on your plate. Eat it all.
Do...
Condiments remaining on the fingers after eating a hot dog should be licked away, not washed.
Don't...
send a thank you note following a hot dog barbecue. It would not be in keeping with the unpretentious nature of hot dogs.
Do...
drink soda, lemonade and iced tea with your hot dogs.
Don't...
ever think there is a wrong time to serve hot dogs.

Did you know?
Americans eat more than 16 billion hot dogs each year.
Hot dogs or frankfurters, are usually said to have originated in Germany around 1484.
President Franklin D. Roosevelt served hot dogs to King George VI of England during his 1939 visit to the United States.
The world record for eating hot dogs is 53 1/2 hot dogs and buns in 12 minutes by Takeru Kobayashi.
The most popular Hot Dog topping among adults is MUSTARD! However, children prefer KETCHUP!
The average hot dog is consumed in 6.1 bites.
July is National Hot Dog Month.

No Matter What Language Hot Dogs Always Taste Good!
But if you are curious as to what others around the world call the 'Hot Dog', here goes:
Spanish - Perrito Caliente
Italian - Caldo Cane
French - Chien Chaud
German - HeiÃ?er Hund
Portugese - Cachorro Quente
Swedish - Korv or Varmkorv
Nowegian/Danish - Grillpolser
Czech - Park v rohliku
Dutch - Worstjes
Finish - Makkarat
Romanian - Cremvusti

Many, many thanks to the following Neopians for their donations to my Hot Dog Gallery!
Andro
Mike
Iskandar
Julia
Janvic
Trisha
Fillafi
Tiger
Clea
Noshi
Tetrai
angelx
bassyboots
Jan
Munkeys
jamiealice
I'd also like to thank my guildmates for all their support and friendship, all of you that bought from my shop to support my galleries, and to those of you that gave me some GREAT deals when I was purchasing the items I needed.!
Oh, and I'd like to thank those who helped me find images of the different species wearing the Hot Dog Mascot With Mustard suit. It was alot of tedious work getting all those images!

Big hugs to Trisha, who graciously imapped my navigational bar *HUGS*
THANKS!
These are a couple of items I am currently missing from my gallery, but TNT has NOT released them yet:




To see my current wishlist for my gallery, simply click
HERE
These are the petpages I know that list either this petpage or my gallery: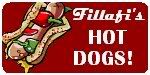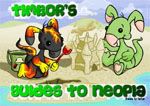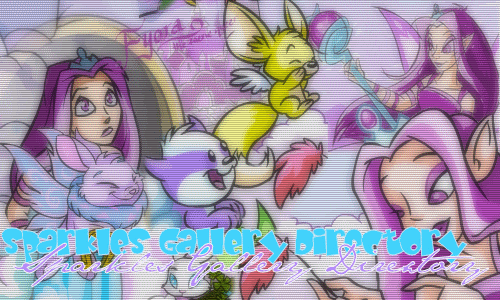 My Awards

These Neopian's have deemed this petpage and/or my Hot Dog Gallery fit for their awards. I proudly display them here!