The Ixi Registry is run by Tayver, the desert ixi and Brenda (rainingzomutts). This directory is a labor of love and constant growth. Please don't ever hesitate to neomail us with questions, concerns, or listings!
Thank you to everyone who supports The Ixi Registry, Ixi Inc. and Ixi everywhere!
Thank you very very much to all of my loyal Ixi Registry fans and listers. I want to apologize for not listing new Registrants for the past several of months.
I have been on semi-hiatus - havinga now 6 month old! As such, since I didn't check my neomail quite as regularly as I should have (and didn't save any information contained there in), all of my neomails regarding new listings have been deleted before I copied down the information.
So, please, if you neomailed me wanting to list your ixi in the months of February - August 2013 and don't see your ixi already listed, please neomail me again and I will list them ASAP.
Thank you.
October 2,2013
Listed 13 new ixi today! That's a lot of beautiful ixi. Be sure to visit them all!
September 24,2013
Listed 19 new ixi today! There are a lot of new ixi to see and get to know, so be sure to check the "Newest Listed" section for them!
September 4,2013
Listed Waggs today! And updated Electra & Link to Stealthy! Scat is also now biscuit! Added sections for the 2 newest ixi colors - Stealthy and Split!
Sorry I've been gone for so long, y'all! I've been out with my new baby girl - who is now 6 months old! And I have been a very very very busy bee!! But I'm back now and will hopefully be able to keep up with everything now!
So be sure to get me those neomails about your ixi!
December 16, 2012
Listed 12 new ixi today! Be sure to pay them all a visit!
December 16, 2012
Mandrogore the Halloween ixi was added to the Registry today! Go see this beautiful girl and take a peek at her petpage while you're at it!
December 11, 2012
Added 3 new ixi today! Be sure to stop by and see Ari, Jessi, and Carnevale!
September 26, 2012
It's been a while since I updated – so sorry about that! Please see the note above.
I have listed 4 new ixi today! Please be sure to pay Delchrom, Glitter_Horns722, MoonlightArtemis, ShinySilhouette, and IgneousShadow a visit!
July 11, 2012
Happy Ixi Day! We've just updated The Registry with the newest colors: Elderly Boy and Elderly Girl! We also have our first Elderly ixi listed! Please welcome Grandma Sylphyna and Grandpa Wrolland! Also – Leo_flores has registered his 5 amazing ixi! And be sure to check out Evillesa the newest Halloween ixi!
July 5, 2012
Just listed 6 new ixi!
June 21, 2012
Just listed 8 new ixi! Please be sure to visit all the newest ixi!
May 17, 2012
Just listed 2 new ixi! Please be sure to check out Redoxe the Grey Ixi and Zurist the Darigan Ixi!
April 12, 2012
Getting an early start today – 5 am NST! Hoping to be able to finish and launch v2.0 of the Registry today! Wish me luck that I get it all finished!
It didn't take too long! All finished! Welcome to v.2.0 of The Ixi Registry!
April 11, 2012
Still working on a re-vamp! Working late into the night on this one! Have added Flintan the UC Robot ixi though. Of course, you won't be able to see him in all his shiny glory until the new release of the page!
April 9, 2012
Still sorking on re-coding. There's a lot of information here!
April 7, 2012
Working on re-coding the Registry! It's time for an update!
March 15, 2012
Humor the Mutant ixi and Riylae the Maraquan ixi have joined the Registry!
January 30, 2012
Arielliss the baby ixi has joined the Registry!
January 24, 2012
Thirteen new ixi have been added! My good friend Sunny finally listed all of her ixi – and she's got some awesome characters! Also, Emmy, the faerie ixi has been listed and chosen as our new Registry Spotlight! Be sure to pay her a visit!
January 7, 2012
Two new ixi have been listed today! Be sure to check out Kurol the Maraquan ixi and Urre the Disco Ixi!
December 28, 2011
Added a new faerie ixi today – Vtb. Be sure to pay her a visit!
December 25, 2011
Merry Christmas!!! I added 10 new ixi today!
December 17, 2011
A very sad day in Neo today – my dear friend Channie has decided after 5 years to close the Ixidex. She has kindly left a notice on her page to send everyone here though. So if you're ixi has been a part of the Ixidex, please send me a neomail and I will gladly list you here!
December 7, 2011
Added 8 new ixi today! Be sure to pay them all a visit!
November 19, 2011
Added Rallein the speckled ixi today!
October 22, 2011
Added 19 new ixi today! Be sure to pay them all a visit!
The Ixi Registry has undergone a bit of a revamp. All the ixi information that used to be on the first page of the Registry has been moved to The Ixi Information Center. Also, all ixi news and sightings have been (are being) moved to a brand new page. For more information, please visit Ixi Inc. Headquarters.
August 28, 2011
Added one new ixi today – Be sure to pay Ro a visit! She's a creepy little cecomposing soul, but well worth the time to check her out! She is also the newest Ixi Registry Spotlight!
August 20, 2011
Just now getting around to updating the pages! So very sorry for the delay, but I've been working my tail off on getting my latest ixi project up and running.
Added 5 new ixi today! Be sure to pay
Ria, Blasche, Kyla, Imps, and Magik
a visit today!
July 30, 2011
Just in time for a new month I have finally updated everything here! We have a new Ixi Registry Spotlight – Sweetenwafflez! Check out this glowing ixi today! Also I have added 2 new ixi to the Registry – be sure to pay Wolfy and Zwataketa a visit! Be sure to take a peek at Ixi Sightings in Neopia to see some fantastic ixi art in the Art Gallery (page numbers have been provided for easy navigation).
Celebrate the Discovery of Meridell Day by showing your ixi spirit!
July 14, 2011
Added 9 new ixi today! Make sure to pay Ataxite, Ruby, Balnon, Salano, Tainiroo, Joriel, Torganach, Ivy, and Aethelwyne a visit today!
July 11, 2011
Happy Ixi Day from everyone here at Ixi Inc.! Added 10 new ixi today! Just waiting on the New Features to be announced to I can FINALLY fill in the Ixi Day 2011 space with ixi awesomeness!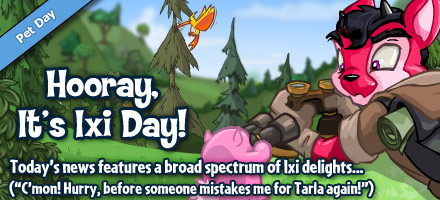 Later… Ixi can now be painted Woodland and Glowing! Sooo pretty! Added our first Glowing ixi! Be sure to check out SweetenWafflez today! So many awesome things released for Ixi Day. Great new outfits, fantastic colors, fabulous artwork, and awesome poetry! I hope you've enjoyed celebrating Ixi Day with me and every other Ixi fan out there! I know I enjoyed myself!
July 10, 2011
Added one new ixi today! Be sure to pay Liveea the Biscuit ixi a visit!
July 6, 2011
Thanks to The Daily Neopets for these preview images of ixi clothes that may be coming out on Ixi Day!
July 4, 2011
Added 24 new ixi today! Yay! Also updated our newest Ixi Registry Spotlight – Myalona! Ixi Day is only a week away now. We're so excited to see what comes out!
June 26, 2011
Added 36 new ixi to the Registry today! Check them all out! Also got our first Unconverted ixi – Tragiique!! We made it to 100 ixi registered! Yay! *throws confetti and passes out party hats* Thank you to everyone who has listed their ixi with us! Now, let's make it to 500!
June 23, 2011
Added 2 new ixi to the Registry today! Check out: DeV and Ella! Have also added 3 new ixi sightings!
Ixi Day is only 19 days away and the folks at The Daily Neopets have found these 2 awesome new Ixi Morphing Potion images. Hopefully this means they'll be available for Ixi Day!


June 17, 2011
Working on new buttons. Got a few made already. Will add them to the page as soon as I get them all up. Am very happy with the ones I've made.
We've been listed in several Link Directories! Check out the "Listed At" section to the right to see who all has listed us!
June 16, 2011
Extended the Greetings section to include images of the greetings!
June 15, 2011
Added 17 new ixi to the Registry today! Check out: Mutashious, Mortisix, Ixi200, Corvexus, Zinndel, Lavixious, Kixtart, Ixfit, Sir Swixgar, Pooka Dot, Jinga Belle, Princess Delley, Macapplet, Oyarn, Vixeos, Itoxica, and Pixiebluebear!
Also added a new ixi sign – white! If your ixi is chosen to be spotlighted by The Ixi Registry, your ixi will be able to use this sign!

Will also be working on some new pet buttons (hopefully tonight) so that I can include all of the ixi colors.
June 14, 2011
Added 19 new ixi to the Registry today! Check out: Aexionn, Ixploration, Luca, Rocoto, Shemakora, Sproutix, Tippie, Zumazumuy, Ixtraterestrial, C.B., Strannia, Zanteron, Callaney, Ixcognito, Zombolla, Grixillian, Ixfoliate, Jazleni, and Mr. Ixi!
Also added a new ixi sign – pink! If your ixi is unconverted, you will get to use this special sign!
There is a new ixi listed in the "Ixi Spotlights in Neopia" section: Congrats to Arthx for winning 3rd place in the neocash category!
June 13, 2011
Added 5 new ixi to the Registry today! Check out: Mossy, Sheryltanii, Izkey, Isdari, and Xariiah! Also added several new ixi items pertaining to characters – Chortle now has his own section! So does the Ixi Commentator! Thanks to raven_zombie for suggesting these awesome additions!
June 12, 2011
Just picked up my Custom Ixi Signs from Tuva! Thanks hun! They're perfect!
June 11, 2011
We're live! Woo! Hoo! Got everything up and running now. Please apply to the Ixi Registry!
I know the Legend says that custom signs will be used to denote specific awesome things about each ixi, but Tuva hasn't finished them yet. I don't want to hold the site closed just because I'm waiting on them, so until then, the colored stars will have to suffice.
June 10, 2011
The Ixi Registry is almost complete. Just gotta make a few buttons and we should be open for business!
June 09, 2011
The Ixi Registry home page is finally almost complete! I've stared at coding for 9 ½ hours and it's time to take a break. Hopefully will get page 2 completed tomorrow so I can actually go hunting for awesome ixi to add to the Registry!