Hello and welcome to the headquarters, so to speak! Presumably you've either found this page randomly, or you were directed here upon visiting one of my other pets' pages. I've asked you to come here first because all of my pets' stories are interconnected, and all take place in a Neopian world I've designed called Irucien (pronounced eye-roo-shen). Rather than repeat myself on each of their pages, I found it best to devote this entire page to describing Irucien and giving you a little preview of its inhabitants. You may hopefully then peruse any of my pets' pages that you wish without confusion; however, please do not hesitate to mail me on my main account, michellejkittie, if there is still confusion after reading this. Chances are, someone else will have the same question as you in the future, so I should clarify the source of confusion, perhaps even in the FAQ.
Layout credit is in the navigation. The codes for the tables within the blog are from Wizzney. The background is from SS.
Basic Facts
First of all, here is a map of Irucien for reference. Please drag to your address bar to see the full size.
Note: The placement of the alternate universe was not intended to be accurate, but rather to fit neatly in the diagram. The alternate universe was actually created in the northern part of the forest, in close proximity to the war zone.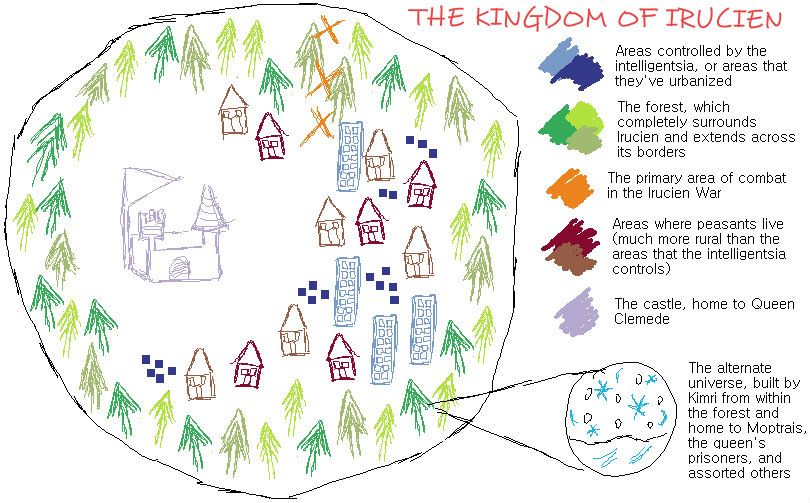 Irucien is based on 17th century Europe's system of monarchies and peasant communities, but it incorporates some magical, futuristic, and apocalyptic elements as well. In a Neopian context, it is like a combination of Altador and Brightvale, with some elements of Virtupets Space Station thrown in. Irucien has five main spheres of power: the castle, the war zone, the peasant community, the underground intelligentsia, and the alternate universe. Most of what I write about Irucien in the context of my pets' stories can be best understood as a conflict between two or more of these spheres. My pets are organized in the spheres as follows:
| | | | |
| --- | --- | --- | --- |
| The Castle | The War Zone | The Intelligentsia | The Alternate Universe |
| Clemede | Damoiselle (Selle) | Kim_Pine | Moptrais |
| Kimri | | Mathieau | Biryn |
| Switzerlandpromise (Promise) | | | |
| Magicless (Magus) | | | |
| Siaiu | | | |
Please note that this table indicates where my pets principally reside in the present day. For example, Moptrais was born in the castle but now resides in the alternate universe, so she is listed in the latter category, and Promise often visits the war zone but is based in (and listed as part of) the castle. None of my pets are based primarily in the peasant community.
Social Structure
Irucien politics consists of a monarchy, with Queen Clemede being the current monarch. The richest members of society live in small, relatively quaint houses in close proximity to the castle, which facilitates their appearance at court. The peasants live farther away from the castle, and many resent their low status and the perceived lack of aid coming from the castle. This means that the queen's popularity is almost always low, and it tends to dip during the queen's semi-frequent bouts of moodiness and rash decision-making. Clemede is not greedy or evil, but she is paranoid and unstable, reflecting the general state of Irucien as other powerful people try to use these traits against her. The castle also contains an extremely vast network of false doors, secret passageways, and the like, which can be either confusing or immensely helpful to those seeking her downfall (depending on their level of knowledge, which is constantly expanding).
In the war zone, the army's problems are two-fold: it is mired in a long and debilitating military conflict, and it is also waging a political conflict for greater political influence. It hopes that winning the military conflict will give the army more political leverage, as it would become a stronger social organization and would have high popular support. The army promises peasants more power and social mobility, both as soldiers ascend through the ranks and also after the war, when it hopes that its high achievers will be promoted politically as well. The military does believe that these things will happen, but would likely promise them regardless because of the dire need for recruits in such a protracted conflict.
The intelligentsia was once just a group that facilitated discussion and scholarship among intellectuals, but it has radicalized throughout the years, to the point that it moved underground about forty years ago. As it radicalized, it also became more central to the balance of Irucien power; few people remember it as it used to be, and even though it is much less visible now that it has moved underground, it is much more ingrained in the public's consciousness. The intellectuals were among those who started the process of modernization, which began gradually about fifty years ago but has snowballed considerably in the past five to ten years. The architecture has become much more utilitarian, making the land that was once exclusively peasant-dominated look rather patchy, with large clumps of skyscrapers and other modern, functional buildings relatively close to the farmlands that remain. Simultaneously, the economy has become more industrialized, which has actually had a positive effect on the war effort because it has produced more efficient production of specialized goods. Eventually, the intelligentsia aims to make the government more efficient, too, by transitioning to a democracy. Peasants have wildly variable feelings on the intelligentsia, which promises them more political power if the intelligentsia's goals are achieved but also threatens their agrarian way of life.
The alternate universe was created by Kimri, Clemede's royal advisor, as a holding area for prisoners; it has since expanded to hold war refugees and some peasant families (against their will) as Irucien has faced the problem of overcrowding. In the alternate universe, it is always wintertime, and there is always snow on the ground, because Kimri created it on a particularly snowy winter day precisely at twelve noon. Because of this timing, there was some confusion in the signals that caused the alternate universe to lag one full day behind reality, but the effects are negligible, given that travel back into reality is impossible. In the alternate universe, there is a quite peculiar sensation that everyone and everything is floating because the snow obscures any trace of solid ground. The snow also has the rather unfortunate, uncurable effect of dampening cognitive functioning at 50%, which, when combined with unharmed motor skills, gives prisoners the odd illusion that their bodies are always moving twice as fast as their minds. The prisoners are not locked up in this universe, as there is no way of escaping, but they must wear a necklace that identifies their status, and they must check in daily with a guard. They can interact normally with others in the world, and they have the same civil rights as they would have in Irucien proper. The world is represented in a glass orb that Kimri wears as a necklace; while Kimri cannot see the world through the orb, if she holds the orb in the forest, she can hear snippets of the events that Moptrais encounters. Otherwise, the orb merely shows a blizzard of snow, with no audio except in the forest.
Since each of these spheres of power are in conflict with each other, there is much potential for instability. If the castle weakens in power, then the intelligentsia take over and initiate a transition period to democracy that is likely to be rocky. If the intelligentsia is weakened, then there is less technological development for the war effort and more opportunity for the monarchy to dominate its subjects. If Irucien loses the war, then the state ceases to exist, and the alternate universe collapses. This would likely lead to an apocalypse, as the real and alternate worlds would collide, causing massive destruction and releasing any survivors from the alternate universe into whatever is left of reality. Also, Kimri derives much of her authority from her knowledge of the forest surrounding Irucien, and it is her ultimate comfort zone; thus she created the alternate universe while in the forest. The war effort is currently damaging the forest, which impedes Kimri's ability to communicate with Moptrais in the alternate universe. And if the war effort destroys the entire forest, we will get the same apocalyptic result as if Irucien loses the war, because the whole basis on which the alternate universe was constructed will disappear.
The Cast of Characters: A Preview
Now it is time for you to meet my pets! This is only a short preview of their abilities, so please follow the links provided to the various petpages for more information.
The Castle


| | |
| --- | --- |
| Clemede | Queen Clemede has ruled for a few years now, since her father's death, with help from her advisors Kimri and Aure, a Gold Mauket. Irucien has faced increasing instability during her tenure, and Clemede has also gotten progressively less mentally stable. She has mood swings, bouts of questionable judgment, and intense paranoia. She is also under the delusion that her father will return any day now, ostensibly from a secret mission. |
| Kimri | Kimri is what's called a scout, a destined position that serves as head of security for Irucien across many generations. There can only be one scout alive at a time. Scouts have vastly extended life spans marked by white 'wrinkles' on the body; these begin to emerge at a young age and increase continuously until death, when the scout literally fades away. The wrinkles change color in times of threat to camouflage the scout. Kimri is currently getting quite old and is beginning to suffer from dementia, but is still extremely close to, and trusted by, Queen Clemede. |
| Promise | According to legend, Promise was created from a war treatise, the physical representation of the agreement between Irucien and Terror Mountain never to fight again after devastating losses to both sides. Promise was, supposedly, a magical token that would keep both sides safe; however, Terror Mountain reneged on the treaty, and Promise was compelled to move from Terror Mountain (the site of the signing of the treaty) to Irucien and protect only Irucien. She now heads the Irucien court, occasionally consults with army generals, and helps prepare prisoners for a life in Kimri's alternate universe. |
| Magus | Magus is younger than Promise and much more energetic and naive. His ancestors were given the power to control fire, but Magus has relatively little control over it. His efforts to improve got him exiled from Terror Mountain, but have recently earned him a spot in the Irucien army, fighting as a mage while also honing his skills on his own. |
| Siaiu | Siaiu is the daughter of a lord who, bored with the musings and quibbles of the wealthy, got herself entangled in a large misunderstanding with the castle. It's true that Siaiu was rebellious; however, she was disproportionately punished for her friend's attack on the castle. She is now a statue in the castle who can shift into ghostly and ball-of-light forms, but cannot talk. She is also the figurative key between the alternate universe and reality, compelled to enter the former as a ghost exactly at 12pm and leave exactly at 1pm. She can speak only in the alternate universe, providing some information on reality, but not the converse. |
The War Zone


| | |
| --- | --- |
| Selle | Selle is disguised as a boy for her role as a soldier and spy for the Irucien army, but is sometimes tempted to defect based on a sense of morality that seems to align more with the enemy's way of life than with Irucien's. Selle balances her military duties with a side job as a mail courier, as she does not make enough as a soldier to sustain herself. Partly because of this side job, however, she has come under suspicion from Kimri, who has plans to install a microchip in Selle's eye in the near future. |
The Intelligentsia


| | |
| --- | --- |
| Kim_Pine | Kim_Pine is a rare immigrant to Irucien, and she has settled down as the head of the communications hub for the underground network under this pseudonym. She is eccentric and flamboyant in her appearance and personality, but does well at keeping her work secret and controlled. While not doing any planning herself, she coordinates resistance efforts across the land, keeping records and facilitating communication. However, she fancies herself as more of a leader, and has trained her Plumpy to be a quite intimidating interrogator. She also blackmailed Mathieau into joining the intelligentsia. However, despite the intelligentsia's efforts, Kimri is hot on their tail, and, unbeknowst to the network, has flipped Kim_Pine into an agent for the castle, recording all conversations and notes for Kimri's perusal. |
| Mathieau | Mathieau lost his sister to a misunderstanding with the castle, as it was thought that Biryn was inciting rebellion. He believes she is imprisoned in the castle, but she is actually in a far more foreboding prison: the alternate universe. Kim_Pine found him one day hiding in one of the many secret passageways along the outer walls of the castle and gave him an ultimatum: be outed to Kimri or work for us. He chose the latter and is now a guard dog of sorts for Kim_Pine, having been implanted with robotic parts to keep him sedated and mostly under control. |
The Alternate Universe


| | |
| --- | --- |
| Moptrais | Moptrais was born as Clemede's Siamese twin sister; however, the king ordered Kimri to get rid of Moptrais after the twins were physically separated and it was found that Moptrais had some minor deformities and scarring. Kimri created the alternate universe to house Moptrais so that she could live. Moptrais is largely nocturnal and solitary, save for her almost-daily interactions with Siaiu, and has an obsession with recording her life in journals to keep track of the time and date. |
| Biryn | Biryn is Mathieau's sister, and was cast into the alternate universe as punishment for a misunderstanding with the castle. She has been there for so long that she has developed a relatively severe case of Stockholm Syndrome. She now thinks that the castle must've been right to send her here, and that this is her rightful home; she has become quite a productive member of society. However, this coping mechanism is also interrupted any time she sees something that triggers a memory of her brother, which makes her fret as she tries to grapple with an identity she has followed in this world but never wanted. |
Frequently Asked Questions
Have any questions about Irucien, or about my characters in general? I will answer questions here that may be of use to multiple people, or are just super interesting!
none yet
Goodbye!
Thank you so much for coming here to read about Irucien! I invite you to read more about any of my pets by going to their petpages, as you should now be fully armed with knowledge about Irucien and have a working knowledge of the characters involved. :) Please come back and visit again, and of course let me know if you have any feedback. If you like, you can even take a link back button:

(50x50, credit to Shu)