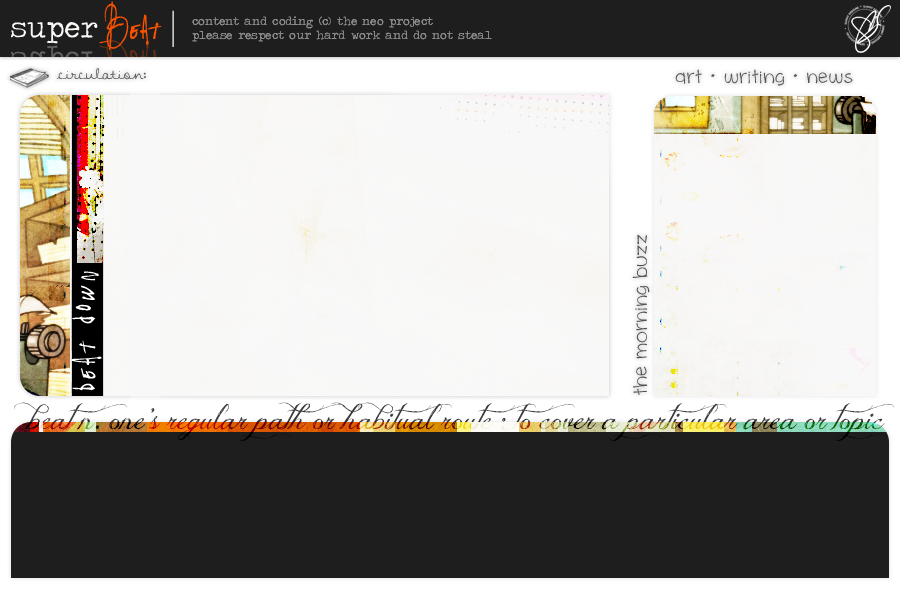 Shoutout
I've never met a guild with as many dedicated staff as TNP. However, there's one staff member in TNP that truly deserves more shoutouts than I can count, and that's Sarah. Sarah has been an integral part of the guild for longer than I can remember, and she has NEVER ceased to amaze me (and probably everyone else in TNP). When it comes to all matters TNP, Sarah is here, there - everywhere. New event needed? You can bet that Sarah has a plethora of ideas to share. Staff vacancy? No problem, Sarah can take care of that. And when TNP needed a leader to guide us through the revamp, a driving force, Sarah didn't hesitate to step up to that position. Time and time again she has proven to us what an invaluable staff member she is, and I /know/ that she'll continue to wow us for months to come. Sarah, you're the greatest! ♥


New Incentives!
Here's what SuperBeat needs:
screenshots (LOTS of them! funny, inspiring, heartwarming, creative or otherwise!)
drawings (comics, puns, personas - examples at /~retervy#6, feel free to draw your own! - or whatever you like really)
wittiness! (in your own creative forms)
quotes! (esp from the boards)
shoutouts (to your friends/ fellow muffinheads/ random awesomeness/ accomplishments)
running inside jokes (feel free to put them in art form)
creative writing (updates, made up stories involving the guild and its happenings, etc.)
super stalkerish comments or opinions (about blocs, portfolios, whatever you like!)
accomplishments (your own or someone else's! who's been working hard in the guild? including portfolio remodels, staff accomplishments, etc!)
anything else remotely entertaining or interesting (not limited to the guild, feel free to feature other pages/threads/guilds/sites)


IF your submission is chosen, you'll have a choice between a persona drawing, portfolio remodel (CSS or Graphic Based), or a nifty button/banner for your lookup!

Submit!
The Beat Is Out!
Can you feel that pulse? Superbeat is an online blog dedicated to bringing you the latest entertainment, talent and inspiration for your perusal. We cover everything on the guild front, from TNP portfolios to the GC, as well as art, writing and CSS/graphic-making.
Anyone can write for the Beat, just send your content or images to me, sunny_forever. We take anything and everything humorous, entertaining and/or inspirational, from the conventional to the bizarre. Some ideas include: articles, stories, news, interviews, comics, guides, screenshots and page reviews, just to name a few. To learn more about submission requirements, check out our get in the rhythm section.
Crank it up! Regular writers/contributors will have the opportunity to earn their own section, or beat. Only the most original, entertaining and creative columns make it onto the site--every contributor has the opportunity to earn your own section/beat per popularity and/or reader request.
tombola | tdmbgpop | fruit machine | shrine | tomb | snowager | bank | lab | stocks
| | | |
| --- | --- | --- |
| create | update | watch |
| Send us your favorite screenshots, drawings, designs, art and more! Any dimensions are fine--but please be sure to save your image in a .png format to avoid blurring or discoloration. Feel free to add comments, draw pictures, etc.! | What's going on today? Give us the down low, report on a current event/activity or write about a special cause or effort going on in your guild community! Interview a pro or tell us about something you're particularly knowledgeable about. | No need to do the work--just send us what you got and we may choose to write about it and feature it here! If you see anything you see around Neopia that screams for attention, just send us a link and we'll check it out! |
thumbs up form (Copy & Paste into address bar)
Please include a username and why you liked their submission.
credits
textures: hybrid-genesis | fonts: Jellyka Delicious Cake, Traveling Typewriter, Kravitz, cinnamon cake, stars from our eyes, pappo's blues band | stalked from the tnp portfolio directory!
NEOPETS, characters, logos, names and all related indicia
are trademarks of Neopets, Inc., © 1999-2013.
® denotes Reg. US Pat. & TM Office. All rights reserved.
PRIVACY POLICY | Safety Tips | Contact Us | About Us | Press Kit
Use of this site signifies your acceptance of the Terms and Conditions