It all started when I was born, of course. My infant-hood was the best times of my life, I would say. Mainly because I didn't understand anything...like death or betrayal. *dramatic* ;)
Back then, I was an energetic little nightmare. My fur then was a smooth, pale shade of gold. I was flawless... beautiful. My family was popular. And I had a young love, who I thought I would be with for the rest of my life. Handsome...light blue. All the girls gave their hearts to him but he only had eyes for me.
Everyone in the pack loved me. They treated me with the respect I deserved, being the daughter of the pack-leaders. My life was oh so perfect and always would be...or so I thought.
I finally discovered that I was a nusence one day. It was a lovely day, really. We were having to move from our original home to somewhere new due to drought. It was when we were crossing a river when one of my pack member's 'accidently' shoved me off the log and into the rushing water. I heard them laughing as I struggled to swim through the heavy-rushing water.
The last thing I saw was that handsome, smiling face of my mate as I neared a waterfall's edge.
I remember...The fall seemed to take forever.
I washed up on shore. When I woke up, I knew something was wrong. I felt empty...I was starving. The very beat of my heart was gone.
I hadn't survived the fall...
But why was I still standing? And oh so solid? I gazed into the water at my reflection. A bloody, bruised Ciriq stared back at me with beautiful blue eyes.
I sighed and set out to find the answer. Maybe I would find a sorceress or something to give me the answers. The haunted woods reeked of them; I was sure to find one.
Days went by slowly. I hadn't found one person. And the silence....oh, the silence. It was dreadful. I was inching toward insanity. The hunger really got to me...I had to get food.
A large snake was the first bit of meat I found. Of course I went for it...I was kind of crazy, remember? It turns out it was a highly poisonous snake.. I didn't think it would cause any problems. I was already dead, after all.
I attacked with a sweeping motion of my head, snatching its lower-body into my teeth. It hissed and whipped around, biting into my right brow. It hurt. *she laughs darkly again* I must have fainted at that point.
I woke up in the same spot. I felt dried blood on my face. I blinked several times. All I saw was black. I was blind.
I stood shakily. What misery...It was terrible. I walked around in circles, bumping into things as my sanity drained further. I was so confused....so lost. I cried out for help, but none ever came.
Months passed. Still, I found it hard to live and constantly wished I was peacefully buried somewhere.
Never had I heard any signs of life but the birds twittering in the very distance. It was a few days into the next year when the noise of a twig snapping sounded from behind me. "Hello?" I jumped up and growled. It was the first time I had heard another's(or my own) voice in months. "Who's there?" I snapped.
A quivering voice answered. "Just a traveling healer." She was lying. I could tell. "What ails you, child?" she asked in that kind, old voice.
I played along, trying to feel my way toward her. "Oh, what ails me, you ask? Oh, dear woman...I am blind. I cannot see a single thing. I am hungry. I am frightened."
She answered with a soft, ominous laugh. "I could help you, dear. For a price..."
I raised a brow. "Name it."
You lack sight. I lack beauty. We could do a trade, I suppose. And with my sight, you could hunt and put food back into that small stomach of yours." I considered. I just wanted to see again. I was scared. I agreed.
I awoke a few hours later. The moon shown down upon me through the leaves. I could see it. I could see again.
At first my vision was blurry, but it cleared up nicely. Sight was more blissful from when I remembered. It was night, yet I could see perfectly. These new eyes worked so well...There had to be a catch. I remembered the deal I made with the old witch...I vengured over to a nearby pond and gazed down at my reflection. My jaw dropped.
My fur was rugged and messed up, covered in patches of ugly random fur. My tail was gone and I was caked in blood. An ugly face stared back at me; blank white eyes stood out and glowed like small lamps. I sighed, and threw myself down next to the pond, my arm falling off when I did so.
That would take some getting used to.
I watched it run off with my mouth still wide open.
Shaking my head to rid myself of the thought of my own arm running away, I leaning over to lap some water down....it was then I realized a dim, red light shining from a pocket that was patched on the inside of my right arm. I fished out a red sphere attached to a black string with my teeth. Also a dirty wad of paper that read:
Use it wisely.



D e S i R e S.desires.d E s I r E s

Night
Sweet dreams
Respect
A little chaos
Stories
Penguins

Fire
Monkeys
Groups
Gawkers
Rain
Theives



N e C k L e S s.neckless.n E c K l E s S



The orb reflected in Ciriq's eyes. "I'm not exactly sure what it does...it seems rather familier, though." It glowed its red aura, casting mysterious shadows against the trees. "Sometimes it seems to... whisper to me... when it's really quiet... It's rather frightening, but when I take the necklace off, I feel weak." She looked at you with raised eyebrows. "It get's really scary when I'm in a bad mood. It...whispers louder...in some, unknow language. Hopefully one day I will find its meaning..."

S t I t C h.sticth.s T i T c H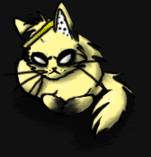 She pushes the ugly angelpuss toward you. "Isn't he sweet?" She asked, smiling brightly. The angelpuss blinked dully. You force a smile. "Er...yeah..it's..really..great." The angelpuss began to make an ugly rumbling noise. Dear god, was that a purr?! What was wrong with the thing? You feared that it needed to be put down.

F r I e N d S.friends.f R i E n D s


Dako is my best and only friend. We've been buddies for quite a while now. He's the best. :) Dako treats me like....I'm normal. He pays no attention to my hideousness. Sometimes I fear he's blind. Haha. Well...either way, I will always love him... I mean, as a friend of course. :)













F a M i L y.family.f A m I l Y

When you brought this up, she looked a little uncomfortable. "Er...no. No family for me. I do live with a few losers, though." She smiled weakly.
(LOL SNIX IS TOO LAZY TO MAKE FAMILY PICTURES)




Ljaqu- A wanted criminal, but quite the looker. Yes, hes quite handsome. He has a weird habbit of saying "nicey nice" that's somewhat annoying. Its funny to see him scared, though. He gets in this rather squeaky voice that sounds like a women's.
Jaq has strightened out alot...he used to be quite the jerk, but...I dunno...something has changed about him. I can't put my finger on it.




Sidnii- She's a doll, really. Even if she is a ruthless alien. She's really the only family member I get along with. She treats me with respect as I do her. And I always run to Sidnii when I have a problem, cause she always has the answer. She's very clever, but unsure about Neopia. Poor thing doesn't even know what a hotdog is.




Ron- I haven't seen Ron since he was a pup. I have heard rumors, though. It is said that he ran away from his family and received a bite from a rather nasty creature. I can't imagine Ron as a vampire. I really can't He has always been so sweet..



Snix- This would be my caretaker-human-ma-jig. She's....an insane alien cat. What a weirdo. Constantly plotting and doing evil things...heh...Sheesh, she's best friends with a mongoose. Heh. Heh heh. Heh. Okay then...oh and watch out. She tends to shave the unwilling while they sleep.

L o V e.love.l O v E

It is too late for me. Just...look at me. No one in their right mind would...you know. Eck.

P a C k.pack.p A c K




Shukumei
If they can put up with Snix, they have to be great.
Really. o______o

A d O p T a B l E s.adoptables.a D o P t A b L e S

Yay! Snix finally made me new adoptables. :)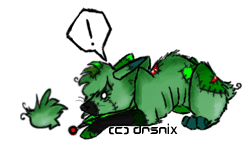 The rules are rather simple. Don't steal, claim, change, or enter them in the beauty contest. I'm sorry, but you must have a reference picture. I will not try and scramble up an adoptable for you off of a description.

C u s t o m s

Trades are open for close friends and Shukumei members. I will also trade with you if I like your adoptable enough or am just in a really good mood. Heh. Sorry. :|


B a s i c . C o l o r s

Blue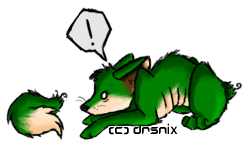 Green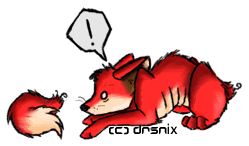 Red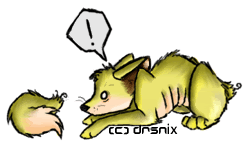 Yellow
C u s t o m . C o l o r s
(abc order)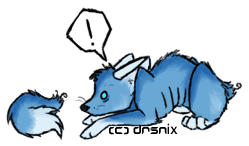 Ardelis
Caligula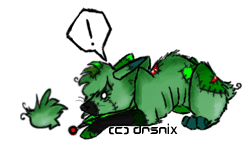 Ciriqoui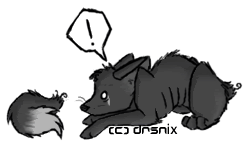 Emsohl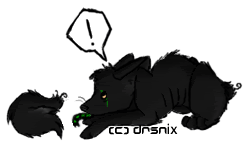 Fear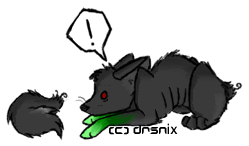 Kurof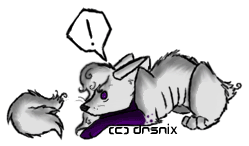 Loviia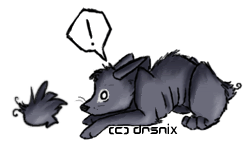 Naiobe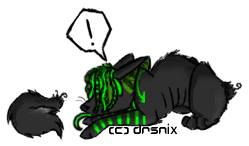 Nuclear_88
Pandako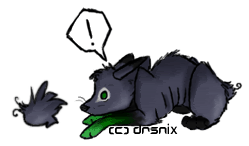 Ronaiu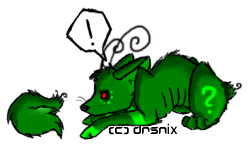 Sidnku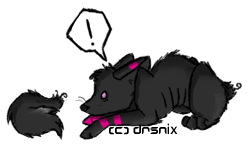 Xayam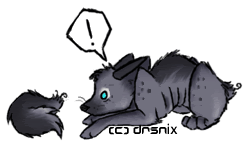 Zemephyst



Adoptables of me:


A w A r D s.awards.a W a R d S
I won awards for my page? Le gasp!



G o O d B y E s.goodbyes.g O o D b Y e S

A minute goes by where the only thing heard was the faint, almost inaudible whispers coming from Ciriq's neckless. She coughed lightly. "Well, the night grows old, guest, and I must hide myself. It was nice speaking to you." She nodded softly, stood, and trailed away, the ugly angelpuss following lazily behind her.

L i N k S.links.l I n K s







PatcH







BanneR


You're listening to
They by Jem
(placed back on Ciriq's page due to popular demand :D)

Who made up all the rules?
We follow them like fools,
Believe them to be true,
Don't care to think them through

And I'm sorry, so sorry
I'm sorry it's like this
I'm sorry, so sorry
I'm sorry we do this

And it's ironic too
Cause what we tend to do
Is act on what they say
And then it is that way

And I'm sorry, so sorry
I'm sorry it's like this
I'm sorry, so sorry
I'm sorry we do this

Who are they?
Where are they?
How can they possibly
Know all this?
Who are they?
Where are they?
How can they possibly
Know all this?

Do you see what I see?
Why do we live like this?
Is it because it's true
That ignorance is bliss?

Who are they?
Where are they?
How do they
Know all this?
And I'm sorry, so sorry
I'm sorry it's like this

Do you see what I see?
Why do we live like this?
Is it because it's true
That ignorance is bliss?

And who are they?
Where are they?
How can they
Know all this?
And I'm sorry, so sorry
I'm sorry we do this


(Snix Family)

















(Neomail Snix for a link trade.)