What you need to know about Renekae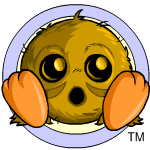 Renekae

Renekae is a warm-hearted, easily overwhelmed little coconut.
When she's alone without her Gruslen Jacob accompanying her she feels pretty lost and lonely and tends to pity herself.

Likes: Jacob, lonely beaches, the night sky with the stars, silence
Dislikes: Crowds, loneliness, too much laughter

Rene wouldn't be complete without Jacob, read the story about how they met :-)

Jacob
Jacob is a brave little Gruslen, but at the same time he's very sentimental.
He can be melancholic at times which makes him an outsider among other Gruslens since those are usually merry and playful.
He is the perfect companion for Renekae though and can cheer her up within seconds.
Likes: Rene, lonely beaches, counting stars, protecting those he loves, roaring when no one listens - or just Rene
Dislikes: people who want to hear him roar, loneliness, Rene being sad


RENE'S PETPAGE
Hi and welcome to Rene's petpage, spearmintine. I am so happy that Genie picked me to adopt the lovely Renekae that I decided to make a petpage for her. I really want to learn HTML and I will one day - when I have more time. For the time being a premade must suffice.
I am going to collect here everything I have made for Rene so far and am planning to come up with new stuff from time to time. My drawing skills are very limited, so expect a new story rather than tons of pictures ;-)
However, if Rene inspires you and you want to draw some fanart for this site, feel free to neomail me here, I always appreciate good art (especially since I fail at drawing myself :D).


Song for Renekae
I made a song for Rene, recorded it and all that jazz, but then I realized you're not allowed to put music on your petpage anymore. Epic fail. Here's the text, however, I hope that one day I'll be able to add the music again.
Song for Renekae, unfortunately without music :(
Once there was a coconut, small and cute,
Oh, she was a coconut, way too cute!
She lived far away from me, but then I read ...
She's coming to another home.... Yeah you bet
That I wanted Renekae, come home to me!
The little lovely Renekae, so I can see
your awesome coconuttiness all day long,
you stay with me, be loved and so - become strong
as part of my family, yo-hey-ho,
as part of my family I won't let go!
Mmmh...mmhh...mhhh (humming)
Peace in a merry world - how Rene and Jacob met
Neopians like to go to Mystery Island and a lot of them think it must be wonderful to live there. The people are always nice and happy and the weather is lovely. Look at the weather forecast for Mystery Island and you'll know what I mean. Even if it's really hot you can still go to the beach and jump into the sparkling waters which always have a nice temperature. Who wouldn't want to live there?
Rene was a coconut. Well, she was a Jubjub and she preferred to be looked at as a Jubjub, a Neopet, but people usually only saw that she was a coconut. A coconut, how lovely! A coconut, how fitting on Mystery Island! A coconut at the beach, a coconut next to that palm tree, come on, let's take a photo! Oooh, that coconut looks at us, how adorable!
Rene hated it. If you had asked her, she wouldn't have been able to tell you at what point she started hating Mystery Island. But when it began, she did that with a passion.
Whenever she tried to speak to anyone about it, they only laughed. Who wouldn't love living on Mystery Island? Okay, there was this city of Geraptiku which was kind of creepy - but you didn't have to enter it. There were ways to avoid this city and most of the inhabitants of Mystery Island hadn't been there even once in their whole lives.
So, where's the problem, little Rene?
It was on a sunny day, one of those lovely sunny days, not too hot, but warm with a gentle breeze. It was already evening, most of the tourists were gone already and the streets became emptier.
Rene was on her way to the beach. She liked the beach, it was the only part of Mystery Island she liked - but only without people. She loved to sit there by night under a palm tree, looking up to the sky and counting stars, with the sound of the waves in her ears. But today she didn't find the peace she was looking for. She wasn't alone at the beach, two Kacheeks were playing, chasing each other, laughing ...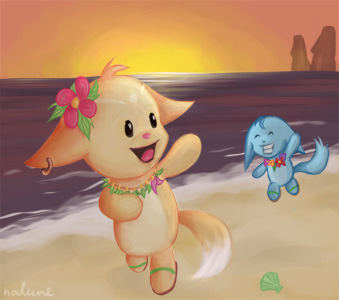 Rene watched them for a while and suddenly she felt this feeling creeping up her back - a feeling she never had when she was alone here. She felt lonely, really, really lonely, and frightened by the huge world with all of its demands and expectations. "No one is here to help me - no one who would ever understand me ..." she whispered to herself and big tears started rolling down her face.
Rene couldn't stop crying, even though the two Kacheeks - who hadn't even noticed her - had long gone home. She cried and cried and cried.
The world seemed so dark to her, with no place to go for a little fearsome coconut with a love for lonely beaches. Was it the two Kacheeks that had given her those ideas? However, all of a sudden she felt so lonely and in that moment she was totally sure she'd never ever find a friend or just anyone who would understand her. And that made her sob even louder.
Suddenly Rene heard a cracking sound, and something - or someone? - fell from the palm tree above her head straight into her lap. (If you can call that a lap actually, it was rather her feet.)
It was pretty dark already and Rene couldn't really see what it was, only that it was striped and apparently alive.
Suddenly that little creature started roaring, jumped onto its feet and looked straight into her eyes. "A ... Gruslen!" Rene was really surprised. She had never seen a living Gruslen before, only paintings in one of her books. But no doubt, this one was a very lively example of a Gruslen.

But what was that? That creature was - smiling at her! And it started talking. "I've been watching you for a while now, my friend, every night when you come here and watch the stars and waves. You don't know me, but to me it feels I've known you forever. I'm alone like you, and I've been waiting for a Neopet I could come with that I could protect and share my love of lonely beaches with. You seem to be the perfect one. I just didn't dare to ask, I wanted to wait for the right moment ... But then I fell from that palm tree and here I am."
Rene didn't know what to say, she was speechless - but her tears were gone. She just smiled back, and from that moment on neither the Gruslen whose name was Jacob nor Rene had to feel lonely again. Today they watch every sunset together and spend hours lying on a blanket counting stars - and no word has to be spoken.
And believe me or not, but today she even smiles sometimes when tourists come to take a photo of her - but she always insists that Jacob has to be on it, too.
Thank you Genie for this lovely drawing!
Header
No content here yet - under construction!
Header
No content here yet - under construction!
Layout made by nienkju