~Reake~
   When strolling along at night, one often hears tales of the wicked. Stories about spooks, mysterious disappearances of young neopets, and curses. What you don't realize though, is that only the worse monsters allow themselves to be understood. How they attack, what they do, where they are. As soon as a person finds out this information, they can take measures to defend themselves from the terrible monsters roaming about Neopia.
 "That's why it is better to remain unknown..."
The Past
    A poor young shoyru mistakenly took the wrong road one day, trying to get out of the Haunted Woods. A mysterious figure, camouflaged in the shadows, sat on the thick entwining branches of a barren tree. He eyed the tiny shoyru, who was trembling, unable to find his way home.
   While the figure knew perfectly well that the shoyru did not mean to trespass on his area, he also knew that mistakes were part of life, and so were the punishments that came with such mistakes. Covering his face with a white mask that seemed to glow in the dark, he descended to the ground and disappeared.
   The shoyru suddenly began walking faster, spurred on by an instinct that he was in trouble. However, it was too late. His pace began to slow and soon enough, he fell to the ground unable to move. His body began to shrink, eventually becoming a tiny little keychain... The mysterious figure then approached the keychain and picked it up.
   "You tried," he commented plainly, looking at his victim.
   In this 'keychain state' the victim could feel and fear, but not see nor hear. This easy way of inflicting terror was the reason the mysterious figure loved this particular spell so much. The curse would wear off in 12 hours or so, but who needed to know that?
   In any case, he had to get rid of the keychain somehow. The only downside to turning neopets into keychains instead of just decimating them. He began heading towards the more populated parts of the Haunted Woods, just wanting to drop this keychain off somewhere far away from his territory.
   "Eeheehee! It's time I devoured you, Reake!" a slimy voice shouted, suddenly getting closer.
   Reake jumped up, floating in the air, barely escaping the jaws of the Meuka, who flailed below, trying to extend his tail even further. Reake did not worry, for he had already seen the Meuka coming from a mile away. There was no way the disgusting meerca could reach him anyways.
   "Come down!" the snot-covered neopet ordered.
   Reake did not listen, continuing his journey to the populated area of the Haunted Woods through the air. He had no time to mess around with a mere creature who could do no better than eat people's foods and leave them a lump of snot.
   "Reakeee, dearrr Rrreakeee, won't you stop by?" the Spider Grundo cooed.
   Reake completely ignored him and continued on, despite the shouts of anger coming from the web.
   Finally arriving at Edna's Tower in the Haunted Woods, he flew in through the window, seen by no one who didn't think he was just a shadow.
   "Out! Get out you filthy skunk xweetok!" Edna shouted once she realized a trespasser had entered her home.
   Reake stood there patiently as the zafara threw an assortment of items at him, all of which passed through him harmlessly. Once the enraged Edna had calmed down, Reake held up the keychain he held in his hand.
   "Here..." he said softly, handing the small shoyru over to her.
   Edna frowned at this action. This wasn't the first time Reake had come, leaving a cursed neopet behind, and frankly, it was annoying.
   "I'm not your servant!" Edna hissed. Reake threw the keychain at her though, which she instinctively caught.
   "I don't want it!" she shouted, though as soon as Edna had taken the keychain, Reake had left, without a word of thanks or a goodbye. That would've been out of character, and as far back as he could remember Reake was not that type of neopet.
   Now if you ask how far back could he remember, he wouldn't be able to answer you. Reake was never 'born'. He simply came into existence one day at some point, and therefore, he was and is, zero years old...
   None of that really matters though, as far as Reake was concerned, he lived his life perfectly as a phantom of the Haunted Woods. Neopians and neopets knew that by trespassing in his area, they would be cursed. However, very few people knew who did the cursing and how to stop it from occurring. To Reake, a flashy monster was a monster who failed at his job.
   Because of this ideal, the mask Reake wore was his savior. The one thing that completely hid his identity from others.
   Now, Reake was in no way a neopet obsessed with perfection, but he never made a mistake that jeopardized his quiet, mysterious lifestyle. Until the day he decided to pick on a small desert xweetok...
The Mistake
   "ELDddd!" a feminine voice called, notifying Reake that someone had entered his area. He looked down, realizing a little desert xweetok was wandering around, searching for something behind the bushes and trees.
   "ELD, where are you?" the xweetok called.
    Was she lost? Evidently, she had lost something, her brother probably. Well, she was in Reake's territory, therefore, she was a target. And a rather easy target at that. The poor critter never even saw Reake coming. She didn't tremble, she didn't run, Reake wondered if the naive girl even realized she had been cursed when she turned into a keychain.
   Reake approached the keychain, intending to pick it up and deliver it to Edna as usual when suddenly a voice sounded behind him.
   "You should turn her back to normal," the voice advised, coming from a robot xweetok, presumably, the one called ELD.
   Reake, slightly offended by how a normal neopet was ordering him around, decided to act a bit rebellious.
   "Why should I?" he mumbled just loudly enough for ELD to hear.
   "...Master would not be pleased. She would come here to get Kairo back herself," ELD whispered.
   "Your master means nothing to me," Reake replied, disappearing with the desert xweetok keychain (named Kairo), issuing a silent challenge to ELD's master to come get the pet back herself.
   Reake had considered turning ELD into a keychain too, but decided against it, simply because he didn't feel like it. He figured even if the owner was informed about her missing pet, a mere Neopian could do nothing to him. And so he continued living his life carefreely. The desert xweetok had been turned into a keychain permanently, or until Reake decided to free her. A few times, he saw Kairo's owner wandering around here and there in the Haunted Woods, supposedly trying to find her missing pet. He always purposefully avoided her though, never trying to make contact.
Instead, he hung around his territory, napping in the trees and watching the night sky peacefully. He thought his lifestyle would continue like this forever... but it all changed one day with no warning.
   "Trespasser," Reake murmured, picking up the keychain he had just transformed a chomby into.
And with another keychain, came another visit to Edna. Reake began heading for her tower as usual, almost eager to annoy her with another burden.
However, when he got to the familiar tower, the zafara's voice when he entered the -blocked-
   "There he is!" she shouted.
   Reake looked up. A Neopian was with her. The owner of that desert xweetok. Surprised, Reake instinctively began to flee, as the owner ran out of the tower.
   "Wait!" she called, chasing after him.
   Of course, Reake was frightened didn't stop, trying to get away to somewhere deserted and safe. That's when he realized, there was no reason for him to run. She was a mere human, a Neopian. One he could easily scare off, threaten or blackmail.
   Reake landed on the ground, smirking behind his mask and turned around to confront the owner... Unfortunately for Reake, she was faster than he had thought and as soon as he turned, she ripped off his mask. Even more frightened now, Reake spun around immediately and hid his face behind his knees. No one could know who he really was! No one!
   "Calm down," the human said, "I just want Kairo back."
   "I-I'll turn her back to normal..." Reake murmured fearfully, cursing his carelessness, "Return my mask..."
   Slowly, Reake began to piece things together in his head. How did the Neopian know about his weakness? How did she know he would go to the tower to give a keychain to Edna-
EDNA!
   That zafara had revealed information about him! Things that she had promised to never tell another creature!
   Well, he could do nothing about it now. He thought he had hidden all information about himself well... but apparently that was not the case. Reake reversed the curse on the desert xweetok, who, was overjoyed to see her owner. The owner returned Reake's mask as promised and left.
   Once she had gone, Reake began thinking to himself. His life was no longer flawless, a person, a human, had walked away after discovering his true identity. What could he do now?
   After several days of pondering and letting neopets walk through his territory freely... Reake put his mask into a bag he carried and walked along the streets of Neopia, heading for his new owner's house, leaving the Haunted Woods and his lifestyle as a fearful creature behind...
Extra
   Though Reake doesn't wear his mask all the time, he still scares and curses timid neopets when he feels like it. He doesn't mind people seeing him without his mask anymore, as long as they don't recognize him as the creature who turns neopets into keychains.
    He did return to Edna's Tower once more (with his mask on of course) and completely wrecked her room.
   He laughed for the first time in his life as she shouted insults and curses at him while he flew away.

New mask. :P It's like his 3rd or 4th one cause I forgot some of the ones I made before. xD
vs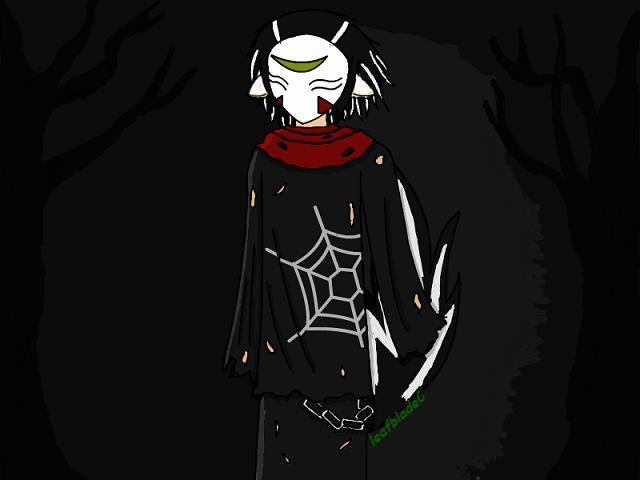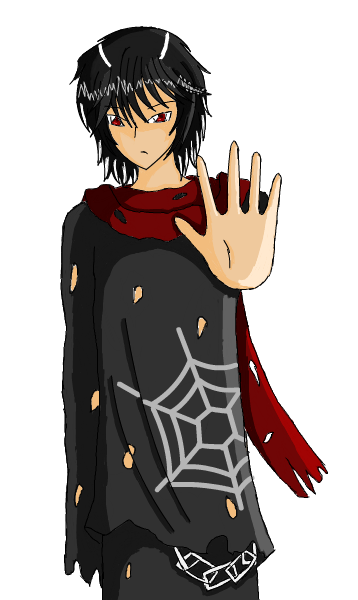 Reake without his mask on.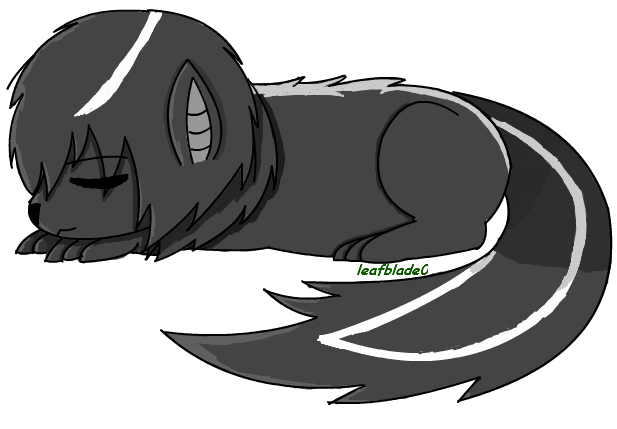 Quad Reake!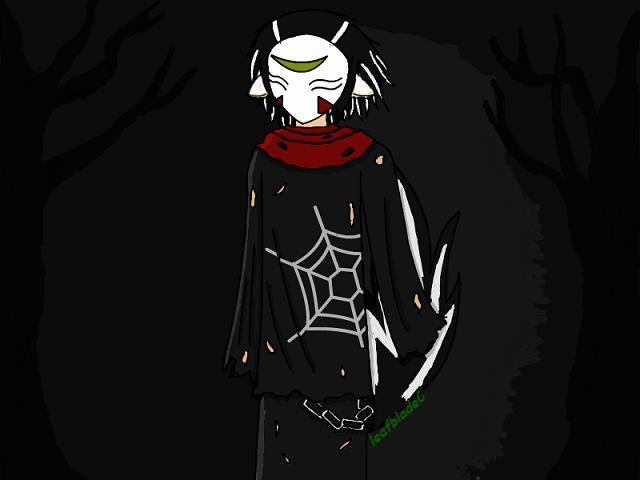 Reake's Anthro picture!

Cute maskless chibi? :D
Reake: ...