About Me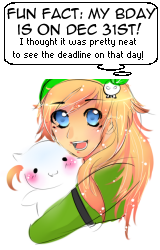 Hi hi! My
name
is Jessica, but sometimes people call me Roxanna because of my username, which is more than okay with me since I did pick it. (; I'm in a guild that likes to help its members to account perfection when it was active. Right now, it's like a deserted town. However,
I have this sense of loyalty
and would feel awful leaving the guild so I'm still there. Wait, don't yawn yet! I had a point in bringing up my guild! Because of my guild, I started to become addicted in improving all aspects on my account like avatars (game avatars were the hardest and decided to tackle them one game at a time), stamps (I like restocking my own stamps since they can be so expensive on the TP!
), Neodeck cards (I have 254/369; this is actually
really
hard xD); pet training (FQ cookies and labray is my secret for Adorable994's strength! =D), game trophies (I'm still actively pursuing these on reset, but I'm running out of games I'm good at Dx), annnnnd---- did I name them all?--- OH! My
gallery
(dedicated to the
Water Faerie
)! It's almost complete! However, I'm missing two items that don't seem to be available or sold anywhere.
Anyway, I'm very dedicated to my Neopets account!
In comparison to my neo-life, my real-life isn't as full of achievements as I wish it could be... I've wanted to become a doctor ever since I was little. Everyone around me knew (and everyone else that everyone knew
told
) and believed I could make it. I was ready for medical school! However, I wasn't prepared enough for the medical school entrance exam (MCAT). Despite my studying for 2 months daily, I didn't get a high enough score to even be considered "competitive".
Boy, was it embarrassing... I took the last MCAT before the format was changed from 5 hours to 8 hours and instead of four subjects, now eight. I can't risk a chance on studying again and then possibly failing the new format when I couldn't even pass the "easier" one. I'm at the age where I need a career that I'll be happy with and be able to help out my mother with the bills! My mom wants me to focus on studying, but I've been feeling useless and like a freeloader.. so now
I'm a grad student trying to become a Physician Assistant
! My passion lies in the medical field and I
know
that's where I want to be.

I secretly haven't given up on being a doctor, but I'm going to keep that to myself since it seems I disappointed, not just myself, but everyone that knew when I didn't do well on the MCAT.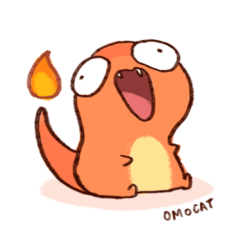 This part is going to be about the things I like so you can skip this if you feel like you've already read too much about me!

Are you still reading? Oh my! Okay, I'll try to summarize it up quickly so I won't bore you with too much details. Before I get started, I'm just going to dive right in and say this: I consider myself decent at just about everything. xD I'm not a pro in any of the following I'm about to mention, but I don't think I'm bad either. I know just enough to get me by! I like Zumba, singing, drawing, dancing, playing the piano,
eating the cream from Oreo cookies
, coding, making graphics, creating fonts, and collecting. Now you can disregard that decent statement since it's irrelevant for the next list:
I LOVE Disney (especially Ariel from The Little Mermaid)
, Korean dramas (Taiwanese/Japanese drama occasionally), main-stream TV shows (Once Upon A Time, Steven Universe, and many more), anime, music of a variety of genre (as long as I like the beat, voice, and lyrics or a combination of two of these things, it's good to me no matter the language!), and mooooovies! Did I do a good job at summarizing it all?