Welcome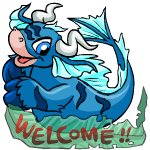 Hello guest and welcome to my petpage. I'm so glad you've come to learn more about me.
My name is o0xXemmaXx0o and I'm a Maraquan Elephante. I love being one. I love swimming and I know that I'm beautiful.
So a little bit about me. I'm 77135 hours old. My owner is xpinksugarxprincessx. I enjoy swimming and reading and spending time with my family. Yeah, that's me in a nutshell.

More About Me

This is a picture of me. I'm gorgeous right? Oh and bubbles!

Well yes, like I've said already. I'm o0xXemmaXx0o. My family includes xpinksugarxprincessx. She's my owner. She's pretty nice, even if she's a little scatter-brained sometimes. For instance, she often calls me by my brother's names. It doesn't count that we're often both just underwater most of the time.
My brother is XxBraverousxX. He's a Strawberry Jetsam and he likes swimming with me a lot. My sister is xoxoPinkSugaroxox. She's kind of a diva. Shh, don't tell her that I said that. The funnest part of being her sister is splashing water at her. That's fun.
What about me... Hmm... Yes, I'm 77135 hours old. I know, I know. You're jealous of the high number. And xoxoPinkSugaroxox thinks that she has a daunting age. I have a much higher age.
I was a Maraquan Elephante when xpinksugarxprincessx adopted me and I don't ever want to change! I think that I'm absolutely gorgeous. And I can swim better than any other Neopets in the land. Even better than Jetsams, no matter what XxBraverousxX might try to tell you.
Elephantes Do More than Eat Peanuts
I am just here to tell you that we Elephantes do more than just eat peanuts. Yes, yes, we do adore peanuts, I won't deny that. But we also contribute greatly to society!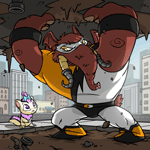 Mammoth

So this big guy is named Mammoth. I might have the littlest bit of a crush on him. It's nothing big! But who wouldn't love him? He is one of the strongest Defenders around! He took down his childhood hero and didn't even break a sweat! Now, that's my kind of guy. I like the thought of being strong.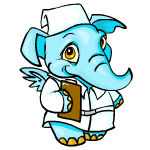 The Neopian Pharmacy Shopkeeper

The Shopkeeper is the supreme example of strong Elephantes. She is a nurse who helps sell you the pharmacy items that you need to cure yourself. Neopia would grind to a halt without her because she's the one who keeps everybody from falling too sick. We should all be thanking her.



The Neopies Awards Host

Okay, so I might have a crush on him too. It's not too big of a deal. He's just so powerful! I mean, I like his hair. He's the host of the Neopies Awards and he's on tv and radio and everywhere! Everybody wants to be in the Neopies and we all dress up and go on the Red Carpet. Well, not we. But someday I will!
What I Like To Do
Well, since I am a Maraquan pet, I enjoy swimming. I spend most of my time swimming and I will be the one who finds an underwater city. I am the swimmer in the family no matter what my brother and sister say.
I also enjoy fashion. Unfortunately, as a Maraquan pet, I can't dress up myself but xoxoPinkSugaroxox loves letting me dress her up. She insults my fashion sense but I know that she really loves my style. She's just jealous because she doesn't have bubbles.
I also greatly enjoy reading. xpinksugarxprincessx gets me many books to read and I, one day, want to be the most literate pet in all of Neopia. It will happen, you know. Just dream big.
Thank You for Coming
guest, I must bid you adieu. Hopefully you shall come visit me again.