body {background: url(http://i261.photobucket.com/albums/ii64/jessica_tudor_rose/backgrounds/nogj61_th.png) fixed} body, td, font, p, a {color:#555555;font: 11px trebuchet ms} A:link, A:visited{color:#000000;font:10 px trebuchet ms;letter-spacing:1px;text-decoration:underline;font-weight:normal;} A:Hover{color:#000000;} b{color:#555555;font:11px trebuchet ms;font-weight:bold;} i{color:#555555;text-decoration:italic;} u{color:#555555;font:12px trebuchet ms;} #text {width:600px;padding:5px;background-color:#ffffff;text-align:center;border:pink 2px solid;} table, .sf{display:none;} #nav{color:pink;} h1{font:18px trebuchet ms;color:pink;text-decoration:underline;font-weight:bold;} hr{color:pink;background-color:#000000;border:0px;height:1px;} />
---



Hello & Welcome!
I made this page to help those of you who use FireFox 3 still be able to get the alerts.
The Official Toolbar DOES NOT yet work with FF3.
However, if you just want it for the alerts, please read on.
BEFORE YOU DOWNLOAD MAKE SURE YOU HAVE FIREFOX V. 3.0.5!
To Check Click on Help and then About Mozilla.
If you don't have the update version, download it, otherwise this will not show up in your extensions
When you first download the alert, it will have sort of a test pop up even though she isn't there.
Some people are having issues (not very many people) with false alerts. I've sent in a bug report and hope it gets fixed soon, in the mean time I'M SORRY!
Feel Free To Neomail Me!
♥StacyRenee

---

Click On The Following In Order To DOWNLOAD Alerts.

Tools▷Add-Ons



A Box Will Open That Looks Like This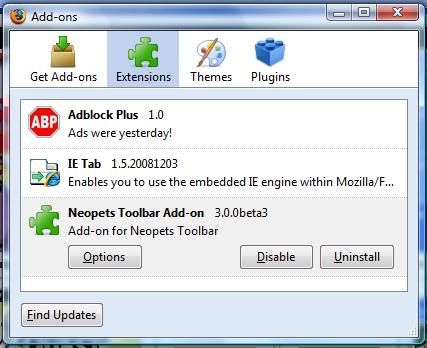 Click On Get Add-Ons▷In the Search Bar Type "NeoPets"▷Hit Enter▷It will search and find something that looks like the box below.▷Click Add To FireFox.▷Accept Install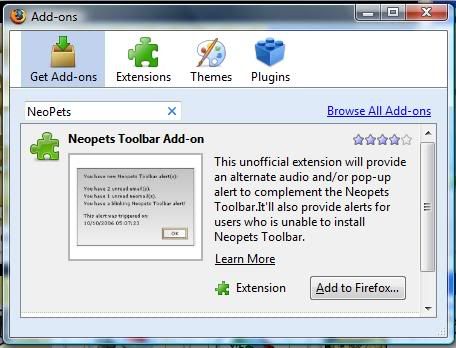 When it's done installing, click the button at the top of the Add-On page that says Restart FireFox.

No, you aren't done yet. Now you have to make it appear on your toolbar at the top :) For that, do the following.

Click On View▷Toolbars▷Customize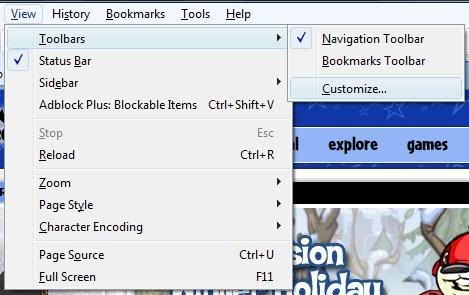 Scroll Down In the Box Until You See These.




Click & Drag The one that says 'Neopets Toolbar Alert' to the top of your browser and drop it there.



---

If you want to change the way the alert works.
Or if you want to make it CHIME when it goes off.
Click The Following

Tools▷Add-Ons▷Extensions▷HighLight NeoPets ToolBar▷Click Options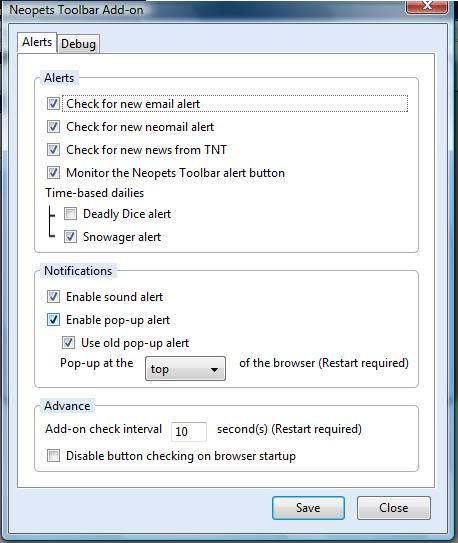 ---


---



Am I On Yours? Let Me Know!
NEOPETS, characters, logos, names and all related indicia
are trademarks of Neopets, Inc., © 1999-2013.
® denotes Reg. US Pat. & TM Office. All rights reserved.
PRIVACY POLICY | Safety Tips | Contact Us | About Us | Press Kit
Use of this site signifies your acceptance of the Terms and Conditions