Full-body pic on the left by Styliferous, headshot by Mary. Thanks guys! (=
Day 1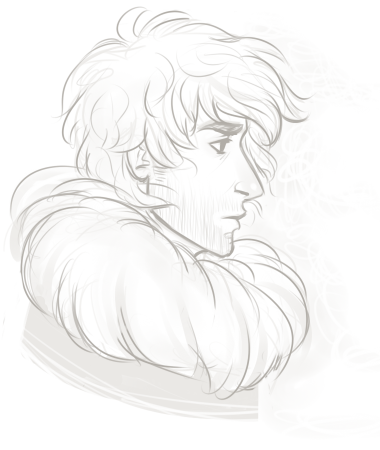 What is their name?
North Reinhart
Where did they grow up?
The Reinhart family can trace its lineage back hundreds of generations and through countless monarchs. They are primarily notable for a promise made by one of the first Reinhart men to the young conquerer of the era... that his family would forever surrender their love and loyalty to the royal family, to be raised generously and in return defend them to the death. Though the crown has been passed to many new family lines, the Reinharts have remained true to their word and partnered their young children to the children of royalty as destined defenders since. North was raised in the kingdom of ??? as a surrogate brother for the king. He was born on the same day the northern territories were reconquered by the former king, and was so named as a tribute to the success of the monarchy and hopeful peaceful years to come. From his birth he was paired to the young prince Hyperion, a three-year old child, to live and die alongside him.
Where do they live now?
North is currently living in the abandoned, frigid wilderness to the northeast of the kingdom, exiled for the highest treason... attempting to take the life of the king.
How old are they?
33
Do they have siblings?
He has a younger sister, Fawn, and a younger brother, Garrett. Fawn works as the king's kennelmaster and takes great pride in Hyperion's hounds. Garrett is a squire and partnered with the eldest of Hyperion's children.
What are some good/bad memories they have?
How have both affected them?
How about life changing events?
What do they like?
Dislike?
Introverted or extroverted?
Introverted
What motivates their actions, behaviours, and personality? What kind of life style do they have?What do they do on a daily basis?What are their skills/powers?Do they have a job?
He is the king's destined bodyguard.
Who is important to them?
Hyperion, his king.
Fawn, his younger sister.
Garrett, his younger brother. Barkley, his squire.
Hyperion's children.
Could they sacrifice themselves, a friend, a love, or a stranger?
Well, considering its basically his job and entire life, I'd say yes. Beyond the theory of duty though, he's the sort who would absolutely sacrifice himself... but for Hyperion and Hyperion alone. If he died for someone else, who would defend Hyperion?
Would they pick a forest or the ocean?
Forest.
If they got put on a deserted island, what would they do? What kind of food do they eat? Etc.
Curl up and die, ain't nobody got time fo' that.
Night owl or earlybird?
North prefers mornings. Cos the night is dark and full of- *shot*
Day 2: Appearance
North has been trained for knighthood since he was old enough to wield a sword. As such, he's quite fit and strong, though his body type has always gravitated towards a lean, trimmed musculature than pure buff bulk. He's been trained for speed and accuracy rather than brute strength, as his work as a body guard often requires quick response times and precision. He's rarely seen without perfect posture. It's maintained out of a sense of pride and obligation that makes him look taller than he actually is. In truth, North stands about a half a head shorter than the average man. As a child it was a point of embarrassment, but he's since learned that it's hardly a detriment to the capable swordsman.
North has a fair few scars here and there, but nothing he could be immediately identified by. The only noticeable injury he's sustained is a deep gash below his left hip, received via an arrow he took for Hyperion while in his late twenties. He's walked with a very subtle limp since then.
North is most notable for his hair. It's been off-white since his birth, highly unusual and unheard of in his culture. A seer in his father's camp at the time proclaimed that it was a sign of endurance and good fortune and, given his family's superstitious beliefs, they were elated to believe as much. While in the king's service, North prided himself on keeping it neat, short, and cleanly combed at all times. Since his exile, he's allowed it to grow out some, giving him a rougher, wilder appearance. His hair is naturally prone to falling in light waves.
His face is sharply defined with strong angles in his jaws and the ridge of his eyebrows. This contour can give him a stern look when he's displeased or concerned. North's eyes are a slate blue, ranging from silver-grey to darker blue depending on the lighting.
While working for the king he is typically garbed in finely crafted armor, a gift from Hyperion. It bears the sigil of his house, the reindeer, in its chest plate and emblazoned on the cloak about his shoulders. His house colors are white and brown. North favors a slender broadsword that suits his style of quick swordplay. Since his exile, however, he's dressed in casual traveler's attire and the large brown, fur-trimmed cloak his squire Barkley provided to him at his departure from the kingdom. His own sword was claimed when they forced him out and so he makes due with Barkley's second gift... a fairly standard broadsword used in the boy's training. It's far less comfortable than his own sword, but certainly better than being completely unequipped.
In his quad form, he's a lean, off-white wolf in a fur-trimmed cloak or parka. His eye color is the same grey-blu.