Under-appreciated
Fyora, Jhudora, Illusen, these names are not unfamiliar. But how about their lesser known peers, who despite their efforts, never reached the same tier of popularity?
Why Under-appreciated?
They graced Neopia with goodness, but...
1. Usually their names are unknown or less heard of than the more famous faeries.
2. They do not have their special day in commemoration.
3. They have very few items dedicated to them.
4. They do not have their special secret avatars.
A special page dedicated to Faeries who deserved more adoration, according to us. :)
PS: This guide made it to the Neopian Times! Read the NT version
here
.
The Healing Springs Faerie
Name: MarinaElement: Water

In one nook of Faerieland there is a exquisite spring of ethereally flowing magical waters, home to a beautiful water Faerie who cure sick, beaten or even hungry pets. Ironically, not much is known of her despite our familiarity with her home. Is it because she never once ventured outside, or perhaps we have been taking her for granted all along?
Why she deserve more love
She heals you, for free! How many faeries will devote their lives to a thankless task of curing the ill and injured? Not to mention, forsaking her freedom to roam Neopia because there is practically pets at her doorstep every second. She may not have glorious achievements to her name unlike Fyora, but her little contributions to the daily welfare of pets' can not be discredited.
Dissidents may argue that she fails to deliver sometimes, for instance, only recovering 3 hit points. However, think about it, nobody owes you anything. IMO, one should be thankful that there are even freebies. Perhaps instead of being a grumpy grump, smile and learn to appreciate more? :)
The Fountain Faerie
Name: Naia

Many heard about her enchanted Rainbow Fountain, more hankered after her quests, for she rewards pets with a dip in her magical waters, transforming them into almost any colour they desired. However, I come to wonder whether she gets enough thanks for what she does?
Why she deserve more love
She turns dreams into reality, painting pets their desired colours at a fraction of the paint brush cost. (I agree some items she asks for are unbuyable, but compare to the price of a lets say Maraquan paint brush, it is a steal!) She gives them anticipation, something to look forward to each day, which is a motivation. Not to forget, the thrill that she brings when she does decide to pop over to you for a favour. Undeniably, she brings colour, hope and exhilaration to Neo.
One may argue that she just does not leave her fountain enough, for her quests are dissipated sporadically. But, consider the actual cost of those "dream" colours! Too common Fountain Faerie Quests means there will be excessive Plushies, Maraquans or any other coveted colour, destabilizing the economy by causing paint brush prices to plunge. On the other hand, those colours will henceforth lose their snob appeal which deemed them desirable and in turn, there will soon be plenty of unloved Plushies and Maraquans wanting a new home. Furthermore, it will promote sloth as it will become a disincentive for people to work for paint brushes. (A bit of hard work won't kill eh?)
Siyana and Psellia
Elements: Light (Siyana), Air (Psellia)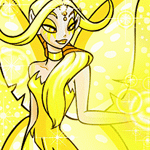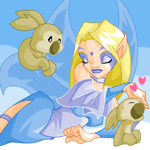 Featured in the Altador plot as two of the founders of Altador. However, how many of us have read their articles in the Book of Ages? Maybe their deeds of long ago is long consigned to oblivion, for how many actually recalled what they did, except perhaps some vague memories of Psellia saving Meridell's knight or Siyana as the First to Rise…?
Why they deserve more love:
Without them, Altador may not as illustrious. Henceforth, should they not deserve the recognition accorded to founders?
Did you know that "Siyana, the First to Rise, blessed its mortal heroes with the gift of great longevity." ~Book of Ages. Without our heroines to build and defend (from The Darkest Faerie), Altador will not be the glorious, timeless city we see today.
We strongly believe that good endeavours should be eternally remembered, despite their positions in chronology. Perhaps we should be picking up our replica copy of The Book of Ages and start studying hard.
The Library Faerie
She is the little known Faerie behind the counter of the Faerieland Bookshop. People grab their tomes and go, how many actually did stop and say hello (or even a thank you) after making payment? Aside from courtesy, or lack thereof, issues, it is evident that she is another overlooked Faerie so carelessly brushed aside.
Aside from her thankless task of selling books, she is the Guardian of the Faerieland Shelves, safeguarding the endless shelves from landing into the wrong hands. She protects our knowledge of them Faeries, preventing them from being callously altered. Imagine! What if someday, Fyora is being depicted as a corrupt, greedy monarch instead of the respected Queen that we know so well?
A symbol of wisdom and learning, she ensures Neopians' intelligence so that they are capable to distinguish right from wrong. She deserves more love because without her to maintain the Library and Bookshop, or even without her as a figure of inspiration, Neopians will degenerate to be as dim witted as Grundos. I seriously fear for the future in this case, for this is indeed Dr Sloth's utopia.
Sitely
Have a suggestion? Looking for affiliates? Just drop me a
neomail
anytime.
Links:
Site button coming soon. (:
Sister Site:
/~Hayleth
Still in process of completion. Patience please?
Image & Information Credits:
Neopets
It takes time to look this good, please do not steal or rip my work.
Layout made by Nienke.