Well... uh, hi guest! I'm mrowie, the oldest in my family. We live on 85311 Winding Wood Drive,
in Neopia Central, or just plainly put: here.You can visit my mom's shop too. I work there, eh, maybe
three hours a day. I know, it sounds like a long time, but hey, it's fun! My whole family
helps out, so I have everybody to talk to. My mom (otherwise known as owner) is mropie.
Oh, yeah! I forgot to properly introduce myself.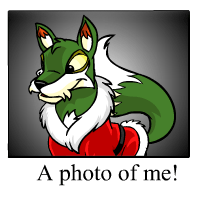 I think my stats are pretty good, don't you think so? Right now, I'm mostly working on my intellect.
As I said, I'm the oldest in our family, but only by a few minutes. We're all pretty close in age, so I'll just
tell you about my sisters. First of all, I'm real lucky we're all girls! ;) First there's Elliey_20002000,
then Lovelya2000, and beautey_2000. Oh yeah, visit my aunt sometime too.
So, besides working at the shop I like to do a lot of things. I'm a pretty good battledomer, and
if you don't believe it, look at the stats. I don't fight too much, but here are my battledome stats anyways:

No. played:#BD_PLAYED
No. won:#BD_WON
No. lost:#BD_LOST
No. drawn:#BD_DRAWN
Total battledome score:#BD_SCORE

I also like to read. Robin Lupe is my favorite. The Legend of
Count Von Roo wasn't bad either.
Now, this may seem stupid to you, but I'm really into that ancestoral/heritage stuff. What
I'm trying to say is, I'm really into collecting ancient lupe related stuff, especially Coltzan.
Some of the pics. are really cool, so here they are: