Best viewed in Firefox



What are you doing here?
You know you
don't belong here.
You taint my home with your very presence
My
bitter
abode.
My
sanctuary of ice
.
My
frozen prison
Now desecrated by the
filth of life.
I would like to see you freeze
---
An Atrocity
It was all over the news last month. A madman, so said the press.
An ice-man, his mere touch frosting over any surface.
For a few weeks, he was active; a crime wave befell the city of Neopia Central, and opportunistic reporters swarmed upon the sensation like fruit flies to an apple core. Like insects.
The ice-man disappeared soon after, leaving nearly no trace of his presence.
Investigators were baffled. The top detectives of the city were called upon to locate the mysterious threat, but to no avail. The perpetrator had essentally vanished, and within a few days, was forgotten.
.............
The old industrial district: an ideal location for curious individuals. Abandoned buildings line the harbor where unused ships sit at anchor, anxiously awaiting their next voyage...never to be.
Now, being one of those curious individuals, you decided to take it upon yourself to explore the area. Business was clearly defunct; everything in the old fishmonger's store had a thick coating of dust upon it, and the mechanic's shop smelled of oil and was riddled with disrepair. Further into the district, shop fronts gave way to small warehouses, sealed off from the public for decades. It was these that piqued your interest.
As you reached into your backpack to grab a crowbar, a chill wind passed by...unusual weather for a summer's evening. Turning your head suddenly as the hairs on the back of your neck bristled, you noticed a boxy steel building with a door cracked open. Bingo. You silently replaced the crowbar and approached the building.
The air grew colder.
You slipped through the door and were met by a wall of frigid air and stacks upon stacks of wooden crates and cardboard boxes. A thermostat on the wall read
10 degrees Fahrenheit
. And to think you were without a jacket!
But still, despite the chill, the sheer excitement of finding the place was enough to keep you going. You peered into one of the boxes (which was half-opened and on the floor) to find that it was filled with books. Books! Who would refrigerate books? You sat there pondering, when soft footsteps began padding across the warehouse. A faint echo of a sorrowful, wavering voice was heard.
Oh Nora, my Nora. Why did it have to come to this? W h y . . . ?
You were not alone.
Terrified, you remained completely still. The footsteps began again. And they were coming closer.
It appears we have an intruder, Nora
the voice said again from right behind you. You slowly turned to face him.
The speaker was a wocky, full-coated yet quite dour. His stance was intimidating, yet his overall demeanor was unaffected. He had tubes of blue liquid in his back, and his sunken red eyes glowed with hatred. His breath was significantly colder than the surrounding air
But said intruder seems...harmless.
He sat down miserably as a ring of frost began to surround the area he occupied. Turning his head towards you, he sighed.
What are you doing with my 1984 collection of Encyclopedia Neopia?
You stare for a second, as you thought of an answer.
I...I just found the box. I had no intent to...
Enough!
The wocky stamped his right paw on the ground.
You should not be here! How did you discover us? Or were you just nosy?
Your door was cracked...I didn't know...
I will give you the benefit of the doubt...
he grumbled.
But if you lay one FINGER on my possessions, I will...
The Wocky dropped his anger and stood up painfully.
What is your name, intruder?
His sudden formality confused you.
puppeh_khan,
you stammered.
And you?
The wocky inhaled and shifted his gaze towards the ground.
I am an atrocity
---
About
Ice to meet you.
✱ Name: Mr. Freeze
✱ Alias: Freeze
✱ Residence: Neopia Central
✱ Criminal status: At large
✱ Fur: Various shades of blue
✱ Eyes: Red, black sclera
✱ Height: 2 feet at shoulder
✱ Figure: Stocky

✱ Species: Wocky
✱ Brush: Snow
✱ Gender: Male
✱ Age: 40
✱ Intelligence: High
✱ Personality: Introverted, lonely, spiteful

Other info
: Freeze's body temperature is exceptionally low, and is kept that way by coolant running through tubes throughout his body. Prior to the incident causing this to be necessary, his fur was brown. His tail is significantly shorter than that of the average wocky.
Likes
: Science, silence, flowers, exacting vengeance,
Nora
Dislikes
: The hindrance of progress, seeing others happy, incessant ice puns,
know-it-alls.
---
Consistent Visitors
A small group of people seem to enjoy coming back here to keep me company for various reasons.
Art is coming soon. whee
Puppeh
- She's...kind. A little too kind. She'll leave books here for me to expand my knowledge and occasionally accompany me as I study. However, she is a little talkative for my tastse. I end up listening more then anything.
Riddle
- I strongly dislike this man. He is a know-it-all, a narcissist, and overall a very unsavory individual. He usually comes by just to pester me. He usually leaves with a frozen leg.
Monster
- Yet another victim of science that occasionally tags along with Puppeh. He is completely oblivious to the world and is positively repulsive. I can only imagine how he smells.
---
Those I trust
Crane
- Though we are not necessarily
friends
, we both share a common enemy and an interest in the pursuit of scientific achievement. His obsession surrounding fear is particularly fascinating.
Note from the management: For your pet to be a friend of Freeze, all he/she needs to be is compatible with his personality. No Gotham connections required c:
---
Enemies
batman
---
The Cryogenics Lab
Have you ever worried that your pet will not live as long as you'd like? Does he or she have an illness, physical or mental, which at this given moment cannot be cured?


Well, I have a solution.


Cryogenically freezing your pet not is only safe, but also is quite affordable. At little or no cost to you, your darling pet can stay alive forever.


The freezing process is safe only for these species:
- Acaras
- Aishas
- Kougras
- Xweetoks
- Wockies


I can attempt other species, but do not be alarmed if the chemicals in the cryogenic fluid alter your pet's genetics to a more...feline form.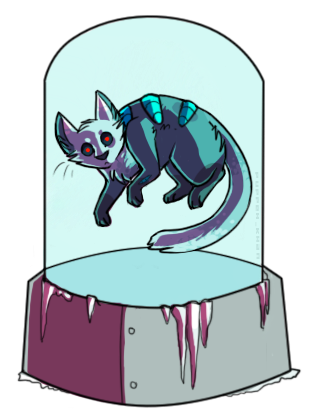 When in stasis, your pet will look like this.





The rules are simple enough: do not steal anybody else's frozen pet or claim my scientific work as your own. And for all that is lovely in the world, don't enter them in any contests unless you want your account frozen along with your pet.

It is very difficult to put clothes on these. Scarves and little hats are okay, but anything more than that can't be done. Sorry




Requests are currently closed; Trades are open unless Pup says otherwise




Neomail Puppeh (on this account, please, she's never on here) and she will send your pet to be frozen in return for an adoptable in my image.
It's that easy.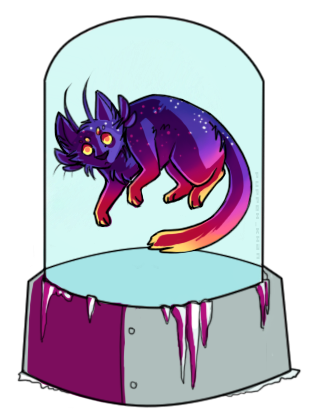 Galace





Kttn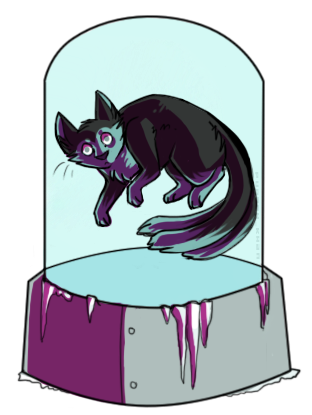 Kendrae_The_Calm





Valorion





Kougradancer15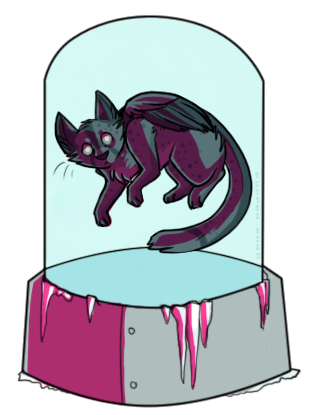 Greuper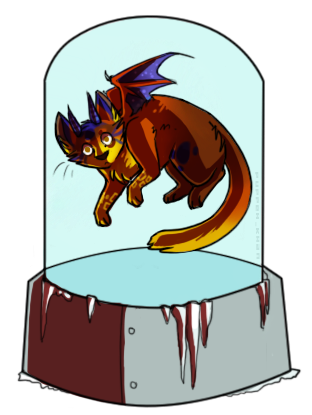 Lokkie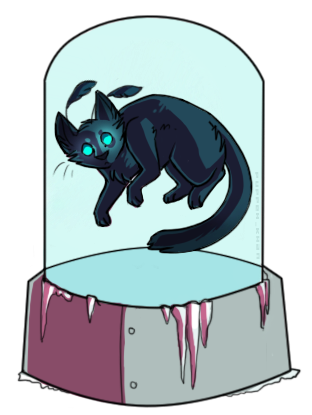 Myyrtle





Besch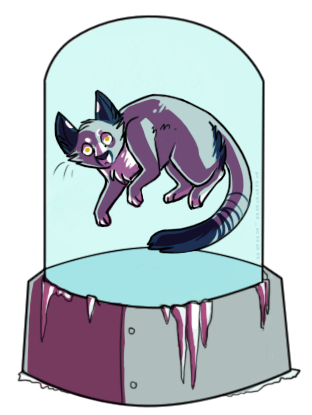 Frozan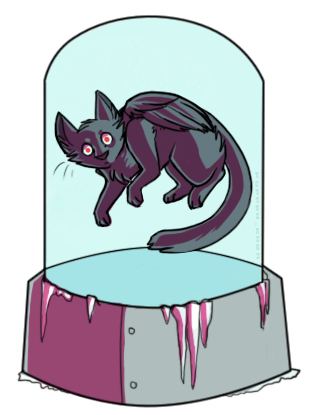 Riku_Riku04





Vayehn
(puppeh's pet)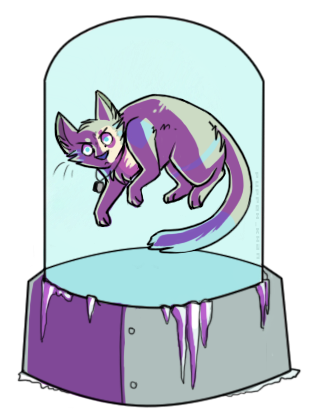 Sergeant
(puppeh's pet)



Brygade
(puppeh's pet)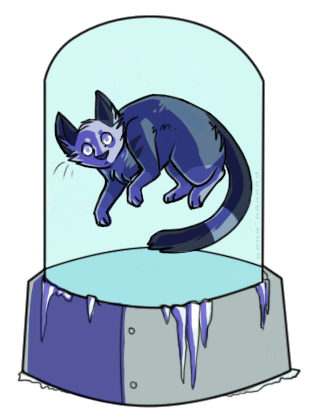 Conquerors
(puppeh's pet)
RETIRED SET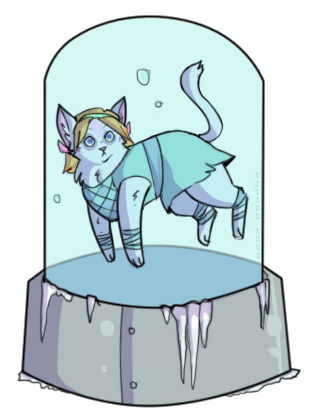 Volinala





Charcile





Rihe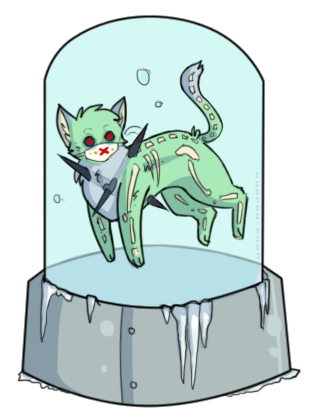 Avocative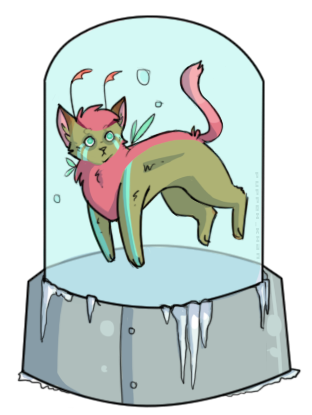 Tekyre
(app)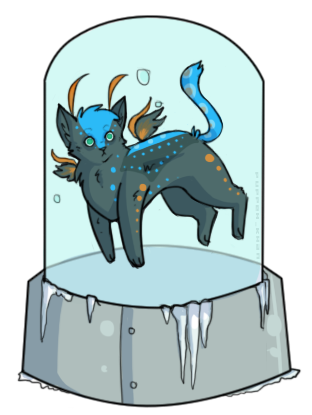 Persiio
(app)





Sygax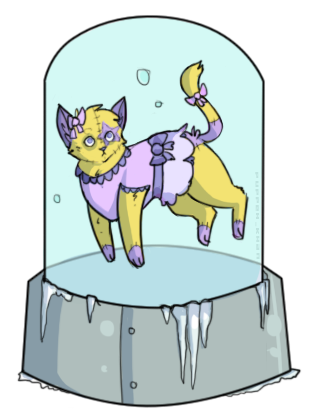 Xyin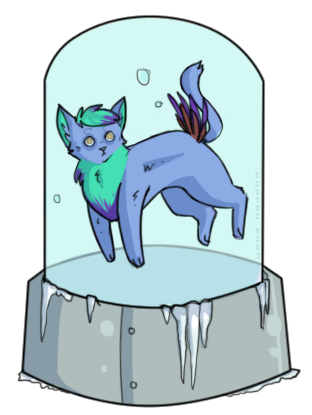 Cilix







Dracuo
(app)







Another Persiio
(app)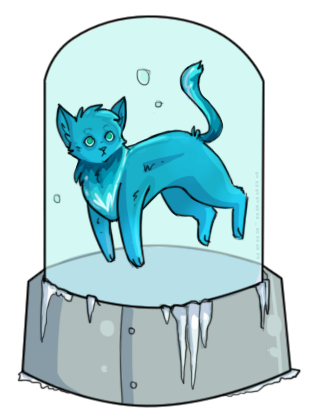 Water Wocky
(can be used by anyone)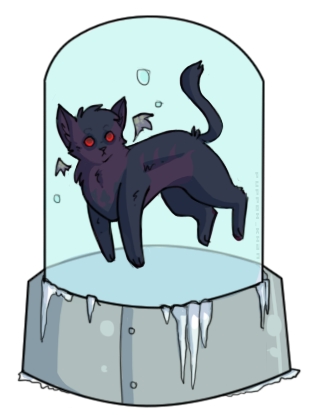 Kitty_Cat_1015
(app. he lives up to his name now.)







Keirch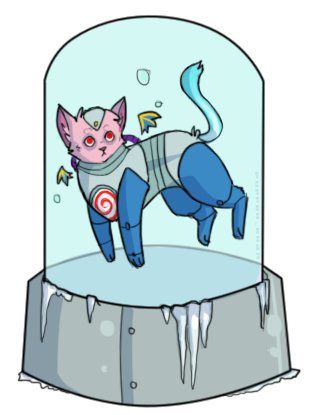 Hypnotisms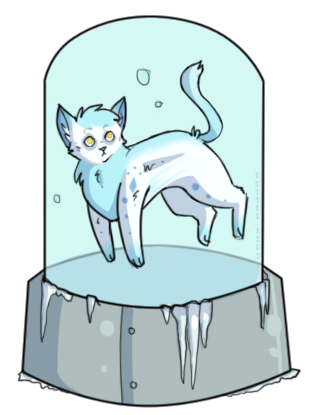 Zyhanna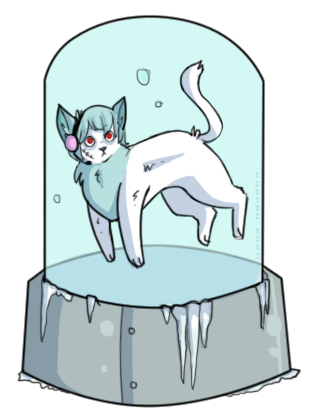 Volplane







Hibernus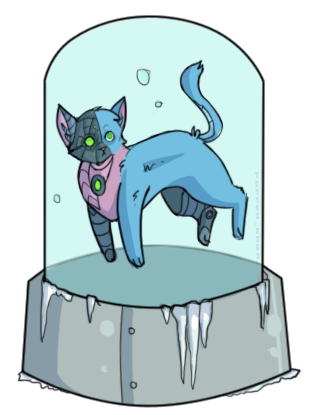 ChesireGrin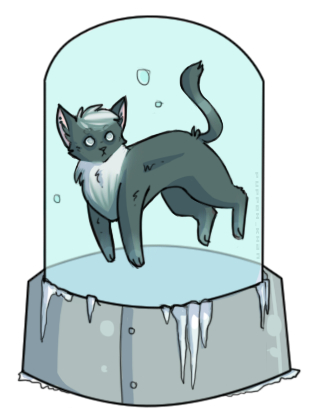 Mmadiline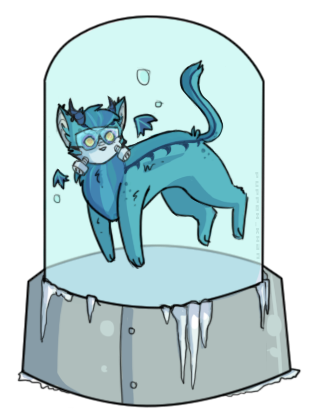 Valatiel







Fancygato5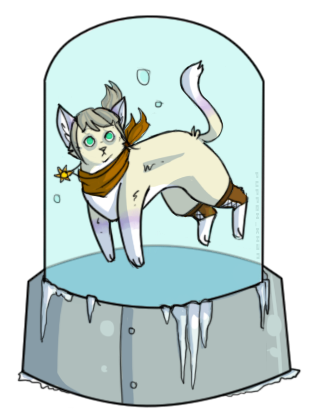 Pan_Shia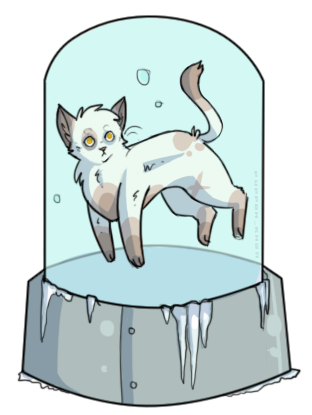 Vayehn
(puppeh's pet)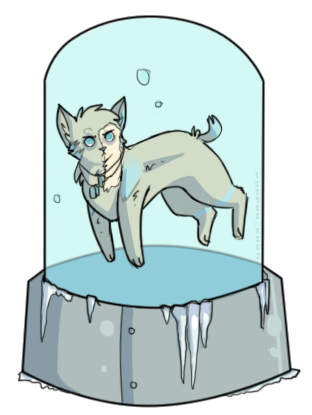 Sergeant
(puppeh's pet)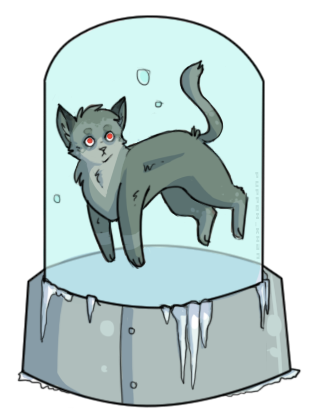 Brygade
(puppeh's pet)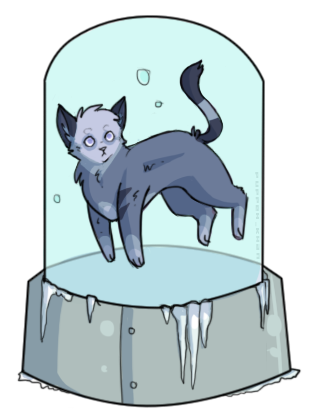 Conquerors
(puppeh's pet)
---
Portraits of Tragedy

blah blah blah Newest at top

By Puppeh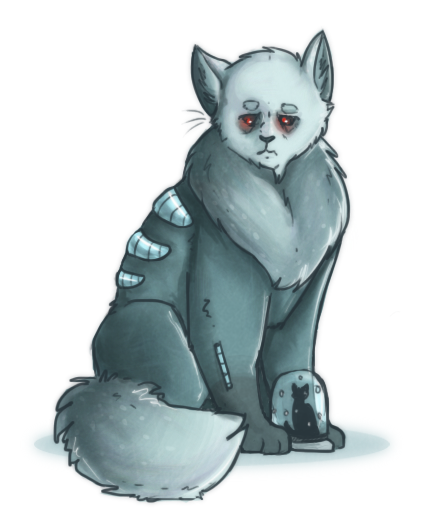 By others

by shiroleiin



By silverfang_avatar




By shadowcatskey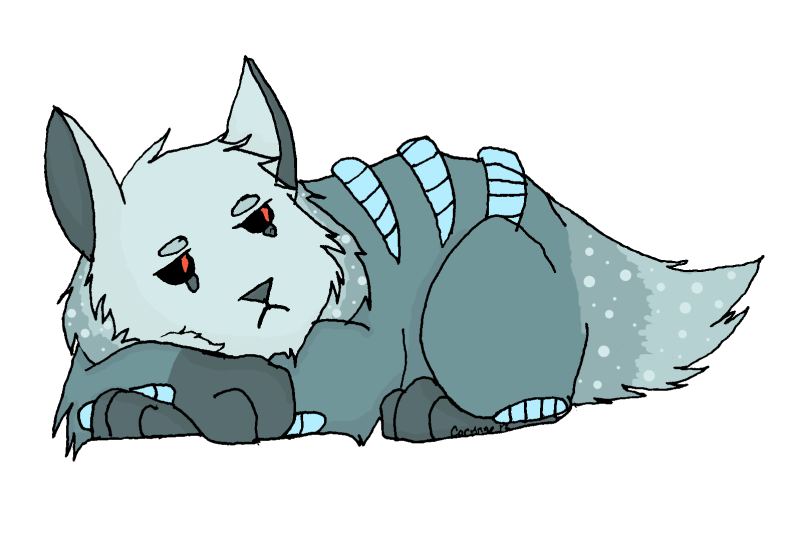 By starryvagabond




By indolent




By applefear




By Gorubeza




By comet55525
---
Ice Sculptures
The children like to build snow-wockies around here in the winter. I like to keep them safe inside...forever.

Snow
See? They haven't melted at all.




Custom
These ones seem to bear a close resemblance to me.

---
Awards?
filler text yadda yadda
BC Wins




---
Link back?
50x50


---
Now leave...
Puppeh's Pets



Other places of interest











Art and page layout by Puppeh
Based off of Mr. Freeze from DC's Batman comics