1. Introduction

First of all, making your first million is not always easy. My first million took about a year, first trying to find the best way to make money and then continuing with that same routine every day. Within a few months of doing this, I made a million, I was proud of myself(you should be too). About a month after my first million I started the stock market, which I hadn't heard of it before until that very day. Of course, I already knew how to use the stock market pretty well from a few years of experience(in real life). To learn about the stock market click here. After using the stock market for a few months I made over 10million and, lucky me, I had won a jackpot of about 10million in Buried Treasure in the same week that I got my first 10million. This was the beginning of my success..



2. Easy money

Very easy money(and usually not a lot) is doing dailies every day, that's why they call them dailies. The best dailies are:

The Snowager is asleep at 1-2am, 10-11am, 1-2pm, 8-9pm, 10-11pm NST.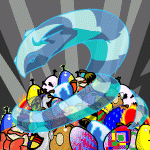 3. Best games to play
Some very easy money to make every day is by doing the simple quizzes in the games room, there are usually about 1 or 2 of them in the Sponsor (Ad) section. This also includes the 'game' that's always there called Adver-Video, when I didn't have much money, I tried to play this game every day for each 5 times I could. Now usually I wouldn't play the other games in that section, but sometimes it's good to do so because usually advertised games give a reasonable amount of np for doing something very simple. There are some games other than the sponsor games that are fun/easy to play and give you a decent amount of np aswell:


4. Stock market
If the above ways of making money aren't good enough ways for you, there's always better ways. One way, my personal favorite, is the stock market. Some of you may think "Oh, the stock market is too risky and I don't understand it" well, I was just like you when I didn't understand it too well. The truth is, you can't lose any money as long as you dont buy for higher than you sell for OR if the stock bankrupts(which barely EVER happens). And for you people that don't understand the stock market well, just follow my stock market guide and you should be fine.


5. Contests
Yes, contests. Contests usually have a very good amount of np/items for a reward. Some good contests are: