Have you got the time?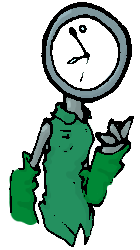 ext - schoolyard - day
Hey, you!
You blink and turn around, finding yourself face to face with a steel-colored ruki. She's wearing a well-coordinated outfit and carrying a messenger bag that matches her exoskeleton. She looks like she's just gotten out of school. She also looks...rather unpleasant.
Who're you? You're no student! Get out of here before I whomp you!
You attempt to explain who you are, but she interrupts you by putting one of her front feet on your chest.
I said get out of here.
A couple of other students are watching curiously now.
I know everyone here and everyone who picks them up. I don't know you. I don't particularly like you. Now anyone here can tell you that people I like don't last long around here, but I'll be willing to spare you a black eye or two if you'll just nicely and calmly leave.
She looks down her nose at you and removes her foot from your chest, shooing you.
Go on now. Hurry along. And tell Towen to stop sending people to ask about my personal life.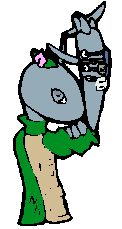 Gender: Female
Age: 15
Species: Ruki
Color: Halloween
Personality: Bully
Nature: Tsundere/Protective
Eccentricity: Fortune teller
Likes
Accurate clocks (who doesn't?)
The color silver (as her eyes)
Coordination (of color and shape and of hands and eyes)
Skirts (Shut up or I'll kick you.)
Armwarmers (they hide clocks and muffle jingles)
Her classmates (some of them, anyway)
Tasty food (who doesn't?)
Boots (Ruki's feet go up to their knees. It's kind of a given)
Dislikes
Hard to read clocks (but what's the little hand pointing at?)
The color gold (so overused)
Uncoordinated outfits (you look like rainbow barf)
Pants (they look stupid on rukis.)
Psymice (just because I can sometimes tell the future...)
Strangers (leave me alone and stop being so strange)
Crystal balls (how exactly does that tell you anything?)
Umbrellas (Towen collects them. They're everywhere)
Not your average schoolgirl
Sofie always knew she was unique. Her owner told her that she was all the time when she was little. It took her a while, though, to realize exactly how unique she was.
Of course she never really thought that other people saw the same way she did...well, perhaps she did when she was especially young, but by the time she was in kindergarten she'd seen enough picture books to know that nobody else saw a clock in place of a neopet's face. She never thought to tell anyone about it, though; she could still make out vague expressìons and she was quite good at reading body language. It wasn't a handicap. It was just an oddity. By second grade (the same year that she started going by "Fie" so she wouldn't be associated with the swamp witch...also the year she began beating up the boys who picked on her for not acting like a girl) she'd decided that she
couldn't
tell anyone because they would think her a freak. It was in third grade (the year she began wearing skirts to spite those boys who'd decided she didn't act like a girl) that she realized it wasn't just an oddity. During winter break she and her family went to visit an old man...her great uncle, she'd been told, or some other more-distant-than-those-she-preferred-to-think-about relative. She'd never really met him before and she didn't really like him (he was old and finicky and angry and strict), but she found herself watching him because one afternoon she looked up and the old, bland clock that was his face was frozen at 11:45. She'd never seen anyone with a clock that didn't move as far as she could recall. She spent the whole evening and most of the night wondering what it could mean...
They found his body the next morning. He'd died of old age, they said, probably a little before midnight that night. After that Sofie began noticing other things around the clock faces. Some clocks told dates, as well, some had compasses hidden behind them and others told what the time of day was somewhere else in the world. They always meant something; when she asked she found that the man who's clock had two times on it was waiting for his valentine to come home from Shenkuu. The compass, as it turned out, was pointing toward a lost pet's home. The clock whose date kept switching belonged to a busy girl with a busy calendar. She also began noticing a lot more clocks whose hands had stopped moving.
When she went back to school Sofie hardened her expressìon and kept a wary eye out for anything out of the ordinary--she knew very well that old age was not the only thing that could kill a pet, and if she was going to prevent any disaster (for death was not the only disaster she could foresee) from happening to those she knew she would have to know what it was and when it was coming and she would have to have the authority to keep her company away from it.
Sofie has since been adopted into the family of a certain
Towen Toomn
, but she still goes to the same school she went to beforehand, where she can usually be found starting fights or (often violently) breaking up those between other students...and if, by chance, you see her grimly watching your face as if she's seen a corpse in a coffin, you should hope there's something she can do...
The Closet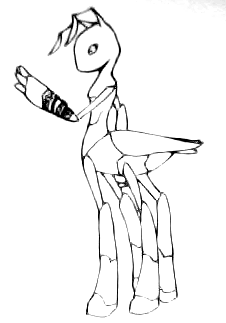 Basically a normal halloween ruki (steel blue exoskeleton, same color eyes, blue pupils). Always wears armwarmers (or very occasionally long sleeves) and a skirt, generally a short one. The above is just an example--she's been known to wear outfits reminiscent of the gothic ruki set, as well as outfits and items like those below.
Under her sleeve on her left hand she's got two wristwatches (one digital and one analog), a compass (it looks rather like a wristwatch), and an identification bracelet (it basically says her name is Sofie and she's not allergic to anything). She also has a metric↔unmetric conversion chart and a pen that tells you how many ounces in a pound or liters in a gallon when you click it, both of which are hooked to the identification bracelet, and a pedometer that's attached to the band on her analog wristwatch.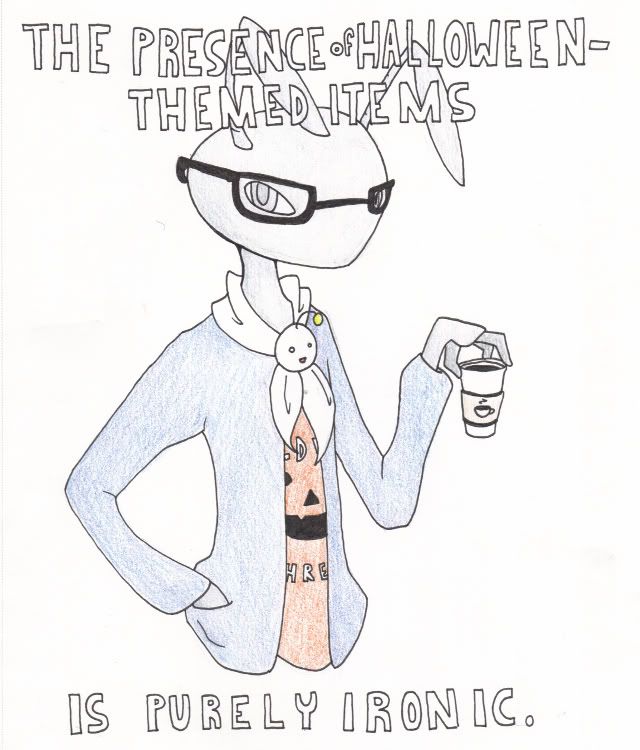 The Petpet
Sofie Toomn has a dandan named...(wait for it)...Dandan. She was never very creative with names and figured that it wouldn't care what its name was as long as she didn't go changing it every fifteen minutes. She was right. In fact, Dandan probably wouldn't care if she did change his name all the time...he won't so much as look up if you call him. Instead Fie uses a complicated language of snaps, claps and whistles to call him and communicate...well, as much as one can communicate with a dandan. He knows a few tricks, but he mostly just crawls around on Fie's shoulders when she's home. When she's not he spends his time sleeping and clawing up Towen's furniture.
Clocks
Leave link on.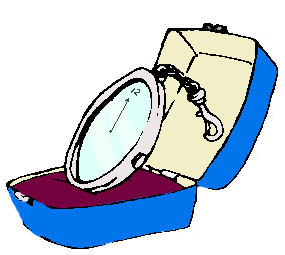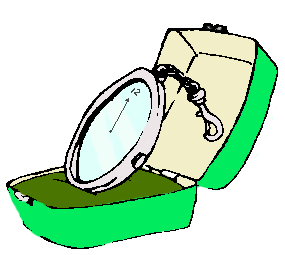 Customs
Neomail
for a custom, and don't take what's not yours.
etc

Layout base by
Technicality
.
Base customized (somewhat) by
Towen
.
Lost the background credit.