/>
Welcome to my premade user lookup page!

I hope you enjoy my creations. If you decide to use one of my premades on your own lookup, please respect my hard work by giving me the credit (leave my link in the coding), and not stealing my work and claiming it as your own. Thanks!

Requests: Closed. (Temporarily)

Note: There was an issue with coding that has, thankfully, now been solved!! Sorry to those that were having problems with it. =(

**I don't necessarily do the requests in the order I receive them. The reason being, I like to be inspired to create my designs, not just pump out lookups with little to no creativity or imagination. I'm not implying in ANY way that that's what other people do. It's just, I don't work that way. I take my requests, look around for images, and whichever one sparks my creative mind, I go with.

Some of the requests I receive are a bit too specific, which makes it a lot more difficult to find suitable images. In those cases, I'll either broaden the request into something I can work with, or put the request on hold until more workable images are available. Sorry for any inconvenience.

Newest: (5) Soup Faerie - Tooth Faerie - Library Faerie - Jhudora - MSPP

Current Requests: None. Starting over with a clean slate, sorry to those who requested something. I just had WAY too many.

Working on: Faeries.

On hold until more images become available: None.

Jump to:

Newest additions.
Altador Cup lookups.
Links.

- - - - - - -

Dance!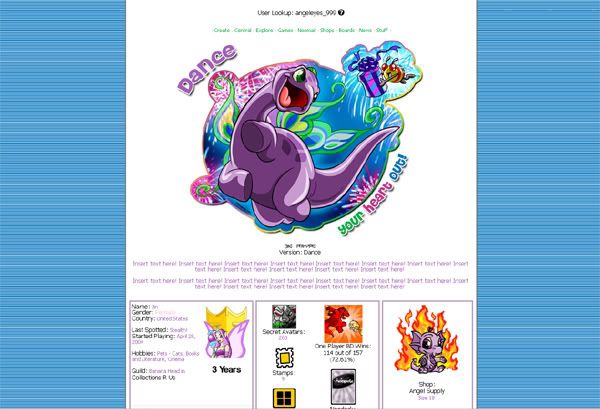 NEOPETS, characters, logos, names and all related indicia
are trademarks of Neopets, Inc., © 1999-2013.
® denotes Reg. US Pat. & TM Office. All rights reserved.
PRIVACY POLICY | Safety Tips | Contact Us | About Us | Press Kit
Use of this site signifies your acceptance of the Terms and Conditions