Forks' Phonebook

Hey there #visitor, and welcome to Forks' Phonebook, also known as The Fonebook. I go by many names, but my twilight name is Maggs/MaggieLou so you can call me that. (My other popular name is Cloud.) The Fonebook is a little site I put together almost a year ago that is a directory for ALL TWILIGHT SITES! Interested? More below...
xoxoMaggieLou


Navigation

Directory Applying Link Back Sitely Neomail Me







The ORIGINAL Twilight Directory(:
Updates
October 25, 2011
This site is now closed. I will leave the page up, but there will be no further editing to it. This shouldn't be too surprising since it's how it's been the past 2 years. Thanks to all my Twilight friends for being there throughout the whole Twilight mad craze. You can find me
here
. If you have a Twilight site or used to have a twilight site and want to be listed on my site, contact me. That is all, it's been fun.
xoxoMaggieLou
December 9, 2009
New guild added. I know it seems like I've been inactive, but I have nothing new to add.
xoxoMaggieLou
December 3, 2009
Added some SOTMs... which stands for "Site of the Month" for all of you slow people like myself who have those "AHA!" moments where you're like. OHHHHHHH. THAT'S WHAT THAT MEANS! (i did it with F.A.Q. too. haha) Love you all.
xoxoMaggieLou
December 2, 2009
We are now sister sites with
Golden Eyes Directory
.
xoxoMaggieLou
December 1, 2009
VWF
has been updated in the Fonebook. I also changed the categories around a bit by adding resources. Don't fret, music is under resources.
xoxoMaggieLou
November 30, 2009
Pardon me for the long update... but there is much to say. *ahem* I deleted all of the old updates along with a GREAT many number of sites and guilds that don't exist anymore or just don't have me linked. If you were one of the sites that didn't have me linked and you want to be added, you must reapply. Which brings me to my next point, you are now allowed to apply again, but please be VERY SPECIFIC about what you offer on your site. If you say "graphics" it really doesn't help me much. Also, if you are linked to me but you don't see your name under "Sites" or another category that it should be under, please neomail me telling me specifically where you need to be added. Along with all of that, I have also alphabetized all sites, hearted the ones that I personally like and think are helpful, and on top of all that, created a new layout. Finally. Gotta love Thanksgiving break, I also managed to get
TTS
fixed up today as well. Oh right, I'm also adding a "SITE OF THE WEEK" spot, though I can't guarantee how often it will be updated. I believe that that is it for now. Much love to you all and thanks for reading and using my site(:
xoxoMaggieLou
SOTW
So, I've decided to create a Site of the Week... which is rather ironic because who knows if it will even be updated each week. No, you don't vote for this or nominate anyone or ask to be the SOTW. I just pick random sites that really impress me or that I really like for some reason or another. I guess I might make an award for it or something, sooner or later... but for now, here it is...


Even though she's been MIA for awhile, her lookups are some of the best I've ever seen, her icons are fantastic, and her banners are adorable. I'm quite in love with all of her content(:
---
Directory
Below are all twilight sites associated with this directory. If you are looking for a specific type of layout or graphic, I have it organized to make finding what you want easier. Also, any site with a ♥ next to it is one that I recommend.
Sites||Layouts||Graphics||Resources||Guilds||Chat Groups||Review Sites||SOTMs
---
Applying
So, you want to be in the
Fonebook
, huh? There are a few requirements you have to meet and some rules you have to follow... but it should all be pretty easy.
REQUIREMENTS
→You can't be on a WOS (Wall of Shame)
→You have to have a page for me to link to (so private guilds must have a webbie, or no deal)
→Everything should be made by you unless stated otherwise (a.k.a NO STEALING)
→ Your site
HAS
Twilight-related. Not
JUST
Twilight related, but nearly 100% twilight-related. I don't need your 1 twilight icon, 20 billion other icons site adding to my list, when there are so many sites out there that are JUST about Twilight.
if you have all of those things, then you MUST follow these:
RULES
→You
MUST
link me back, somewhere visibly
→Let me know if your site is being deleted. I hate having dead links. →If you have an offsite, please link to me on your redirect page and/or somewhere very obvious on your actual site.
→Likewise, if you have a guild, please link to me on the actual guild and/or somewhere VERY obvious on your webbie. →You have to be nice to me =]
OK, got all that? Also remember that I can delete you off the list at anytime.
Your Name: Your Site/Guild: Link To Page: What does your page include (if site): Any other comments or concerns?
Agree||Disagree


Link Back
Help people find us easier... if you thought this site was helpful, advertise it =] Also, if you need to link back onto us for your own site... here are the buttons.



Gift from Shelby @ Twilight Layouts. Thanks(:

Sitely

is/are viewing the site.


Listed At...
Da Sister Site
Yep, she has another awesome twilight directory(:


Awards/Fanmail
Anyone can give or send me these, I am all accepting =] And thanks so much to all of you who already have!



[[drag and drop image to your address bar to see full size]]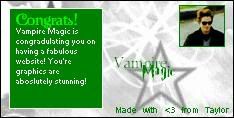 Dear Laur,
You might not know it, but you help me so much with everything I do. This site being one of the many examples. I know you're like
How is this possible? I live 8 hours away.
I just wanted to say thanks for listening to me, helping me get past stupid jerk faces like brad, making me laugh constantly, helping me run half of my sites AND co-running our awesome
Twilight CG
, doing all the stuff for my sites that I don't feel like doing, and telling me I'm awesome at what I do. Your support means the world to me and I really appreciate you and everything you do. You know I love you(: You'll always be there and know that I'll always be there for you. I'm so glad we both joined BotN and that we started actually talking. You really are one of my best friends(: Here's to a great year! And many more to come. Love you oodles and bunches,
xoxoMaggieLou
©2009 MaggieLou productions. All content on this site and all sites linked to it belong to its owners. No stealing. Site Name created by Kisa.