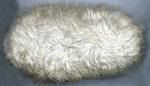 MORTH
Morth is a Tribble, realistic and monochromatic. He likes to just sit around and watch the neopoints roll in, except when either the guild poll or the trivia is up. Then he shifts a bit to the right, but mostly, he's a lazy fuzz-bucket.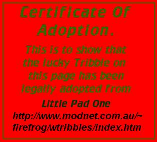 Where to Adopt a Tribble
There's a cool site that lets you adopt tribbles of your own, granted that you follow the instructions there. The original certificate had a web address that didn't work, so I modified it to the one that did. Feel free to visit that site and adopt your own tribble!
For copy&paste: http://www.modnet.com.au/~firefrog/wtribbles/index.htm