Miłości, nadziei naładuj w kieszenie i chleb,
po tem idz gdzie chcesz..
welcome
Space
is the boundless, three-dimensional extent in which objects and events occur and have relative position and direction. Physical space is often conceived in three linear dimensions, although modern physicists usually consider it, with time, to be part of the boundless four-dimensional continuum known as spacetime.
adoptables ♥
Here I bring you some sweet zaffie chibis!
oh, ow I miss summer!!
Anyway, before taking read some rules ;v
1# These are hand-drawn so TRADES only;
(that means NO requests)
2# adopts are colored with highlighters;
3# no stealing please, do not enter them into BC, AG other competities.
Believe me, some users will know whose zafaras are theese.
4# if interested in trade, neomail me,
I will be happy to do one, if i have free time ♥


NOTE:
I hate drawing clothes on pets and i WON'T do anthro,
so if your pet has clothing in design,
you may just end with an adopt with your custom fur markings instead of clothed one.
NOTE2:
As for trade I will ask for a regular drawing,
not adoptable, because I have few zafaras,
and you'd have to draw them all~ :K
om nom nom


i am red




i am yellow




i am orange




i am white




i am blue




i am green




i am grey




i am ghost




i am purple




i am shadow




i am pink




i am gold



old style adoptables [CLOSED]


bye bye
my other sites~



other amazing zafara adopts!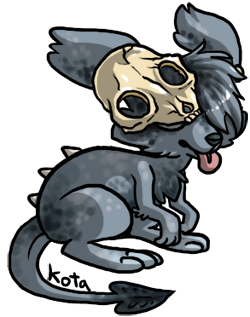 css © mellie | umbreon133
get yours here.